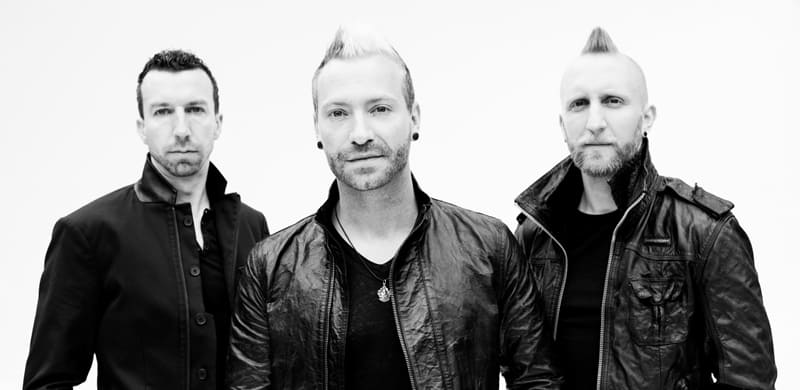 SiriusXM Octane Exclusive World Premieres Single Sunday, Feb. 21
TFK Receives 400 MILLION YouTube Views IN THE LAST YEAR ALONE; Logs 350,000 Albums Sold, One Million Singles, 54 Million Streams Since Going Indie In 2012­
Band Makes First-Ever Monster Energy Carolina Rebellion, Rocklahoma Mainstage Appearances
One of today's best-loved, adrenaline-fused rock bands, THOUSAND FOOT KRUTCH (TFK), has widely increased its boundaries since going independent in 2012. With over 400 million YouTube views in the last year alone, the band has also logged over 350,000 albums and one million singles sold along with 54 million streams in the last four years. The band has also impacted Active Rock radio with six hits to their credit since 2012, and has nine hits overall.
Receiving a major boost toward its 10th radio hit, SiriusXM Octane exclusive world premieres the band's "Running With Giants" Sunday, Feb. 21, at 1 pm EST. The song is the first radio single from TFK's highly anticipated new album, EXHALE, slated to release in May. Following Octane's premiere, "Running With Giants" goes for worldwide adds at radio Feb. 23.
"This song charges the gates with no apologies, and comes out swingin'. It's the perfect example of what EXHALE was always intended to be, the heavier, more aggressive side to 'INHALE' (our last album). The albums were always meant to be a two-part story," says TFK songwriter, lead vocalist and guitarist, Trevor McNevan. "If there was a song that best encompasses the 'release the dogs' symbolism of the new album's title, it would be this one.
"In life, everyone wants to put you in a box, and label you. This song's saying forget about what others think, they don't know what's best for you," advises McNevan. "Follow your own convictions, dreams and inspirations. Your value or success doesn't depend on what others think of you. You're worth more than that."
TFK premiered "Running With Giants" live, headlining a packed out Vinyl at Hard Rock Hotel & Casino Las Vegas as part of last week's 4th Annual RadioContraband Rock Radio Convention 2016. A debut of the song's brand new concept music video will be announced soon.
TFK also launched EXHALE's "Incomplete" to the top 10 of the iTunes Rock Top Songs chart last week amidst 5-star acclaim and a YouTube lyric video that has been viewed more than 170,000 times. The band further gifted the song "Born Again" to its fans. Downloaded tens of thousands of times and with more than 177,000 YouTube views so far, this song may find its way onto EXHALE as a bonus track.
Thousand Foot Krutch begins to loudly "exhale" after "inhaling" for the last year-and-a-half with its second consecutive Hard Rock No. 1 and Billboard Top 10 overall album, OXYGEN:INHALE, which sparked the hit singles "Born This Way" and "Untraveled Road," the latter named on the Top 30 Octane Big 'Uns Countdown Songs of 2015.
Taking the fan favorites and new songs on tour around the globe, TFK's McNevan, along with bandmates, bassist Joel Bruyere and drummer Steve Augustine, will be featured on the Axes & Anchors Cruise (2/20) before jetting to Kiev, Ukraine (3/17) and hitting Minsk, Belarus (3/18) and Moscow (3/20) and Saint Petersburg (3/21), Russia. TFK will also be featured at many of the major US rock festivals this summer, including first-time mainstage performances at Monster Energy Carolina Rebellion and Rocklahoma fests. (See www.ThousandFootKrutch.com for the latest tour updates.)
About Thousand Foot Krutch:
Ontario, Canada-bred TFK has been a continuously escalating highlight reel since their formation in 1997. With best-selling albums, over 1.1 million albums sold, nine Active Rock hits and a slew of soundtrack slots, the group has literally infiltrated every facet of pop culture. They continue to receive ongoing ESPN appearances, as well as various NASCAR, MLB, NHL, WWE, NCAA and NFL airings (including the 2010 Super Bowl), along with the "GI Joe" movie trailer, WGN-TV's "Smallville" and EA Sports' NHL 2010 and 2013 video games. Remarkably, the band also receives over 25,000,000 monthly views in combined streaming across all of YouTube.
All the latest band information can be found at www.thousandfootkrutch.com, Twitter, Instagram, YouTube and Facebook, where the band has over one million likes.
About The Fuel Music:
Established in 2008, The Fuel Music & Management, LLC, is one of the leading independent distributors of music though all physical and digital channels internationally and enjoys a growing base in artist merchandise sales. Based in Tennessee, the Fuel team brings nearly 70 years of combined music industry experience in record label operations, major label distribution and marketing, and artist management for artists ranging from upstart bands to GRAMMY Award nominated, multi-platinum artists. More information on the company can be found at www.thefuelmusic.com.
##
Media Contact:
Rick Hoganson,
Hoganson Media Relations
615-459-9870
Hoganson@comcast.net