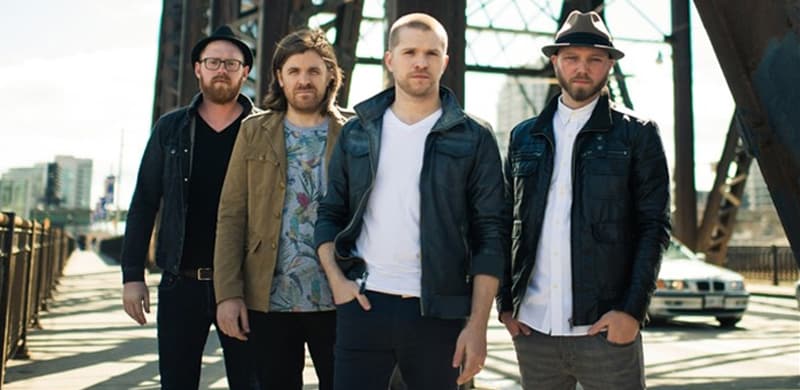 To be Announced During "Beyond A.D." Appearance at NBC.com Sunday, May 3
April 30, 2015 — Raucous, award-winning band The City Harmonic, known for its eclectic modern hymns and worship anthems of longing, hope and celebration, will be the featured music guest during "Beyond A.D." streaming on NBC.com Sunday, May 3. During the episode, The City Harmonic will reveal the title and album cover for their third full-length album, as well as play live the first single from the new recording set to release through Integrity Music September 2015. The album addresses issues of church unity, a topic also covered in this "Beyond A.D" episode by fellow guest, John Gray, Associate Pastor at Houston's Lakewood Church.
Hosted by E! News co-host Jason Kennedy and taped before a live audience at Real Life Church in Santa Clarita, CA, "Beyond A.D" is the companion digital show to NBC's broadcast series "A.D. The Bible Continues" from executive producers Roma Downey and Mark Burnett. "Beyond A.D." covers the historical and spiritual topics depicted in the broadcast while featuring musical performances by artists, songwriters and ministry partners of Integrity Music. Recent episodes have featured Israel Houghton, Christine D'Clario and Lincoln Brewster, with upcoming episodes to feature All Sons & Daughters, Paul Baloche and NewSong.
Weekly installments of "Beyond A.D." began April 12 and will be available Sundays at 9 a.m. on NBC.COM, select NBC station websites and participating NBC station distribution channels. The installments follow the 12-week broadcast series that began April 5. For more show information and to RSVP to attend a taping, visit www.nbc.com/beyond-ad. Join the social conversation on Twitter, Facebook, Instagram using #ADTheSeries.
The City Harmonic, joined by members of Real Life Church, are pictured during the "Beyond A.D." taping in Santa Clarita, CA April 28.
About The City Harmonic
Born out of a movement of diverse churches uniting to serve the poor in the blue-collar steel town of Hamilton, Ontario, The City Harmonic formed in 2009, having led students in worship and mission at these inter-denominational events. By 2011, the band had won three Gospel Music Canada Covenant Awards, including one for Modern Worship Song of the Year for the anthem "Manifesto," a rallying cry for believers around the world. More Covenant Awards, a Juno Award and a Dove Award nomination followed as the band released the critically acclaimed albums I Have A Dream (It Feels Like Home) and Heart introducing the songs "Praise The Lord," "Holy (Wedding Day)," "Mountaintop" and "A City On A Hill" to churches and radio stations. The City Harmonic is Elias Dummer, Eric Fusilier, Aaron Powell and Josh Vanderlaan… four worshipers from four small churches singing hymns and spiritual songs.
All the latest detail on the band, its music and touring can be found at:
www.thecityharmonic.com
Youtube
Facebook
Twitter
MySpace
About Integrity Music
Integrity is the worship music recording and publishing home to a variety of artists and ministries around the globe including: All Sons & Daughters, The City Harmonic, Paul Baloche, New Life Worship, Planetshakers, Worship Central, Covenant Worship, Life Worship UK, Dustin Smith, Desperation Band, Bluetree, Lincoln Brewster, Christine D'Clario, Stu G, Beth Croft, Sheldon Bangera, Danilo Montero, Jacobo Ramos, and Dove Award winning and nominated songwriters Jennie Lee Riddle, Israel Houghton, Jared Anderson, Michael Farren and Michael Neale.
Integrity Music is part of the David C Cook family, a nonprofit global resource provider serving the Church with life-transforming materials. Headquartered in Colorado Springs, Colorado, and Eastbourne, UK, Integrity is committed to taking songs of substance to the local church and its leaders around the world. Integrity currently controls over 7,000 songs, including the No. 1 radio hit "We Believe" (Newsboys) as well as church standards "Revelation Song," "Open The Eyes Of My Heart," "Your Great Name" and "I Am Free." Additional information can be found at www.integritymusic.com.
##
Media Contact:
Rick Hoganson
Hoganson Media Relations
615-459-9870