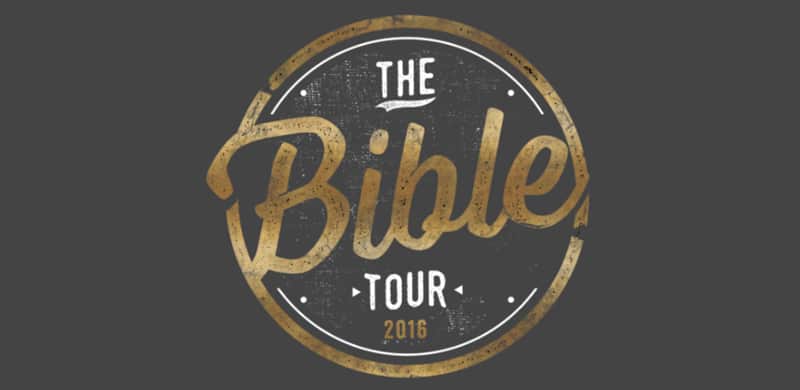 NASHVILLE, Tenn. – (April 12, 2016) – The Bible Tour 2016 has officially kicked off its 17-date tour last Wednesday night in front of a sold out crowd in Sacramento. Now in its third year, K-LOVE Radio presents The Bible Tour 2016 in partnership with 25 Entertainment, Roma Downey, Mark Burnett and LightWorkers Media, the producers behind History Channel's epic "The Bible" television miniseries watched by over 100 million.
The tour's opening weekend included two more sold out shows in Phoenix and Albuquerque, and tickets are going fast for the remaining 12 dates. Fans can purchase general admission and VIP tickets by visiting www.TheBibleTour2016.com.
The Bible Tour 2016 features your favorite artists bringing the Bible to life through live performances of today's biggest songs paired with stunning visuals in a one-of-a-kind multi-media experience. The artist lineup has allowed producers to reimagine the night with a new storyline, epic video clips and visuals from the Emmy nominated 'The Bible' miniseries, and modern footage shot in the Holy Land.
This year's lineup includes: GRAMMY® Award- and Primetime Emmy Award- nominated singer and songwriter, Matthew West; Dove Award-winning quintet Sidewalk Prophets; former Dove Awards Songwriter of the Year Aaron Shust; Canadian wife-and-husband duo Love & The Outcome; and powerhouse vocalist Blanca.
04/13/16 Rosemont, IL, Rosemont Theater
04/14/16 Indianapolis, IN, Reardon Auditorium-Anderson University
04/15/16 Reading, PA, Reading Eagle Theater at the Santander Arena
04/16/16 New York, NY, Beacon Theatre
04/17/16 Pittsburgh, PA, Petersen Events Center
04/23/16 Jacksonville, FL, First Baptist Church
04/24/16 Nashville, TN, War Memorial Auditorium
04/27/16 Oklahoma City, OK, Thelma Gaylord Performing Arts Center
04/28/16 Kansas City, MO, Sheffield Family Life Center
04/29/16 Little Rock, AK, First Baptist Church
4/30/16 Dallas, TX, Majestic Theater
5/01/16 San Antonio, TX, Laurie Auditorium – Trinity University
*For more information, please visit www.TheBibleTour2016.com
##
About K-LOVE Radio:
K-LOVE is listener supported and delivers positive, encouraging contemporary Christian music to approximately 18 million dedicated listeners through its 446 signals across 47 states. For more information visit: www.klove.com
About Air1:
Radio is a listener-supported Christian CHR radio network heard by over 5 million people each week in cities nationwide including Los Angeles, Houston, Seattle-Tacoma, Phoenix, Portland, Riverside, and Sacramento. For more information, visit: www.air1.com
About 25 Entertainment:
25 Entertainment is the event booking, production and promotion arm of Word Entertainment, a comprehensive Christian entertainment company comprised of multi-faceted artist service departments including recorded music, publishing, distribution, merchandising, Church resources, and online initiatives. Based in Nashville, 25 Entertainment's roster includes some of the world's most-renowned Christian artists including Aaron Shust, Natalie Grant, Andrew Peterson, Love & The Outcome, Laura Story, and Point of Grace. The company also proudly represents national tours and conferences, such as the K-LOVE Christmas Tour, The Bible Tour and more.
About LightWorkers Media:
Celebrated Emmy-nominated actress and producer Roma Downey launched LightWorkers Media in 2011 along with her husband award-winning producer Mark Burnett. LightWorkers recently became a division of Metro-Goldwyn-Mayer Studios (MGM), with Downey as the President of the division. LWM was launched with the children's DVD and book series "Little Angels" and its companion "Little Angels Storybook Bible". They have produced the ten-hour hit miniseries "The Bible" which was seen in the USA by 100 million people and was one of the fastest selling TV-to-Disc titles ever and was nominated for three Emmy awards. Additionally LWM produced the series "A.D." a sequel to "The Bible" series for NBC, "The Women of the Bible" for LIFETIME, "The Dovekeepers" for CBS, "Answered Prayers" for TLC, the feature films "Little Boy" for Open Road Films and "Woodlawn" for Pure Flix. They are currently developing a series based on the best selling Baxter Family novels, producing a new series for NASCAR as well as producing the epic feature film "Ben-Hur," a reimagining of the classic story with MGM and Paramount. They most recently formed a partnership with Republic Records to release "The Voice" Season 9 victor and the show's best-selling artist Jordan Smith's new album "Something Beautiful."
About Museum of the Bible:
Museum of the Bible exists to invite all people to engage with the Bible through our four pillars: research, traveling exhibits, education, and a museum currently under construction in Washington, DC. In 2017, Museum of the Bible will open its 430,000-square-foot nonprofit museum just two blocks from the National Mall. This museum will showcase an unparalleled collection of antiquities representing 3,000 years of history and provide visitors with an immersive and personalized experience to deepen their understanding of the historical magnitude of the Bible and its impact on the world around us.
About Israel Government Ministry of Tourism:
The Israel Government Tourist Office is a department within the government whose role is to encourage tourism to Israel. Israel is the land of the Bible and the birthplace of Christianity and in support of all Christians visiting Israel a once-in-a-lifetime trip to the Holy Land will be given away as part of the 2016 Bible Tour! Don't miss this opportunity to walk where Jesus walked! Visit www.land-of-the-bible.com for more information.
Media Contact:
Merge PR
Lori@MergePR.com | 615.579.1266
Stacie@MergePR.com | 615.260.4679