NEWS: Tenth Avenue North Announces, "All the Earth is Holy Ground" Fall Tour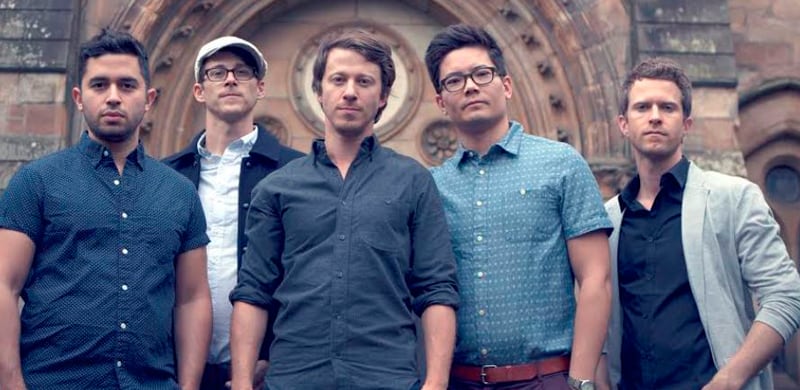 Featuring Special Guests Sidewalk Prophets and Dan Bremnes
NASHVILLE, TENN. (AUGUST 25, 2015) Tenth Avenue North (Reunion Records) announces their fall headline tour "All The Earth Is Holy Ground" with special guests Sidewalk Prophets and newcomer Dan Bremnes. The 30-plus-city tour, sponsored by Compassion International and Palm Beach Atlantic University, will kick off on September 18 in Lynchburg, VA at Liberty University and conclude on November 11 in Round Rock, TX. See below for the complete list of dates.
This tour follows in the footsteps of the newest Tenth Avenue North studio release Cathedrals, which is a beautiful collection of well-crafted songs that inspire community, encourage accountability and celebrate the fact we are not alone. It is this release and idea behind the album that has inspired the title and theme of this upcoming tour.
"Since we are His cathedrals, everywhere we go we bring the sacred with us," shares Tenth Avenue North's front man Mike Donehey. "The division between the secular and sacred has, like the veil, been forever torn in two. We no longer need to seek out sacred spaces, instead, we merely need to walk through the door. Starbucks, school, or the supermarket, there is not a place on earth that is not His, and there is not a place we can go where He is not. We have the sacred inside. All the earth is holy ground."
Donehey, drummer Jason Jamison, bassist Ruben Juarez, keyboardist Brendon Shirley and guitarist Jeff Owen have forged a unique sound that has made them one of the Christian music's most successful young bands. In the spring of 2014, Tenth Avenue North crossed the one million mark for records sold and continues to build its strong fan base by achieving more than one million likes on Facebook.
About Tenth Avenue North:
Tenth Avenue North (Reunion Records) made their national debut in 2008 with Over and Underneath, which spawned the hits "Love is Here," "By Your Side" and "Hold My Heart." Tenth Avenue North won the Gospel Music Association Dove Award in 2009 for New Artist of the Year and in 2010 "By Your Side" was named Song of the Year. The band gained further momentum with 2010's The Light Meets the Dark and The Struggle in 2012, which continued to populate radio and the church with such memorable songs as "Healing Begins," "You Are More," "Losing" and "Worn." In November 2014, the band released their fourth studio project, Cathedrals, with the first radio single "No Man Is An Island."
About Sidewalk Prophets:
Formed at Anderson University, founding members Dave Frey and Ben McDonald took their first steps in pursuit of their love of music, ministry, and community by writing and recording songs together initially in a dorm room. After touring with Jeremy Camp and Audio Adrenaline on the strength of independent albums, they made their Fervent Records (Word Entertainment) debut in 2009. Sidewalk Prophets has since earned a Billboard Music nomination (Top Christian Song- 2014), and have garnered 4 Dove Award nominations along with a Dove Award win for New Artist of the Year in 2010. Known for their love of their fan base, Sidewalk Prophets relentlessly tours the country over 200 dates each year, bringing a show filled with hit radio songs and heartfelt tunes with the goal of reaching people where they are for Christ. Their third studio album Something Different released August 28, 2015. For more information visit www.sidewalkprophets.com.
About Dan Bremnes:
When this singer and songwriter from Salmon Arm, British Columbia was just ten years old, he played drums at his local church while also learning guitar and discovering a passion for songwriting. As years passed it was a six-month missions trip in Australia with Youth With a Mission (YWAM) that re-shaped his perspective. As he was pursuing his professional dreams, Bremnes faced the tragic news that his mother was killed in a car accident. An event that truly turned his life upside down, there was no better way to honor his mother's memory than by throwing himself wholeheartedly into music. He released his full-length debut on Capitol Christian Music Group earlier this summer titled, Where The Light Is. For more information visit www.danbremnes.com.
All The Earth is Holy Ground Tour Dates
*only special guest Dan Bremnes (no Sidewalk Prophets)
9/18 Lynchburg, VA
9/19 Ocean Grove, NJ
9/20 York, PA
9/24 Plymouth, MA
9/25 North Syracuse, NY*
9/26 Salisbury, MD*
9/27 Harrisonburg, VA
10/1 Champaign, IL
10/2 Lincoln, NE
10/3 West Des Moines, IA
10/4 Madison, WI
10/7 Winston Salem, NC
10/8 Ashland, KY
10/9 Mansfield, OH*
10/10 Cincinnati, OH*
10/15 Lubbock, TX
10/16 Houston, TX
10/17 Ft Worth, TX
10/21 Wausau, WI
10/22 St Cloud, MN
10/23 Bloomington, MN
10/24 Bourbonnais, IL
10/25 Grand Rapids, MI
10/29 Flint, MI
10/30 Waukesha, WI
11/1 Quincy, IL
11/4 Ladson, SC
11/6 Atlanta, GA
11/7 Cordele, GA
11/12 Corinth, MS
11/13 Pensacola, FL
11/14 Lake Charles, LA
11/15 Round Rock, TX
Connect With Tenth Avenue North:
Twitter
Facebook
Instagram
YouTube
##
Media Contact:
Merge PR
PO Box 1271
Franklin, TN 37065