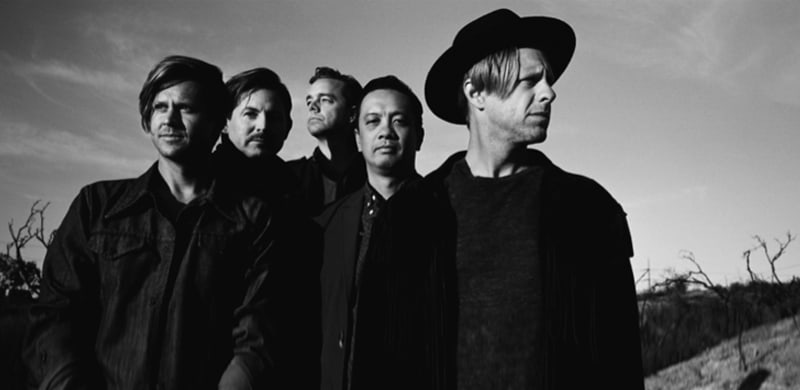 Watch the Official Announcement Video, here:
New Album Where The Light Shines Through Out Now via Vanguard Records and Capitol Christian Music Group
Currently on the "Looking For America Tour" Featuring RELIENT K
Nashville, Tenn. (Nov. 10, 2016) – Multi-platinum selling, Grammy-winning band SWITCHFOOT is thrilled to announce that they have teamed up with Live Nation for their first ever "Cold Turkey Party." The band will be celebrating the day after Thanksgiving with a live stream of their show from The Palladium in Los Angeles, CA for fans across the country via Live Nation TV's Facebook page, Live Nation's YouTube Channel, and LiveNation.com starting at 9:30pm PST/12:30am EST.
SWITCHFOOT kicked off the "Looking For America Tour" and has been selling out venues across the country, a testament to the passion and energy the band brings to the stage each night. Tickets for all remaining dates can be found at www.switchfoot.com.
Formed in San Diego in 1996, SWITCHFOOT is Jon Foreman (vocals, guitar), Tim Foreman (bass), Jerome Fontamillas (keyboard, guitar), Drew Shirley (guitar), and Chad Butler (drums). Since their start, the band has sold over 5.7 million copies worldwide of their first nine studio albums (including their 2003 double-platinum breakthrough The Beautiful Letdown and 2009's Grammy Award-winning Hello Hurricane), racked up a string of Alternative radio hit singles, and performed sold-out world tours with over 4 million concert tickets worldwide.
"I Won't Let You Go," a follow-up to their No. 1 radio hit "Live It Well," will impact radio later this month. SWITCHFOOT released their latest album, Where The Light Shines Through, on July 8th, 2016 via Vanguard Records and Capitol CMG. Where The Light Shines Through is the band's tenth album and the first since 2014's highly acclaimed Fading West. The album was self-produced in collaboration with John Fields, who helmed the multi-platinum breakthrough The Beautiful Letdown.
Beyond their career achievements, SWITCHFOOT has also been active in a variety of philanthropic efforts, raising over a million dollars to aid kids in their community through the band's own Bro-Am Foundation, a long-running annual benefit surf contest and concert that's held every summer in Encinitas, CA. $1 of every ticket sale will be donated to SWITCHFOOT's BRO-AM Foundation providing services to underprivileged and disadvantaged youth. They've also maintained a deep commitment to a variety of humanitarian causes, lending their support to such worthy organizations as CURE International, DATA, the ONE Campaign, Habitat for Humanity, Invisible Children, and To Write Love on Her Arms.
Click Here to purchase Where The Light Shines Through via iTunes and Click Here to purchase via Amazon Music.
Get Connected With SWITCHFOOT:
www.switchfoot.com
www.facebook.com/switchfoot
www.twitter.com/switchfoot
www.instagram.com/switchfoot
Upcoming Tour Dates with Relient K:
11/10 – Memphis, TN @ Minglewood Hall
11/11 – Oklahoma City, OK @ Diamond Ballroom
11/12 – Tulsa, OK @ The Mabee Center
11/14 – San Antonio, TX @ Aztec Theater
11/16 – Dallas, TX @ House of Blues
11/17 – Austin, TX @ Stubb's Waller Creek Outdoor Amphitheater
11/18 – Lubbock, TX @ City Bank Auditorium
11/19 – Albuquerque, NM @ Sunshine Theater
11/20 – Tempe, AZ @ The Marquee
11/22 – Tucson, AZ @ Rialto Theatre
11/23 – Las Vegas, NV @ House of Blues
11/25 – Los Angeles, CA @ Hollywood Palladium
11/26 – San Francisco, CA @ The Masonic
##
Media Contact:
Courtney Hyder
the media collective
courtney@themcollective.com
(615) 591-7989
www.themcollective.com