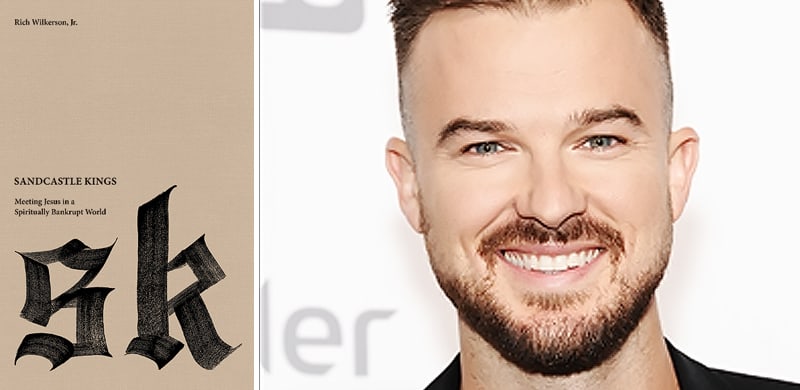 Rich Wilkerson, Jr., Who Grabbed International Headlines When He Performed the Wedding Ceremony for Kim Kardashian and Kanye West, Defines How to Find Fulfillment in Life Through Debut Book
SANDCASTLE KINGS features cover art designed by Kanye West, exclusively unveiled today on People.com
Los Angeles, Calif. (June 23, 2015) – Known around the world as the pastor who performed the wedding ceremony for Kim Kardashian and Kanye West, Rich Wilkerson Jr. explains why all the material success in the world won't make you happy or fill the void in your heart through his debut book. SANDCASTLE KINGS: Meeting Jesus in a Spiritually Bankrupt World hits shelves Nov. 10, 2015 and features cover art created by Kanye West and his team at DONDA, which was unveiled exclusively today on People.com.
"Rich Wilkerson is a dynamic voice among young church leaders, and we're delighted to publish his debut book this fall," says Webster Younce, associate publisher/executive editor for Nelson Books, an imprint of Thomas Nelson. "We're especially thrilled that Kanye West is lending his support to Rich's ministry by creating this beguiling, boundary-pushing cover design."
Wilkerson believes the world has figured out the formula for manufacturing material success, but when it comes to finding true, lasting happiness, we are as lost as ever. "We yearn for more, or less, or something that's just different from what we have right now," he says. "Deep down, we know there must be satisfaction for our longing. We just don't know where to find it."
In SANDCASTLE KINGS, Wilkerson uses his rising popularity to take readers on a step-by-step journey through the Gospel of Luke to reveal why the only answer for spiritual bankruptcy is Jesus. Wilkerson uses four powerful stories from the seventh chapter to explain why spiritual fulfillment cannot be found with us, in other people, in material things, or even in religion.
"By studying the stories of the centurion's faith, the resurrection of the widow's son, Jesus' message about John the Baptist, and the anointing by the woman with the alabaster jar, you will be able to face your doubts and insecurities and overcome your anxiety, discontentment, and depression," says Wilkerson. "Until we turn to Jesus, we will never experience the lasting peace and joy we so desperately crave."
SANDCASTLE KINGS has already garnered endorsements from a number of faith leaders and influencers, including Erwin Raphael McManus (Founder of Mosaic and author of The Artisan Soul), Chris Durso (Pastor of Misfit NYC), Brooke Fraser (singer/songwriter), Levi Lusko (pastor, Fresh Life Church and author of Through the Eyes of a Lion), and others.
"Pastor Rich is one of those rare people who always lights up the room and makes everyone feel like a priority. His optimistic advice and his passion for the Word of God are contagious. He has had such a positive and enlightening influence on my family; we are so blessed to call him our Pastor and our friend." -Kim Kardashian West
With an exploding social media and web platform, Wilkerson engages a wide and diverse following every Tuesday night in Miami through Trinity Church's young adult ministry The Rendezvous (nicknamed "the Vous"). Delivering weekly sermons to over 4,000 attendees, Wilkerson tackles tough issues, giving clear advice on everything from racism to drugs and sex, and doesn't shy away from preaching about sin and repentance.
For more information about Rich Wilkerson, Jr.:
Website
Facebook
Twitter
Instagram
About The Author:
Rich Wilkerson Jr. is the executive pastor of Trinity Church in Miami and founder of "The Rendezvous" gathering, which hosts 1,000 young adults every week. For the last eight years he has hosted a weekly television round table talk show Top 3 broadcasted on the network JCTV and has hosted TBN multiple times along with other nationwide events. He lives in Miami.
Media Contact:
Lesley Burbridge
310-854-8170
lburbridge@rogersandcowan.com

Tracy Cole
310-871-8349
tcole@rogersandcowan.com