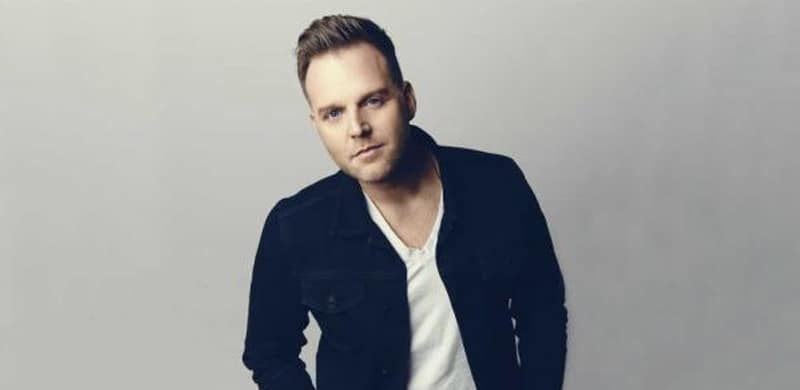 9 May 2016 – Nashville, Tenn – In his career, Matthew West, a multi-award-winning artist and songwriter who is well known for sharing others' stories through song, has received thousands of stories from people all around the world. Compiling many of the stories into three impactful albums, West has written songs of loss, abuse, redemption, heartbreak, recovery, and more.
One of these very stories inspired West's current single, "Grace Wins," from his latest album release, Live Forever. West was moved to pen the tune when he heard the story of Robert Muir who, in 2014, attended a Matthew West show and at the time addicted to heroin and in desperate need of help. Attending the concert with his mother, Robert knew he needed to make a life change. At the show he found out about popwe, a non-profit organization that West co-founded with his father, Pastor Joe West. popwe connected Robert to Teen Challenge, a Christian-based drug and alcohol recovery program and helped Rob with the tuition for the 14-month recovery program. Today, Robert is employed by Teen Challenge and now helping others recovering from addiction. Robert's is just one of many touching and truly life-changing stories!
Be sure to watch the video below that shares Rob's story. The video also made its debut this weekend on the homepage of The Christian Post:
Grace Wins from popwe on Vimeo.
ABOUT popwe:
Thanks to the thousands of stories that keep coming in, Matthew West is broadening his mission of storytelling more than ever before with the official launch of popwe.org, a ministry created for people to share their stories for God's glory.
"Stories, just like Rob's, have served as the inspiration to all of the songs I've written, but they've also served as an inspiration to much more – it has become a life-changing journey," West shares. "Now I know my mission is to take this idea of story even further."
He continues, "I've had a front row seat to see how God can speak through each of our stories, and when one person stands up and tells their story, another person finds out that they're not alone. It's time to go from me to we. That's why we started popwe."
popwe is made up of a collective group of believers gathering as a community learning how to craft, share and live a more meaningful story with each of our lives, while spreading the unending message of hope. Stories inspire and they encourage, yet stories are only powerful when they are shared. To hear more from Matthew West as he shares his heart about the ministry, please check out the video below, and visit popwe.org to find out more.
"GRACE WINS" EVERY TIME:
Not only was the song "Grace Wins" inspired by Rob Muir's story, but the song also took the No. 1 spot at radio on multiple charts. West recently visited his record label, pictured on the right with his radio team, to celebrate this seventh career No. 1 radio hit.
ON THE ROAD AGAIN:
After wrapping his co-headliner gig at this year's Winter Jam Tour, Matthew West jumped on The Bible Tour throughout April. This summer and early fall will take West to numerous music festivals around the U.S.
In October, he will set to sea on his 2016 Storytellers Cruise to the Caribbean. Running from October 23-30, special guest artists and speakers, including Pastor Greg Laurie, Selah, Angie Smith, Mr. Talk Box and Pastor Joe West. Guests will experience an amazing time with music, worship, speakers and special opportunities where together will learn to "craft, share and live" out stories while drawing closer to God. They will be visiting Grand Turk, Turks and Caicos, San Juan, Philipsburg, St. Maarten, and Half Moon Cay, Bahamas.
Visit MatthewWest.com for more information.
##
ABOUT MATTHEW WEST:
Matthew West is a four-time GRAMMY® nominee, a multiple-ASCAP Christian Music Songwriter/Artist of the Year winner and Dove Award winner and, and was awarded an American Music Award (2013) and a Billboard Music Award (2014). West was also nominated for a Primetime Emmy® Award for Original Music & Lyrics for "The Heart of Christmas" from the film of the same name. In addition to his own recording career, West has more than 100 songwriting credits to his name, including cuts by Rascal Flatts, Scotty McCreery, Casting Crowns, Michael W. Smith, Amy Grant, and Mandisa, among others. Selling more than 1.2 million albums to date (TEA), West's discography includes acclaimed releases: Live Forever (2015), GRAMMY-nominated Into The Light (2012), The Story of Your Life (2010), Something to Say (2008), History (2005) and Happy (2003).
Matthew West, well known for communicating stories through song, has received more than 40,000 stories from around the world. His latest album, Live Forever, continues that storytelling theme and debuted at No. 1 on the Billboard Christian Sales Chart. West has obtained numerous No. 1 singles, most recently with "Grace Wins," while achieving a record-setting No. 1 for 17 straight weeks at radio with "Hello, My Name Is" and "The Motions" for 15 weeks.
On the road year-round, he has headlined many of his own tours, such as the Live Forever Tour that ran through Fall 2015. West co-headlined 2016's WinterJam Tour Spectacular, the No. 1 tour in the world, which he first joined in 2013. Matthew West can also add author to his name, writing four books to date: Give This Christmas Away, The Story Of Your Life, Forgiveness, and Today Is Day One. Find out more at www.MatthewWest.com.
Connect:
Twitter
Facebook
Instagram
YouTube
Media Contact:
Merge PR
Stacie Vining and Lori Mahon
Stacie@MergePR.com | 615.260.4679
Lori@MergePR.com | 615.579.1266