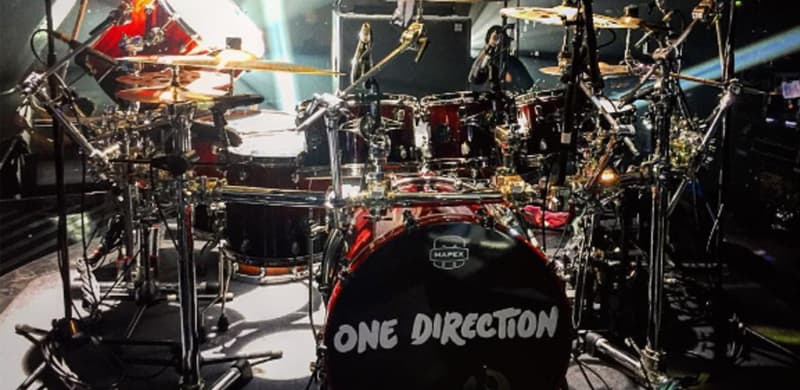 Food for the Hungry and One Direction drummer Josh Devine partner to benefit Rwandan community through education, better water systems, new classrooms & more
Nashville, Tenn. (November 2, 2016) — Platinum-selling band One Direction has toured the globe, selling out stadiums packed with cheering supporters, and now fans have the chance to win the drum kit seen by millions on stage while helping fight extreme poverty in Rwanda through Food for the Hungry's The Hardest Places sweepstakes.
One Direction's drummer, Josh Devine, has donated his Mapex Saturn IV drum kit, featured in the films This Is Us (2013) and Up All Night: The Live Tour (2014), to help raise money for Food for the Hungry's life-changing work in Nyagihanga, Rwanda. With one hundred percent of proceeds going to meet the immediate needs of those in the community, fans can enter the sweepstakes here by donating one dollar or more until December 31, 2016.
"This will probably be the best thing you ever do. I promise," Devine said of supporting Food for the Hungry's efforts.
After learning about the organization's impactful mission, Devine sponsored a Rwandan child named Evaride, with monthly financial gifts helping pull Evaride and his community out of extreme poverty. Devine recently traveled to Rwanda, where he met Evaride and his family for the first time.
Deeply moved by the experience, Devine chose to become a Food for the Hungry ambassador to the community of Nyagihanga, Rwanda, which has many needs such as adequate school facilities, including proper kitchens and bathrooms, healthy water systems and better farming practices. Wanting to do more to help, Devine donated his world-famous One Direction drum kit to help raise money to meet the needs of the community in Nyagihanga.
To learn more about Devine's involvement with Food for the Hungry, and to see he and Evaride meet for the first time, watch the video below.
For additional information, visit thehardestplaces.com.
About Food For The Hungry
The world is hungry, but the emptiness goes far beyond the table. The need is physical and spiritual. People hunger for opportunity, starve for resources, and have been stripped of value. These injustices keep us up at night. IT'S NOT OK. AND YET HOPE REMAINS. We seek to end ALL forms of human poverty by going into the hard places and closely walking with the world's most vulnerable people. We actively partner with churches, leaders, and families to build transformational relationships, usher justice, and renew communities so God's purpose is revealed in each person we serve. Our view of poverty is holistic and complex. Our solutions are innovative and community-specific. We courageously seek out the overlooked and advocate for the underserved. We're unrelenting and we do what others claim can't be done. We honor the people we serve by inviting them to contribute to the process. Through community-owned transformation we empower children, families and communities to invest in their own development. More than anything, we want to see people thrive. We are agents of change. We work, we feed, we teach, we love, but we know when it's time to leave. We are ending poverty, together.
Get Connected With Food for the Hungry
www.fh.org
Twitter
Facebook
Instagram
About Josh Devine
Josh Devine is a drummer, singer and songwriter best known as the drummer for One Direction. But a young boy in Rwanda knows him only as his sponsor. Josh has been sponsoring Evaride since 2014 and recently had the opportunity to meet Evaride. Evaride lives in a community called Gisanga which has been served by Food for the Hungry for the past 10 years, and is celebrating their self-sufficiency and rise out of extreme poverty through graduation this year. Josh is thrilled to have played a part in ending extreme poverty in Gisanga and wants to help other communities experience the same freedom and celebration. Josh is asking you to join him in supporting Food for the Hungry as partner with the community of Nyagihanga. This school is in desperate need of adequate school facilities, including proper kitchens and bathrooms, healthy water systems and better farming practices. Nyagihanga currently has 1,200 children who need a sponsor. Through child sponsorship with Food for the Hungry, you can help Nyagihanga escape extreme poverty and sing celebrations of strength. Join Josh as he advocates for the world's most vulnerable people.
##
Media Contact
Kirsten Grenier & Velvet Kelm
the media collective
kirsten@themcollective.com
velvet@themcollective.com
615-591-7989
www.themcollective.com