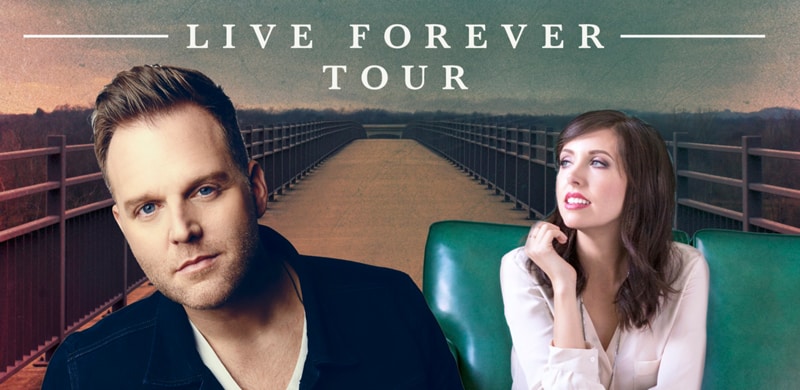 NASHVILLE, TENN. (June 29, 2015) Four-time GRAMMY®-nominated singer/songwriter Matthew West prepares for the second leg of his successful Live Forever Tour with Francesca Battistelli and special guest Mr. Talkbox formerly of TobyMac's Diverse City Band. Compassion International presents this 40-city tour that will begin on September 24 in Eau Claire, WI (tour dates listed below). This special tour will be memorable for the concert attendee, as both West and Battistelli have recently topped the charts with their latest projects and songs. West's new album Live Forever achieved him his first No. 1 debut on the Nielsen Soundscan Christian & Albums chart, and Battistelli is currently holding the No. 1 position on Christian AC radio charts with her single, "Holy Spirit."
"This fall's tour is shaping up to be something special," shares Matthew West about the upcoming tour. "I'm excited to hit the west coast for the first time in a while, and to add such a great artist as Francesca to the lineup. We saw some incredible things happen during the spring tour. I've said it before, but there's nothing like bringing the music to the people and connecting with a live audience. I can't wait for this tour to begin and to see what God has in store for us as we hit the road."
West's Live Forever debuted at No. 24 on the Billboard Top Albums chart with a 24 percent increase over his last album release. Live Forever was produced by Pete Kipley (MercyMe, Crowder) and continues West's mission to tell a story of a different kind with his music-to transform listeners' stories into life-changing songs. With comments such as "West has become a master storyteller," to "a must have album," the reviews for Live Forever have been a good indication to the immediate success of his project. Additionally, his new single, "Grace Wins" will impact radio in early August in time for the fall tour.
"I am so excited to be going on tour with one of my favorite artists, Matthew West," states Francesca Battistelli. "I can't believe that in my seven years of doing this we have never toured together. Having Talkbox out with us is going to be a blast too, as anyone who's ever met him can attest to his nonstop energy. To be able to combine the ministry that we're all doing to further the Kingdom and see lives changed is going to be amazing. I can't wait!"
In addition to the standard ticketing options, a special VIP ticket package is being made available with a pre-show VIP Question & Answer time with Matthew. The VIP Experience will also include an exclusive laminate for all VIP ticket holders. For more information on the VIP options as well as all ticket purchasing info for each specific date, go to MatthewWest.com.
About Matthew West
Matthew West is a multiple-ASCAP Christian Music Songwriter/Artist of the Year winner, a four-time GRAMMY® nominee, and was awarded his first American Music Award (2013) and a Billboard Music Award (2014). Matthew West's discography includes acclaimed releases: Happy (2003), History (2005), Something to Say (2008), The Story of Your Life (2010), GRAMMY-nominated Into The Light (2012) and Live Forever (2015). West was nominated for a Primetime Emmy® Award for Original Music & Lyrics for "The Heart of Christmas" from the film of the same name. His songwriting credits include cuts by Rascal Flatts, Billy Ray Cyrus, Diamond Rio and more. He spent much of late 2012 and early 2013 on a pre-headlining stint on WinterJam Tour Spectacular, the No. 1 tour in the world. He wrapped 2013 with his own headlining in the fall of 2013 and "The Story Tour" in December. During 2014, West toured with the "Hits Deep Tour" as well as his sell-out "Hello My Name Is…" acoustic tour.
About Francesca Battistelli
Since her debut in 2008, Francesca Battistelli has earned three GRAMMY® Award nominations, a Billboard Music nomination, six Dove Awards, and recently the award for Female Artist of the Year at the 2015 KLOVE Fan Awards. With both an RIAA Certified Gold Album and Single to her credit, 2 Billboard No. 1 albums, more than 1.5 million in album sales and nearly 2.5 million single downloads to date, she is the best-selling new artist in the genre in over a decade. The launch of her third album, If We're Honest, found her at the top of the Christian SoundScan chart, afforded her the opportunity to make her national morning TV debut on ABC's Good Morning America, and yielded three consecutive #1 singles, "Write Your Story", "He Knows My Name" and "Holy Spirit." For more information visit francescamusic.com.
About Mr. Talkbox
Orlando-born performer Byron Chambers aka Mr. Talkbox is a two-time GMA Dove Award winner and 2015 GRAMMY-nominee. Mr. Talkbox has performed alongside such Gospel greats as Jonathan Butler, The Mighty Clouds of Joy, Fred Hammond, CeCe Winans, Kurt Carr and Bishop T.D. Jakes, to name just a few. His career exploded when he was offered a shot at playing keys with mega-pop band *NSYNC, and he has since toured and performed with pop superstars like the Backstreet Boys, Britney Spears, O-Town, Gloria Estefan and Jordan Knight. He then joined TobyMac's Diverse City band touring for the last five years (2009-2014). Talkbox's debut independent solo CD, My Testimony, impacted sales in more than 17 countries and went on to become one of CD.com's top sellers and charted No. 1 on the Japan Christian and Gospel Charts with the catchy hit song "Destiny." His song "Ground Zero" has reached more than 17 million views on YouTube and was used for a stunt group called Dude Perfect. For more information visit Mr. Talkbox on Facebook.
Live Forever Tour Dates
*All dates subject to change
More dates being announced – check out matthewwest.com for updates
September 24 – Eau Claire, WI
September 25 – Fargo, ND
September 26 – Eden Prairie, MN
September 27 – Waukesha, WI
October 1 – New Albany, IN
October 2 – Madison, TN
October 3 – Savannah, GA
October 4 – Aiken, SC
October 8 – Andrews, TX
October 9 – Alamogordo, NM
October 10 – Phoenix, AZ
October 11 – Yorba Linda, CA
October 13 – San Diego, CA
October 15 – San Jose, CA
October 16 – Roseville, CA
October 17 – Portland, OR
October 29 – Effingham, IL
October 30 – Wisconsin Dells, WI
October 31 – Naperville, IL
November 1 – Jackson, MI
November 5 – Bensalem, PA
November 6 – Johnson City, NY
November 8 – Wheeling, WV
November 14 – Longview, TX
November 15 – Round Rock, TX
November 21 – Grand Rapids, MI
##
Media Contact:
Merge PR
P.O. Box 1271 | Franklin, TN 37065