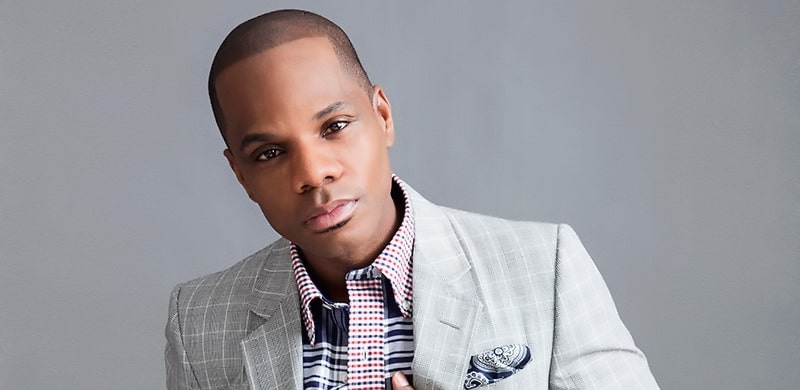 Kirk Franklin Talks New Single 'Wanna Be Happy?'
Track signals artist's return after a nearly five-year hiatus
Kirk Franklin will break his radio silence tomorrow (Aug. 28). That's when the nationally syndicated Steve Harvey Morning Show will premiere "Wanna Be Happy?," the contemporary gospel pioneer's first new single in almost five years.
Available on iTunes at midnight on the 28th as well, "Wanna Be Happy?" is the lead track from Franklin's November-slated studio album via the singer's RCA-distributed Fo Yo Soul Recordings. Franklin's last solo album was 2011's Hello Fear. The project — his tenth chart-topper — spent 19 weeks at No. 1 on Billboard's Top Gospel Albums chart and has sold 572,000 according to Nielsen Music. Debuting and peaking at No. 5 on the Billboard 200, Hello Fear also spun off the hit "I Smile." The single reigned at No. 1 on Hot Gospel Songs for 23 weeks.
The Happy rollout will continue through the weekend as Franklin is set to perform the song for the first time during the Aug. 30 live season finale of BET's Sunday Best. On the eve of the single's radio premiere, the seven-time Grammy winner talked to Billboard about the single's inspiration, the reasons behind his recording break and why he's been afraid.
Billboard: What inspired your new single?
Franklin: First and foremost, every human being wants to be happy. And we will try different things all in the pursuit of that feeling. With this song I'm saying if you really want to be happy, you have to start with the originator. It's like wanting to lose weight. Do you really want to lose weight? Because if you do, there's a price to pay: You have to work at it. And this song is saying if you really want to be happy, let's get to the nitty-gritty of what that is. We're not the architects of our lives. We've got to go to the manufacturer. And it's my goal to try to lead people to the manufacturer of their souls.
B: Why the nearly five-year break?
F: I've been working on several other ventures to help keep God in the culture and the conversation. I'm still doing the Kirk Franklin Gospel Brunch with the House of Blues. And we're in the eighth season of BET's Sunday Best [which he hosts and co-executive produces]. I looked up and almost five years had passed.
B: How would you describe the new album?
F: This is probably my most intentional work, surprisingly romantic and direct at the same time. I can't reveal the title yet. But people will be excited by the special guests I have on the album, which I'm mixing now. I'm speechless as to how it's turning out; just thankful that after 22 years that God would still trust me with something so special I never saw it coming. I've been afraid.
B: Afraid of what?
F: Every artist is afraid… or just afraid to admit it. Artists are insecure, sometimes weird people who are sensitive about their gift and craft. And the culture and climate [in the industry] have been changing. After you've done something for so long, you become afraid that people may not want to hear you do that anymore; afraid that people might have moved on.
B: Who else is on the Fo Yo Soul roster?
F: Besides myself, there's The Walls Group, Tasha Page-Lockhart, Geoffrey Golden and Christon Gray, our latest signing. We're just trying to bring new heartbeats into the genre.
##
Source:
Billboard