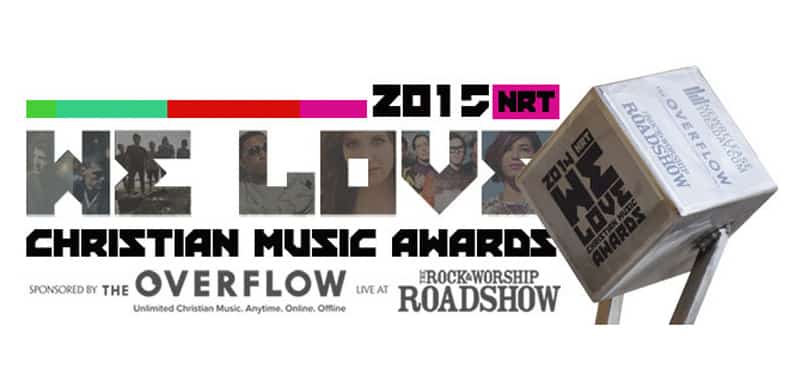 Fans cast nearly 45,000 votes in the third annual awards, honoring 18 different artists in 25 categories
NASHVILLE, Tenn.— Word Records' for KING & COUNTRY led all artists in the third-annual WE LOVE CHRISTIAN MUSIC AWARDS, winning five of its six nominated categories, including Group of the Year, Song of the Year, and Album of the Year, while Colton Dixon took home the write-in powered Fan Impact Award.
The awards—created and produced by Christian music's largest website, NewReleaseTuesday.com (NRT), and sponsored by online music streaming service The Overflow (TheOverflow.com)—recognized artists in 25 categories. Awards were handed out live in front of thousands of people each night during the 23-city Rock & Worship Roadshow tour.
Six different nights, the live Roadshow audience was treated to seeing the winners receive their awards in person. MercyMe—the tour's headlining band—took the stage to accept The Inspo Award for Best Contemporary/Inspirational Artist/Group as well as The Roadshow Award for Best Live Performance on the tour. The band memorably exclaimed, "We won the Roadshow!"
The tour brought awards to the hometowns of Jesus Culture, Demon Hunter and Spencer Kane, who won The Chorus Award (Best Church-Based Worship Group), The Hardcore Award (Best Hard Rock/Metal Artist/Group) and The Next Big Thing Award, respectively. Rapture Ruckus also accepted The BPM Award (Best Electronic/Dance Artist/Group) live.
"Whether in a big city like Dallas or a smaller town like Bossier City, Louisiana, it was exciting for us to bring the awards show experience to people coast to coast," said NRT President/Founder Kevin McNeese. "And it just keeps getting bigger and bigger."
True enough, fans cast nearly 45,000 votes–two-and-a-half times last year's count–in the two dozen categories in late 2014 and early 2015, choosing the best artists and musical projects of the calendar year 2014.
According to the votes, it was the year of for KING & COUNTRY, as the band tied the WE LOVE CHRISTIAN MUSIC AWARDS record for five wins in a single calendar year. The band won Group of the Year and The Hook Award (for Best Pop Artist/Group). Its Album of the Year winning project, Run Wild Live Free Love Strong yielded wins for Song of the Year ("Fix My Eyes") and Best Collaboration ("Run Wild" with Andy Mineo).
"We're very honored and very thankful for this," for KING & COUNTRY's Luke Smallbone said. "It's very special for us to see that the music is impacting people's lives, and for you guys to resonate with that and vote for us is very, very kind."
In addition to winning the Fan Impact Award–which asked fans to write-in the artist or group who most impacted them in 2014–Colton Dixon became a back-to-back Male Artist of the Year winner, and his music video for "More of You" won Video of the Year (and kept for KING & COUNTRY from a six-category sweep).
"I'm blown away by all the votes. Blown away by your support," Dixon said. "I can't believe you guys brought me the Fan Impact Award. I'm honored. Let's keep doing this thing together."
Aside from the wins by for KING & COUNTRY and Dixon, 16 different artists won the remaining 17 categories, reflecting a diverse cross-section of Christian music.
"What really gets us excited about these awards is the ability to recognize many different talents in Christian music," McNeese said. "We hope that this not only encourages a number of artists to keep doing what they're doing, but it encourages music fans to discover some artists they otherwise might not have heard."
Francesca Battistelli won Female Artist of the Year, Mike Donehey of Tenth Avenue North was this year's Best Lead Singer, and Family Force 5 was recognized for their successful lineup change with the Relaunch Award.
New to this year's awards cycle is the category of Movie of the Year, which God's Not Dead won in a veritable landslide among some talented nominees. Check out the full awards listing below.
"THE WE LOVE CHRISTIAN MUSIC AWARDS continue to break trends and do things nobody else is doing," McNeese said. "It's pretty incredible to see how the fans are responding more than ever, and we're just getting started."
– WE LOVE CHRISTIAN MUSIC AWARDS 2014: WINNERS LIST –
(Complete details given at www.theweloveawards.com. Live winner announcement videos at www.youtube.com/weloveawards)
– GENRE CATEGORIES –
The Hook Award (Pop)
for KING & COUNTRY
The Inspo Award (Contemp)
MercyMe
The Encounter Award (Worship)
Kari Jobe
The Chorus Award (Church-Based Worship)
Jesus Culture
The Vibe Award (Rap/Urban)
Lecrae
The BPM Award(Dance/Electronic)
Rapture Ruckus
The Rawkfist Award (Rock/Alternative)
Switchfoot
The Hardcore Award (Hard Rock/Metal)
Demon Hunter
The Front Porch Award (Country/So. Gospel)
Mac Powell
– STANDARD CATEGORIES –
Album of the Year
for KING & COUNTRY, Run Wild Live Free Love Strong
EP of the Year
Andy Mineo, Neverland
Song of the Year
for KING & COUNTRY, "Fix My Eyes"
Male Artist of the Year
Colton Dixon
Female Artist of the Year
Francesca Battistelli
Group of the Year
for KING & COUNTRY
New Artist/Group of the Year
VERIDIA
Video of the Year
Colton Dixon, "More of You"
– WE LOVE CATEGORIES –
The Relaunch Award (Comeback/Change)
Family Force 5
Best Collaboration
for KING & COUNTRY feat. Andy Mineo, "Run Wild"
Best Indie Artist/Group
Beckah Shae
Best Lead Singer
Mike Donehey, Tenth Avenue North
The Next Big Thing
Spencer Kane
Movie of the Year
God's Not Dead
2014 Fan Impact Award (write-in vote)
Colton Dixon
The Roadshow Award (Roadshow audience)
MercyMe
##
About NewReleaseTuesday.com
NewReleaseTuesday.com [NRT] launched in August 2002 and has become the largest Christian music and media site online, offering the most complete and up-to-date info on faith-based arts and entertainment. From album release dates to exclusive interviews to world premieres and Christian music news, NRT has become the go-to place for what's new in Christian music, and boasts more than 100,000 registered users as part of its NRTeam Community. NRT also has spawned the NRT Radio Network, as well as a tour division, LivingRoomTours.com.
About The Overflow
TheOverflow [TheOverflow.com] is the first and only unlimited, on-demand Christian & Gospel music service that enables subscribers to listen to as many songs as they want anytime, online or offline, engage in devotionals and share new music with friends. Subscribers can build their own collections of favorite songs, albums and artists or lean back and listen to curated playlists from TheOverflow and our partners on iOS and Android phones and the Web. TheOverflow is a privately owned corporation controlled and managed by Christians.
Media Contact:
info@newreleasetuesday.com