NEWS: Famed College Basketball Coach Leonard Hamilton & Music Producer Kyle Bynoe Announce 5ive Oceans Music Group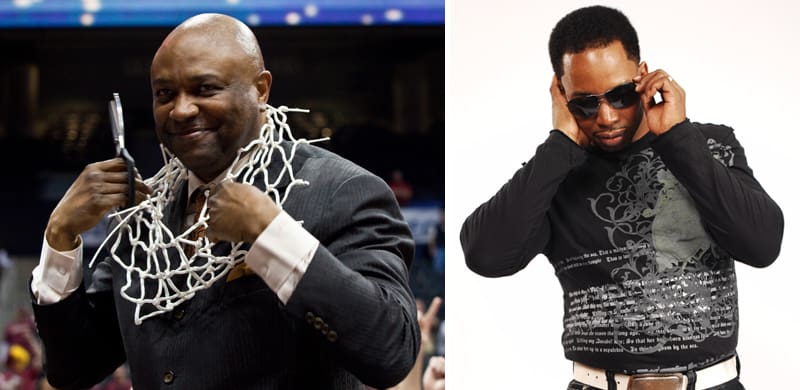 Pictured Left: Leonard Hamilton (photo credit Ross Obley); Right: Kyle Bynoe
(Los Angeles, CA) – Famed College Basketball Coach Leonard Hamilton and Music Producer Kyle Bynoe have announced their collaboration on 5ive Ocean Music Group, LLC distributed by New Day Christian in partnership with RED Distribution, a division of Sony Music Entertainment.
As an avid Christian and a lover of gospel music, Hamilton was looking for a way to produce gospel music through his ministry. Bynoe was searching to create a label as an outlet for the music God has given him. Hamilton and Bynoe formed a partnership and started a gospel label believing that it was divine timing that they would meet at this time in their lives.
The 5ive Oceans motto is "REACHING THE WORLD AND TOUCHING THE HEART".
The 5ive Oceans name was created to symbolize the idea of reaching out and bringing a fresh sound that will touch and give hope to people across the world.
The number 5 represents the five oceans that span the earth. The goal of the label is to reach people across the world through various genres of music.
5ive Oceans currently has six artists on their roster from music genres including praise and worship, pop, gospel, and Christian rap.
Bynoe, who has more than 25 years of experience as a producer, song writer and a recording artist, introduced 5ive Oceans to Ed Leonard, President of New Day Distribution. He felt this relationship would be a good foundation for creating a family environment that would not be over crowded; a place where 5ive Oceans could grow.
Bynoe, the president of 5ive Oceans, is solely responsible for the day-today operations of the label. Realizing that there was a need to add experience to the management side of the label, Bynoe brought in well-known music industry executive D.A. Johnson, the president of SRT Entertainment. Johnson brings a wealth of knowledge, experience, and talent to the team and as 5ive Oceans' label consultant.
"Kyle's experience as an executive and a manager will allow me to enjoy gospel music as my ministry," said Hamilton. "A ministry that will touch the souls of many people and bring joy to their lives."
Hamilton feels the team that 5ive Oceans has assembled is destined to be winners in the gospel music industry. 5ive Ocean wants to be a safe haven for artist to bring their music through and know they will be treated fairly, justly, and with integrity. "We want to give people a choice as to what they listen to," said Hamilton.
About Coach Leonard Hamilton & Kyle Bynoe:
Hamilton will become the winningest coach in Florida State history and the 10th-winningest coach in ACC history during the 2015-16 season. He will then be the winningest all-time coach at both Florida State and the University of Miami. He led Florida State to its first ever ACC Championship in 2012 and guided the Seminoles to a school-record four consecutive NCAA Tournament appearances from 2009-12. Hamilton is the only coach to be named Coach of the Year in ACC and the Big East multiple times and was named the National Coach of the Year in 1995 and 2009. More importantly, the graduation rate for his players during his career is above 94 percent.
Bynoe has served as a worship leader for 14 years and is a licensed minister who holds a Master of Religious Communication and Bachelor of Biblical Studies. Bynoe has earned three Dove Awards nominations, as well as Stella and Grammy nominations. He has an extensive track record and experience in many different genres throughout the music industry. Visit the website for more information.
##
Media Source:
The Belle Report