NEWS: Crowder To Appear On FOX & Friends Tomorrow As American Prodigal Drops Nationwide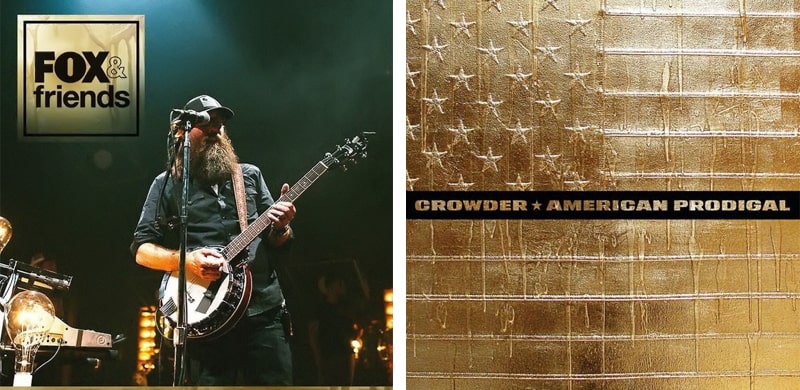 2X GRAMMY® nominee's national headlining tour to kick-off this weekend
Nashville, Tenn. (September 22, 2016) – Coinciding with the release of American Prodigal, 2X GRAMMY® nominee Crowder will perform on FOX & Friends tomorrow, Sept. 23. Immediately following the release of the album and national performance, Crowder's nationwide "American Prodigal Tour," featuring Tedashii and The New Respects, will kick-off to over 20 markets from west coast to east coast September through November.
"I know what it means to have the divide spanned on my behalf. Grace works on us all just the same. Love works on us all just the same. Freedom works on us all just the same. There's only one definitive line and that's the one between death and life" shares Crowder. "These songs are about that divide spanned on our behalf and I pray they are subversive and healing in their insistence of that reality."
Called "a perfect collision of folk and progressive sounds" (ChurchMag) and "a new level that is unique to only Crowder" (NewReleaseToday), American Prodigal will serve as the awaited 14 track LP follow-up to Crowder's acclaimed Neon Steeple. The first single off of the newest project, "My Victory," is currently Top 20 at AC Indicator, CHR and National Christian Audience Chart.
About Crowder:
Crowder has been embraced for his lyrically powerful and musically elaborate and unpredictable songs that have found themselves being sung everywhere from churches to clubs all across the country. Crowder's first solo album, Neon Steeple, debuted at No. 8 on the Billboard 200, was named iTunes 2014 Christian Album of the Year, garnered multiple radio hits, two GRAMMY® nominations, a Grand Ole Opry debut, a Dove Award and multiple nods and numerous K-LOVE Fan Award Nominations. American Prodigal, the awaited follow-up album, will be available on Sept. 23. As an active member of the Passion movement founded by Louie Giglio, Crowder participates in the impactful university student gatherings in the U.S. and around the world. A published author, Crowder has also penned two books including his acclaimed release, "Everybody Wants to Go to Heaven, but Nobody Wants to Die."
About sixstepsrecords:
Founded in 2000 by Louie Giglio, sixstepsrecords is a worship label and a division of Passion Conferences. sixstepsrecords' artists include Chris Tomlin (Never Lose Sight), Crowder (American Prodigal), Matt Redman (Unbroken Praise), Christy Nockels (Let It Be Jesus), Kristian Stanfill (Mountains Move) and Passion (Passion: Salvation's Tide Is Rising). The label partners with Sparrow Records/Capitol Christian Music Group for A&R, marketing, sales and distribution operations. For more information on sixstepsrecords, visit: www.sixstepsrecords.com.
Get Connected with Crowder
www.crowdermusic.com
Hashtag // #AmericanProdigal
Twitter
Facebook
Instagram
YouTube
##
Media Contact
Courtney Hyder
the media collective
courtney@themcollective.com
(615) 591-7989
www.themcollective.com