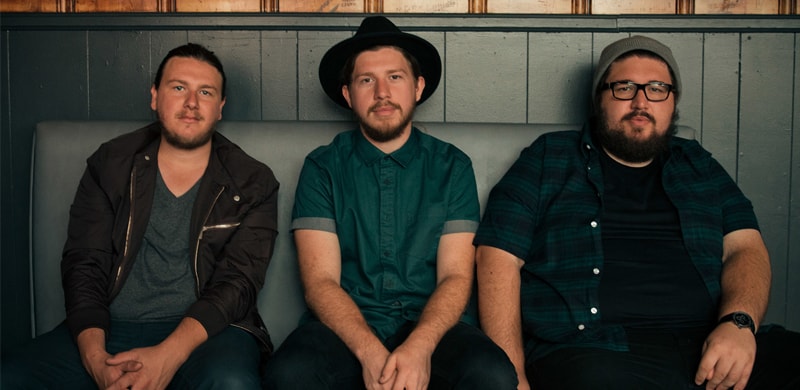 CONSUMED BY FIRE PREPARES TO UNLEASH FULL-LENGTH ALBUM, GIVING OVER ON MARCH 25
"Lean On Me" Featured in New Hallmark Original Movie The Ultimate Legacy, Set to Premiere January 31
Los Angeles, Calif. (Jan. 26, 2016)—As a follow up to their celebrated EP Lean On Me, released last year, rising artist Consumed By Fire is excited to reveal its debut full-length album with Inpop Records titled Giving Over on March 25.
Music listeners are being introduced to the Ward brothers, Caleb (Lead Vocals, Guitar), Josh (Guitar, Harmony Vocals) and Jordan (Drums, Harmony Vocals), through their rising hit single "Lean On Me." The song is quickly becoming a fan favorite as it climbs the charts attracting listeners of all ages. Additionally, the single can be heard in Hallmark's original movie The Ultimate Legacy set to premiere on January 31 at 9pm EDT.
"We are extremely excited about this band," shares Mark Lusk, President of Inpop Records. "With the immense nearly immediate success of their debut single and now it being featured in The Ultimate Legacy, we couldn't be more proud to be a part of Consumed By Fire's journey. They are a group of strong brothers with a passionate heart for God and His people. We believe this album will truly encourage listeners and become a staple in their music collection."
With a theme of ultimate surrender, the band's lyrics were inspired from personal experiences that challenged them to cast aside their own fears and plans and give into the path God paved for them.
"Even when you don't feel like it, that gift and that calling isn't going anywhere so we've learned to just surrender to it, give over to it," explains frontman Caleb Ward, the youngest sibling.
Discovered by producer Scotty Wilbanks via YouTube, together they developed 11 tracks that showcase the brothers' church roots combined with their varied musical influences that are also anchored lyrically in the deep faith that fuels them, giving them a sound that is uniquely their own.
Together, their goal is to continue spreading the gospel through honest, authentic music.
"There's the struggle in this record, and there's victory at the same time," Jordan shares. "You're not just left in the valley. We do talk about the mountain too. We're just being honest and saying, 'Yeah, we've been both places.' And we're moving on and moving forward."
For more information on Consumed By Fire, please go to www.cbfmusic.com and www.inpoprecords.com.
##
Track Listing for Giving Over:
Lean On Me
Thorns and Sorrows
He Waits For Me
Learning to Love
Follow Your Heart
Moving On
Walk Through The Fire
Hold The Rain
You and Me
Giving Over
Crossroads
About Consumed By Fire:
Consumed by Fire is Caleb, Josh and Jordan Ward, a musically inventive pop/rock band that combines their church roots with an eclectic array of influences distilled into a sound that is uniquely their own. Growing up, when they weren't leading worship at their parent's church, the three brothers were singing songs from Creedence, Bob Seger or The Eagles with their large musical family. It wasn't long before the brothers found their calling, their own musical voice, and Consumed By Fire was born.
Having already recorded four independent albums earlier in their career, this year the Oklahoma native's will release a digital EP, with a full-length album to follow in the spring of 2016. www.cbfmusic.com
About Inpop:
Inpop Records is an independent entertainment company based in Nashville, TN and home to some of today's most vibrant artists and brands. Distributed by Capital Christian Music Group, Inpop is passionate about using music and film to inspire popular culture. Inpop's roster includes Mat Kearney, V.Rose, Newsboys, The God's Not Dead Soundtrack, Superchick and the Four Blood Moons Soundtrack. Visit us online at www.inpop.com.
Media Contact:
Sundari PR
Christina Garvin
(805) 229-1612
Christina@sundaripr.com