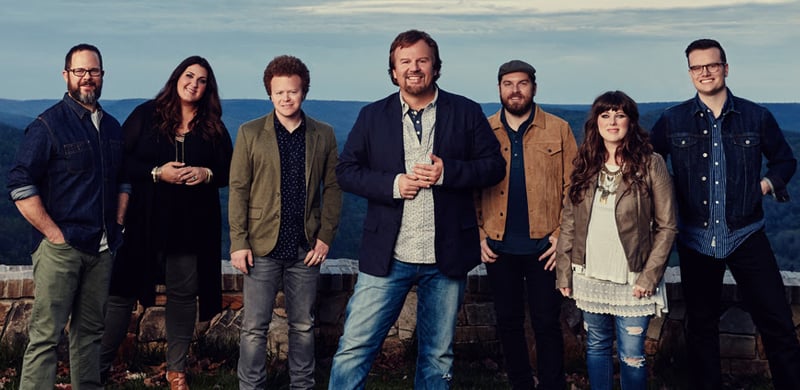 CASTING CROWNS CELEBRATES 11TH NO. 1 RADIO SINGLE WITH "ONE STEP AWAY"
THE VERY NEXT THING TOUR PLAYS TO NEARLY 90,000 PEOPLE IN THE FIRST 22 DATES
NASHVILLE, TENN. (November 03, 2016) Multi-platinum selling and GRAMMY® award winning group Casting Crowns released their eighth studio album, The Very Next Thing, in September and just celebrated their 11th No. 1 radio single with "One Step Away."
The band is currently on their own "The Very Next Thing" 40-city tour, presented by Compassion International and Museum of the Bible. The show offers an encouraging message of hope about doing the next thing for God and has already played in front of nearly 90,000 people in the first 22 dates. The tour features labelmate Matt Maher and newcomer Hannah Kerr. Check out the Casting Crowns website for the remaining tour dates.
Last week, Casting Crowns welcomed a special guest at their Indianapolis tour stop. Travis Carpenter has become a YouTube viral video sensation with his video account of his car accident caught on film while he was singing Casting Crowns' song "And Now My Lifesong Sings." His video has more than 6.9 million views at release time. See the video of Mark talking with Travis at their recent concert and check out Travis' video below.
ABOUT CASTING CROWNS:
Prolific CCM band Casting Crowns has achieved sales milestones including one RIAA 2x multi-Platinum album, four RIAA Platinum albums, two RIAA Platinum DVDs, seven RIAA Gold albums, four Gold DVDs, one RIAA Platinum certified single and five RIAA Gold certified digital singles. The band currently holds the position as Billboard's top-selling act in Christian music since 2007. Casting Crowns has also been honored with four American Music Awards (out of seven total nominations), a GRAMMY Award for its 2005 album Lifesong, and six GRAMMY nominations. In addition, the group has garnered 17 GMA Dove Awards and two Billboard Music Awards from 11 total Billboard Music Award nominations. Casting Crowns' seven band members all remain active in student ministry in the Atlanta area and tour according to their local church commitments. Serving his 25 plus years in youth ministry, lead singer/songwriter Mark Hall maintains his role as the student pastor at Eagle's Landing First Baptist Church in Atlanta.
CONNECT WITH CASTING CROWNS ON SOCIAL MEDIA:
Twitter
Facebook
Instagram
##
Media Contact:
Merge PR | Lori Mahon
Lori@MergePR.com | 615.579.1266