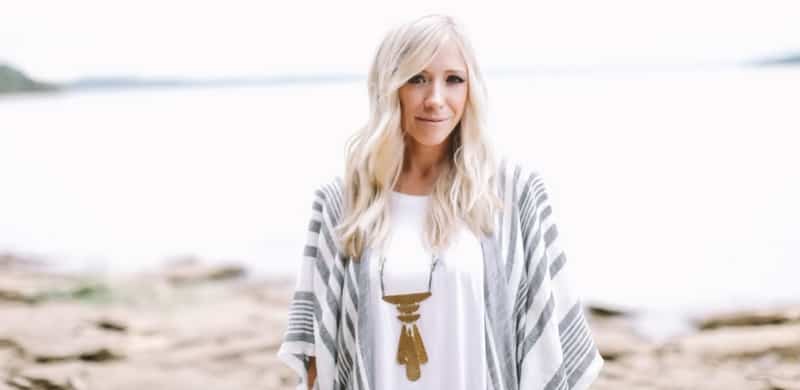 BILLBOARD ONLINE EXCLUSIVELY PREMIERES ELLIE HOLCOMB'S MUSIC VIDEO FOR "FIND YOU HERE" FROM HER FORTHCOMING ALBUM RED SEA ROAD, WHICH RELEASES JANUARY 27
NASHVILLE, TENN. (January 18, 2017) Singer / songwriter Ellie Holcomb will release her sophomore album, Red Sea Road, next week on January 27. In anticipation of her forthcoming release, today Billboard.com premiered her music video for the single "Find You Here," which is also the new album's current radio single. Watch Holcomb's video taped in the Appalachian Mountains over a 48 hour girls' road trip:
"Mountains. Waterfalls. Rivers. Campfires. Sunrises. 4 women. A drone and a mini-van. These are the makings of the "Find You Here" music video," shares Holcomb talking about the making of the music video. "I wrote 'Find You Here' about the profound peace my family and I experienced in the wake of a cancer diagnosis for my dad. It didn't make any sense to have peace with so many questions and unknowns on the horizon, but we really did experience God drawing near to our broken hearts in a palpable and beautiful way. Emmanuel. God with us. The song is a celebration of the faithfulness of God, and how He shows up in the most unlikely, most broken places."
Red Sea Road is a record full of songs that capture how Holcomb has seen God show up in the middle of a painful and heavy season in her life and those around her. The album is already receiving praise from media outlets with reviews such as the below tout from CCM Magazine.
---

"Piercing the doldrums of so much publicity given to darkness, 'Red Sea Road' parts the way with a positive palette, while simultaneously dealing with serious subjects – etching an indelible mark on Holcomb's journey as an artist with obvious staying power." – 4.75 Star Review
---
This project follows her highly successful and well-received debut As Sure As The Sun, which hit No. 1 its first week on the iTunes' Christian and Amazon Christian charts. The debut radio single, "The Broken Beautiful" hit in the Top 10 at AC Indicator. Catch Holcomb on these upcoming select tour dates:
Nothing to Prove Tour with Jennie Allen
2/23 Cross Points Church – Kansas City, KS
2/24 Fellowship Fayetteville – Fayetteville, AR
2/25 FBG – Georgetown, TX
2/26 Alpine Church of Christ – Longview, TX
—-
3/2 Common Grounds – Waco, TX
3/23 The Pinnacle Center – Hudsonville, MI
9/16 Lake Yale Baptist – Leesburg, FL
ABOUT ELLIE HOLCOMB:
Singer-Songwriter Ellie Holcomb, a Nashville native, began her musical career by touring the country with her husband in Drew Holcomb and The Neighbors. After 8 years, and with the birth of their daughter, Emmylou, Ellie opted to step out of the role of heavy touring. From that space came her debut solo album, As Sure As The Sun, which charted at No. 1 on the iTunes Christian chart and helped deem Holcomb the "Best New Artist" at the 2014 Dove Awards.
Since the release of As Sure As The Sun, Holcomb has been walking an unexpected path, one of suffering and loss but also peace and joy. She has come to the edge of the rushing river of confusion and experienced a God who made a way where there seemed to be no way.
And it is from that place—of finding God in the dark and unexpected—that Holcomb wrote and recorded Red Sea Road (Full Heart Music), set to release Jan 27th, 2017. For more information about Ellie Holcomb, please visit EllieHolcomb.com or click on the links below:
Twitter
Facebook
Instagram
##
Media Contact:
Merge PR | Lori Mahon
Lori@MergePR.com | 615.579.1266