NEWS: Ben Tankard Celebrates RIAA Gold Certification For Hit "JESUS IS LOVE" With Shirley Murdock and New FULL TANK 2.0 CD Topping Amazon Charts At #1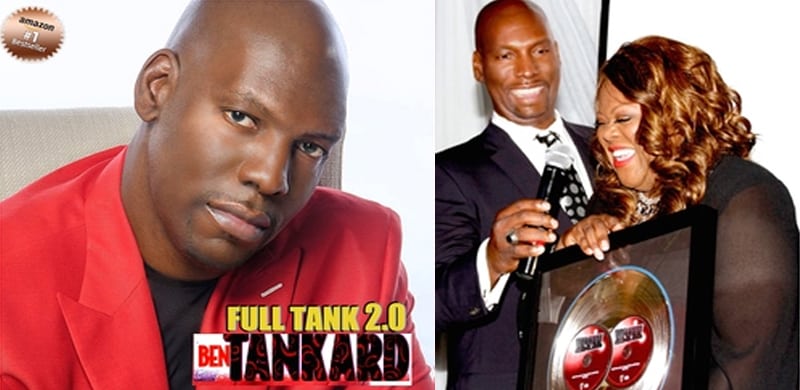 Nashville, TN — Gospel/Jazz pioneer BEN TANKARD and R&B/Gospel sensation Shirley Murdock recently received RIAA Gold certification records for their 2006 hit single "JESUS IS LOVE" for reaching over 500,000 sales as part of the 2006 WOW Gospel collection. Originally written and recorded by Lionel Richie, "JESUS IS LOVE" was covered on Ben Tankard's PIANO PROPHET 2006 Smoothjazz release and has been selling and receiving heavy airplay for a staggering eight years.
"WOW! I am so excited to receive this Gold record," states Shirley Murdock. "Working with 'Tank' (Ben Tankard) was thrilling because he is a tough, hard nose producer, but he makes you laugh while he is pulling the best out of you."
In an effort to make lightning strike twice in the same spot, Tankard and Murdock teamed up again on Ben's brand new musical release FULL TANK 2.0 for a remarkable remake of the Staple Singers hit "I'll Take You There".
"I have been blessed to work with some remarkable artists over my career including: Yolanda Adams, Gerald Albright and Take-6," says Tankard. "Shirley Murdock is like family and such a monster of a talent. Her soulful voice was a great choice and she did an awesome job helping me take and old masterpiece to a new level."
FULL TANK 2.0 released 2/10/15 and is already the Amazon #1 Bestseller for jazz-fusion category! FULL TANK 2.0 also features Kirk Whalum on an instrumental rendition of another classic "Reach Out And Touch Somebody's Hand". (video clip: http://bit.ly/ReachOutBT)
Murdock will guest appear this week on Tankard's hit Bravo / NBC reality show THICKER THAN WATER on Sunday Feb 15, 8pm CST/9PM EST. This episode features a VIP grand gala celebration for Tankard's 25 years in the music arena. With a smile Tankard says "I am thankful for the gift of music God gave me after I left pro basketball with an injury. Sometimes when one dream dies in your life, it is because God is planning something bigger. I have a great family, a hit TV show and multiple awards as a musician but zero NBA championships as a basketball player. I wanted to be a Portland Trailblazer but GOD wanted me to be a Kingdom Trailblazer. I'm glad I listened to him!"
Tankard is considered the Godfather of Gospel/Jazz and is the bestselling instrumentalist of all time in the genre he pioneered. Looks like he DOES have a FULL TANK. Ben Tankard / FULL TANK 2.0 is produced and distributed by BENJamin' Universal Music / Central South Music and available on Amazon, iTunes, Walmart and stores everywhere.
For more info: www.bravotv.com www.bentankard.org 615-907-0185.
##
Media Contact:
Benita Bellamy
The Bellamy Group
Benita@thebellamygroup.com