NEWS: Award-Winning Petra Vocalist John Schlitt Joins Forces with Whiteheart Founder for The Union of Sinners and Saints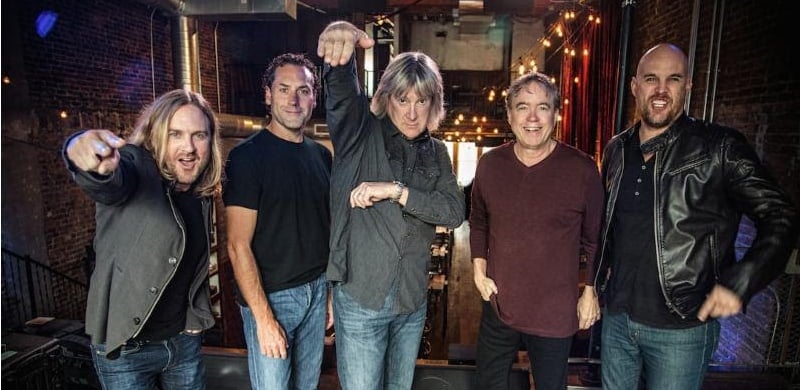 Pictured (L to R): Fowler, Sallee, Schlitt, Smiley and Ellis. (Photo credit: Glenn Sweitzer at Fresh Film + Design)
Grammy Award Winning Rock Legend Schlitt to Meet with Industry Leaders During NRB 2016 About New Band, Upcoming Recording Project and Tour
NASHVILLE, Tenn. (February 23, 2016) – Few artists have been more influential in defining contemporary Christian rock 'n' roll than Petra and Whiteheart, so fans of the genre will likely jump out of their skins when they hear that John Schlitt, lead singer of Petra, and Billy Smiley, guitarist, singer, and founding member of Whiteheart, have teamed up for a new album for 2016. The newly christened band, The Union of Sinners and Saints, features members from two of the best selling Christian Rock bands of all time, with sales of over 12 million records between them. Collectively they have generated more than 25 #1 songs and earned more than 15 Grammy and 40 Dove nominations and awards.
John Schlitt will be attending the upcoming National Religious Broadcasters Proclaim 16 International Christian Media Convention, which will be held Feb. 23-26 at the Gaylord Opryland Resort and Convention Center in Nashville, where he will meet with media and industry leaders to discuss the band's upcoming project, The Union of Sinners and Saints, which is slated for a June 2016 release.
"The idea of a new project really intrigued both of us," Schlitt declares. "With our histories, it only made sense to feature Petra and Whiteheart favorites along with the new songs that we were writing in the studio."
Smiley adds, "John and I got together last fall and started writing some songs and reminisced over both of our histories and journeys. With the chemistry and friendship that developed, we also started brainstorming about taking this new material we were creating out on the road in 2016."
Fans can look forward to the release of the new CD project, available exclusively at Lifeway Stores and digitally on iTunes worldwide. The project will feature eight new compositions and updated versions of Petra and Whiteheart classics.
Joining Schlitt and Smiley in the studio is Anthony Sallee of Whiteheart on bass, new artist Jason Fowler on guitar and vocals, Steve Brewster (Peter Cetera) on drums, Jonathan Crone on guitar, and John Ellis, lead singer from Tree63, on guitar and vocals.
Smiley is producing the record and bringing in on select songs an all-star cast of musicians including Brian Wooten (Whiteheart, Trace Adkins) on guitar, Chris McHugh (Whiteheart, Keith Urban) on drums, Brennan Smiley (The Technicolors) on guitar, Peter Furler (Newsboys) on drums and vocals, and Dave Ellefson (Megadeth) on bass.
Richie Biggs (Whiteheart, Petra, and The Civil Wars) is mixing the record.
For more information, contact:
Management:
Paul J. Jackson | p.jackson.tn@gmail.com | 214-284-7971
Booking:
Elite Talent Agency | booking@eta-live.com
Production:
Northern Shore Productions | northernshoreproductions.com
About John Schlitt:
For more than four decades, John Schlitt has enjoyed a stellar musical career as a solo artist, as the lead singer for Grammy Award-winning Christian band Petra, one of the most successful Christian rock bands of all time, and as the former lead singer for popular '70s mainstream rock band Head East. He has been inducted into the Gospel Music Hall of Fame as the lead singer of Petra during the years when the band won 10 Dove Awards and four Grammy Awards. Schlitt was named the best rock singer in Christian music history by GospelMusicChannel.com. According to the website, Schlitt "remains one of the most distinctive and impactful men to ever stand behind a microphone." Schlitt was also named Male Vocalist of the Year in About.com's 2011 Readers' Poll in a category that included Chris Tomlin, Jeremy Camp, Brandon Heath and Bebo Norman.
Schlitt's most recent solo projects include his fourth solo CD, The Greater Cause and his first holiday record, The Christmas Project. The legendary vocalist's busy schedule has included appearances on The Mike Huckabee Show, TBN's Praise the Lord, 700 Club Interactive and many more, as well as extensive international touring.
For more information on Schlitt:
Website
Twitter
Facebook
About the National Religious Broadcasters Convention & Exposition (NRB):
The annual National Religious Broadcasters Convention & Exposition (NRB) is the largest nationally and internationally recognized event dedicated solely to assisting those in the field of Christian communications. The dynamic exposition consists of nearly 200 companies and is an active marketplace for those seeking tools and services to expand their ministries. The NRB Proclaim 16 International Christian Media Convention will be held Feb. 23-26 at the Gaylord Opryland Resort and Convention Center in Nashville. For more information, visit nrb.org.
##
Media Contact:
McCain & Co. Public Relations
mccainpr.com
mccainprnews@mccainpr.com
615-262-1727