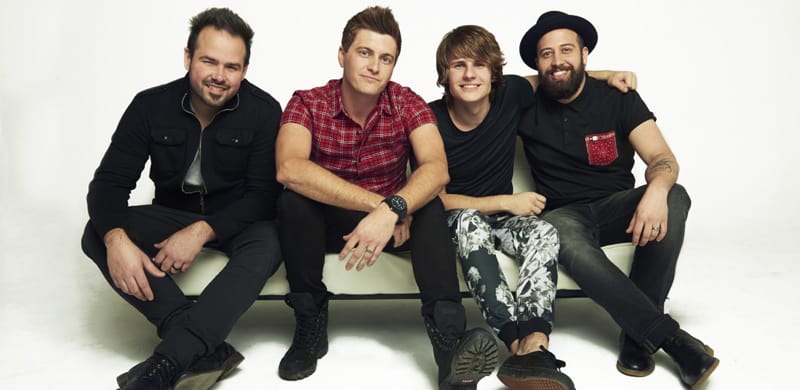 NASHVILLE, Tenn.—GRAMMY® Award-winning FairTrade Services recording artist Audio Adrenaline will make their debut appearance on the historic Grand Ole Opry stage June 30. Audio Adrenaline will be joining a star-studded lineup including four-time CMA Vocal Group of the Year Diamond Rio; legendary country artist Larry Gatlin; Grand Ole Opry member Lorrie Morgan; breakthrough artist Kelsea Ballerini; and GRAMMY®-nominated singer/songwriter Will Hoge, among others.
The Opry appearance continues a string of firsts for Audio Adrenaline, including the #1 Billboard debut of their latest recording, Sound of the Saints, and the selection of their song "Move" as the theme for MLB Network's "MLB Now."
The Grand Ole Opry, an American icon and Nashville's number-one attraction, has been called the "home of American music" and "country's most famous stage." Beginning as a radio broadcast in 1925, the Opry today honors country music's rich history and dynamic present, showcasing a mix of country legends and the contemporary chart-toppers who have followed in their footsteps. Hundreds of thousands attend live Opry performances each year, while millions more tune in to Opry broadcasts via a mobile app, SiriusXM Satellite Radio, Nashville's 650 AM WSM, and on opry.com and wsmonline.com.
Since their debut in 1986, Audio Adrenaline has been one of Christian music's best-loved bands. They have garnered two GRAMMY® Awards for Best Rock Gospel Album (Worldwide, Until My Heart Caves In); five GMA Dove Awards; a Gold®-certified recording (Bloom); and 14 #1 Christian radio singles, including signature songs "Big House," "Get Down" and "Hands And Feet." In 2004 the band created the Hands & Feet Project, an organization which continues to impact orphans and children throughout Haiti.
Tickets for the Grand Ole Opry's June 30 show, beginning at 7 pm at The Grand Ole Opry House, are available at opry.com. For further information, visit audioa.com, fairtradeservices.com or turningpointpr.com.
##
Media Contact:
Brian Smith, President
Emily Kohl, Vice President
turningpointpr.com