NEWS: 5th Annual K-LOVE Christmas Tour Announced Today, Presented By 25 Entertainment And K-LOVE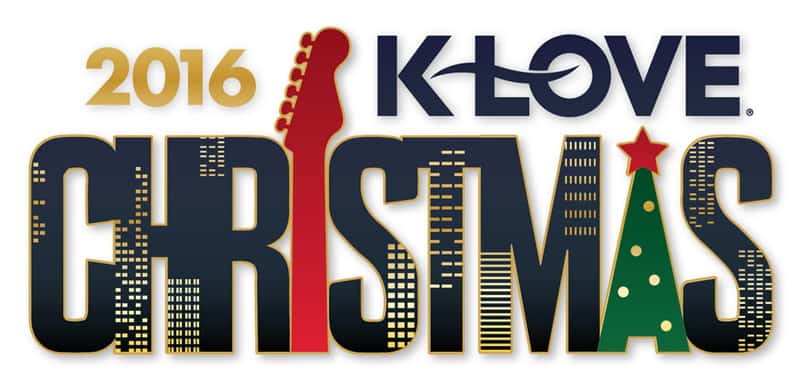 25 ENTERTAINMENT AND K-LOVE PRESENT THE 5TH ANNUAL K-LOVE CHRISTMAS TOUR, CO-HEADLINED BY STEVEN CURTIS CHAPMAN AND CROWDER
The Tour Will Kick Off In New York City On Nov. 28, Wrap In San Antonio Dec. 18
8 September 2016 – Nashville, Tenn – 25 Entertainment and K-LOVE are proud to announce the upcoming K-LOVE Christmas Tour. The much-loved tour, which is now in its fifth year, will be co-headlined by multi-GRAMMY® Award winning artist Steven Curtis Chapman and two-time GRAMMY nominated artist Crowder, and joined by special guest Unspoken. Tickets are now available for purchase by visiting KLOVEChristmasTour.com.
The 17-city tour will kick off Monday, November 28 at New York City's historic Beacon Theatre and will run through Sunday, December 18 wrapping in San Antonio, TX. Concertgoers will be sure to experience an evening of holiday favorites and top hits from these award-winning and chart-topping artists, celebrating the reason for the season with family and friends for an unforgettable night.
Tour dates are listed below. To purchase tickets and to find out more, visit KLOVEChristmasTour.com.
2016 K-LOVE Christmas Tour dates*:
Nov. 28 – Beacon Theatre – New York, NY
Nov. 29 – Tower Theater – Philadelphia, PA
Dec. 1 – Pittsburgh, PA – Victory Fellowship
Dec. 2 – Lexington, KY – Northeast Christian
Dec. 3 – Charlotte, NC – Ovens Auditorium
Dec. 4 – Nashville, TN – Curb Events Center
Dec. 7 – Milwaukee, WI – Riverside Theater
Dec. 8 – Chicago, IL – Rosemont Theater
Dec. 9 – Indianapolis, IN – Old National Center
Dec. 10 – Kansas City, MO – Sheffield Family Center
Dec. 11 – Denver, CO – 1st Bank Center
Dec. 13 – Phoenix, AZ – Grand Canyon University Arena
Dec. 14 – Albuquerque, NM – Kiva Auditorium
Dec. 15 – Dallas, TX – Allen Arena
Dec. 16 – Little Rock, AR – New Life Church
Dec. 17 – Oklahoma City, OK – Council Road Baptist Church
Dec. 18 – San Antonio, TX – Laurie Auditorium
*Dates subject to change; check website for the latest tour schedule
##
ABOUT 25 ENTERTAINMENT:
25 Entertainment is the event booking, production and promotion arm of Word Entertainment, a comprehensive Christian entertainment company comprised of multi-faceted artist service departments including recorded music, publishing, distribution, merchandising, Church resources, and online initiatives. Based in Nashville, 25 Entertainment's roster includes some of the world's most-renowned Christian artists including Aaron Shust, Andrew Peterson, Point of Grace, Laura Story, We Are Messengers and Love & The Outcome. The company also proudly represents national tours and conferences, such as the K-LOVE Christmas Tour, The Bible Tour and Sadie Robertson's Live Original Tour.
ABOUT K-LOVE:
K-LOVE creates compelling media designed to inspire and encourage people to develop a meaningful relationship with Christ. K-LOVE is listener supported and delivers positive, encouraging contemporary Christian music through its 540 signals across 48 states. For more information visit: www.klove.com.
ABOUT STEVEN CURTIS CHAPMAN:
In a career that has spanned 30 years, Steven Curtis Chapman is the most awarded artist in Christian music history with 58 Gospel Music Association Dove Awards, five GRAMMYs®, an American Music Award, 48 No. 1 singles, more than eleven million albums sold and has eight RIAA-certified gold or platinum albums to his credit. He has been on "Good Morning America," "CBS Sunday Morning," CNN, MSNBC, "60 Minutes," E! Entertainment, "The Today Show," "Fox & Friends," "CBS This Morning," and "The Tonight Show," Glenn Beck's "The Blaze," along with appearing in the pages of People, Billboard, Parents Magazine, and many more. A vocal supporter of adoption, Chapman, along with his wife Mary Beth, founded Show Hope in 2003, a nonprofit organization that helps restore the hope of a family to orphans.
With countless tours under his belt, Chapman continues to perform at numerous festivals and events. He is currently headlining the Songs & Stories Tour joined by Mac Powell from THIRD DAY and Brandon Heath, and just wrapped the second leg of the highly successful SCC3D: THIRD DAY Together with Steven Curtis Chapman Tour. On March 7, 2017 Chapman wil release his memoir, Between Heaven & The Real World with Revell. For all the latest tour dates and information, please visit StevenCurtisChapman.com.
ABOUT CROWDER:
Crowder has been embraced for his lyrically powerful and musically elaborate and unpredictable songs that have found themselves being sung everywhere from churches to clubs all across the country. Crowder's first solo album, Neon Steeple, debuted at No. 8 on the Billboard 200, was named iTunes 2014 Christian Album of the Year, garnered multiple radio hits, two GRAMMY® nominations, a Grand Ole Opry debut, a Dove Award and multiple nods and numerous K-LOVE Fan Award Nominations. American Prodigal, the awaited follow-up album, will be available on Sept. 23. As an active member of the Passion movement founded by Louie Giglio, Crowder participates in the impactful university student gatherings in the U.S. and around the world. A published author, Crowder has also penned two books including his acclaimed release, Everybody Wants to Go to Heaven, but Nobody Wants to Die. Visit CrowderMusic.com for more information.
ABOUT UNSPOKEN:
Unspoken released their new album, Follow Through, in Aug. 2016 and the project debuted at No. 7 on Billboard's Christian Albums chart, the highest debut of the band's career. The first single from the record, "Higher," has already reached Top 20 on Billboard's National Audience chart and is still rapidly climbing. Unspoken's previous self-titled album released in 2014 and included the band's first No. 1 song at AC Christian radio, "Start A Fire," as well as "Call It Grace," the group's first K-LOVE Fan Awards nomination for Breakout Single of the Year. For more information, please visit UnspokenMusic.com.
Media Contact:
Merge PR | Stacie Vining & Lori Vining
Stacie@MergePR.com | 615.260.4679
Lori@MergePR.com | 615.579.1266