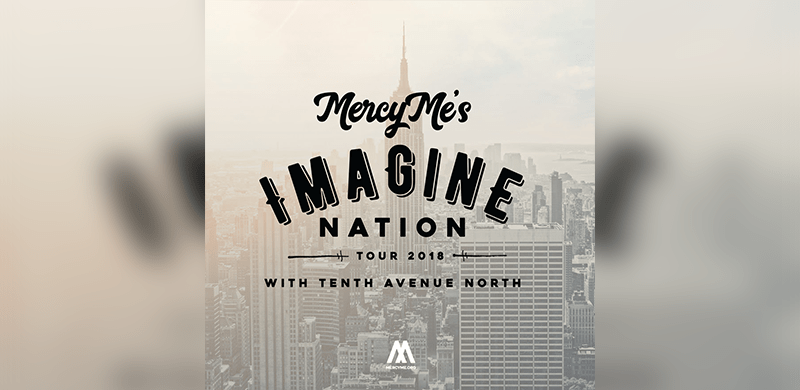 Tickets Available Now For Beloved Line-Up
Nashville, Tenn. (Mar. 26, 2018) – 5X GRAMMY® nominated MercyMe's "The Imagine Nation Tour" with longtime friends Tenth Avenue North will trek over 20 cities nationwide beginning in Oct. of 2018. Indianapolis, New Orleans, San Antonio and more are on the docket for the two-month run.
The award-winning groups will bring a bevy of fan-favorite songs. MercyMe promises performances of many found on their newest music release, I Can Only Imagine – The Very Best Of MercyMe, including "I Can Only Imagine," "Greater" and "Shake" along with their most recent No. 1, "Even If." Tenth Avenue North will share songs from their latest album Followers including "I Have This Hope" and "Control" along with the hits "By Your Side," "Worn" and more.
"The Imagine Nation Tour" will be a reprise of the fan-garnering line-up which made sold out visits this winter. Among them, a sold-out stop at Nashville's iconic Ryman Auditorium.
"I Can Only Imagine" (Lionsgate, Roadside Attractions), a true story based on the life of MercyMe frontman Bart Millard who wrote the mega-hit song, shattered pre-weekend tracking expectations to become No. 3 at the box-office two weekends in a row. The film is currently the No. 1 faith-based movie of 2018. The highly anticipated film stars Dennis Quaid, Trace Adkins, J. Michael Finley, Madeline Carroll, Priscilla Shirer, Cloris Leachman and more.
Tickets are available now for "The Imagine Nation Tour." Visit www.MercyMe.org for the latest.
"The Imagine Nation Tour"
* all dates subject to change.
10/4 Indianapolis, IN
10/5 Milwaukee, WI
10/6 Bourbonnais, IL
10/7 Ypsilanti, MI
10/11 Jackson, MS
10/12 New Orleans, LA
10/13 Tyler, TX
10/14 San Antonio, TX
10/19 Salisbury, MD
10/20 Charlottesville, VA
10/21 Charleston, WV
10/26 Independence, MO
10/27 Wichita, KS
10/28 N Little Rock, AR
11/1 Newark, DE
11/2 Utica, NY
11/3 Portland, ME
11/4 Bangor, ME
11/9 Greenville, SC
11/10 Greensboro, NC
11/11 Johnson City, TN
##