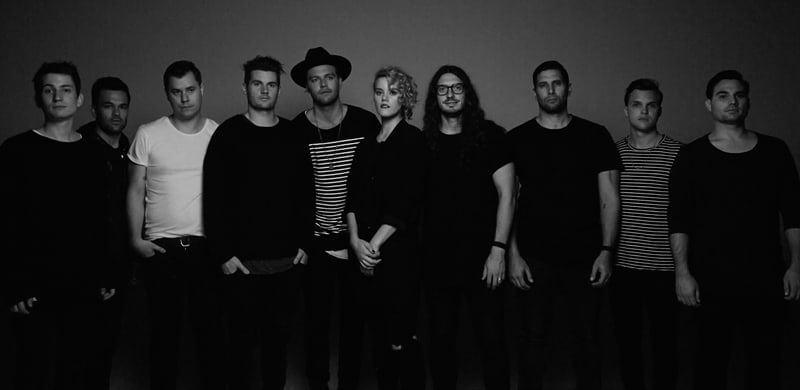 Today, the multi-platinum-selling Christian music powerhouse and chart leading Hillsong UNITED announced their sixth full-length studio album titled Wonder, set to be unveiled in all music stores on June 9th. Undisputedly one of the genre's most influential artists in the history of contemporary Christian music (over 2 million albums sold and 700 million career streams to date, remaining the #1 Christian artist on all social media platforms reaching over 9 million fans combined), the band that rocketed to no. 5 on Billboard's Top 200 with their last record Empires, hopes to re-awaken the innate sense of Wonder within the human being.
"Have we lost the Wonder?" asked Joel Houston, front man for the modest Australia-born band that has since become an international phenomenon.
Explaining intrinsically what it means further, Houston continues, "The hope, the imagination to dream, to believe, the tenderness to listen and lead first with mercy, the grace to empathize, the courage to trust, the fearlessness to love without pretense or condition. To see beyond the facts without dismissing them. To respond beyond the fear without reciprocating it. To sing beyond the noise, without adding to it. This is the challenge, and this is what worship— if worship can be summed up as an expression of art and music and story— is ultimately designed to do. To elevate the conversation, re-awaken the soul to something other, and lift our eyes to the wonder of a superlative truth."
With the announcement comes two instant grats on iTunes and Spotify for songs "Wonder" and "Splinters and Stones."
Track Listing for Wonder
1. Wonder
2. Shadow Step
3. Future Marches In
4. So Will I (100 Billion X)
5. Splinters and Stones
6. Glimmer in the Dust
7. Greatest of These
8. Shape of Your Heart
9. Not Today
10. Life
11. Rain / Reign
12. Water to Wine
Hillsong UNITED's sixth full-length studio album Wonder is available for pre-order today and out on June 9th everywhere music is sold.
About Hillsong UNITED:
Hillsong UNITED is a multi-award-winning, platinum-selling artist whose chart successes (repeatedly no. 1 on Billboard's Christian charts and up to #5 on Billboard 200) are only bested by the millions of lives they've impacted across the globe. Reporting over 50 million people singing from a catalogue of UNITED songs every Sunday, the modest band born from a youth ministry out of Hillsong Church in Australia, touts a reach of over 9 million across all major social network platforms to date. Comprised of an evolving, eclectic mix of musicians and songwriters, the band is led by Joel Houston and Taya Smith, names that have become synonymous with Christian radio, dominating airwaves with every new release. Their last four studio albums have each topped the USA Christian chart, with Zion and Empires charting no. 1 (Zion recently also went Gold in the US); and "Oceans," written by Houston and band member Matt Crocker recently went double platinum in the States, counting 200+ million streams and reigning on top of the Christian songs chart for a record 54 weeks. In studio, on tour or at home, Hillsong UNITED is committed to writing songs that speak truth, create a unique sound and connects people everywhere with God, evident by the success they've seen globally. With over 42 countries and six continents and counting, Hillsong UNITED continues to sell out arenas and stadiums around the world, including sold-out nights at the Forum, STAPLES Center and The Hollywood Bowl in Los Angeles, the Bridgestone Arena, American Airlines Arena, and the Hammerstein Ballroom in NYC to scratch the surface. Hillsong UNITED profoundly functions from the deep understanding that everything they do is an expression of a really extraordinary God doing what only He can do, through really ordinary people. The sixth full-length studio album Wonder will be available June 9th everywhere music is sold. For more on Hillsong UNITED visit www.hillsong.com/UNITED/ or @hillsongunited on all social platforms.
##