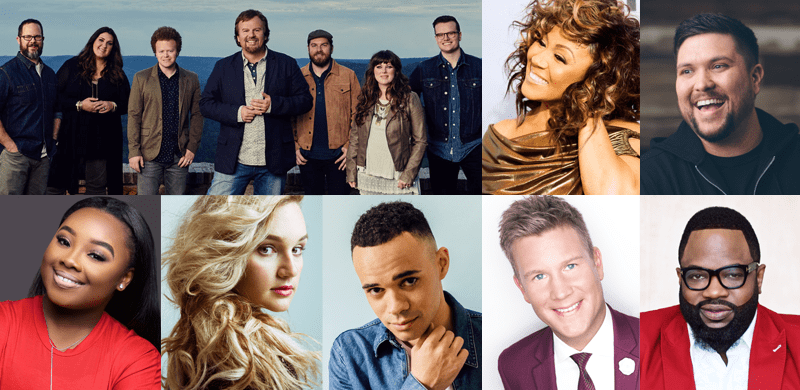 Casting Crowns, Erica Campbell, Hezekiah Walker, Hollyn, Jekalyn Carr, Joseph Habedank, Micah Tyler and Tauren Wells added to Performer Lineup
PRAZOR and SoundExchange added as partners
SoundExchange to present Fair Play Award to Gospel music legend Pat Boone
NASHVILLE, Tenn. (October 9, 2017) – The Gospel Music Association (GMA) announced more talent for the 48th Annual GMA Dove Awards. Casting Crowns, Erica Campbell, Hezekiah Walker, Hollyn, Jekalyn Carr, Joseph Habedank, Micah Tyler and Tauren Wells are set to perform during the awards show. Hollyn and Tauren Wells will host the Pre-Telecast. PRAZOR and SoundExchange were added as partners for the awards show set for October 17 at Lipscomb University's Allen Arena in Nashville. Trinity Broadcasting Network (TBN) will exclusively air the awards show on October 22 at 8 p.m. CST. Limited tickets are available here.
These new additions round out the talent lineup that includes performers Bri (Briana Babineaux), CeCe Winans, Danny Gokey, Gaither Vocal Band, Hillsong Worship, Matt Redman, MercyMe, Reba McEntire, Ryan Stevenson, Steven Malcolm, Travis Greene and Zach Williams and presenters Anthony Brown, Chris Tomlin, David and Tamela Mann, for KING & Country and Matt Maher.
Gospel music legend Pat Boone will be honored with the SoundExchange Fair Play Award. Presented by SoundExchange President and CEO Michael Huppe, this award recognizes the contributions of members of the entertainment community in the fight for public policy to protect all creators.
"We are excited to present the SoundExchange Fair Play Award to Pat Boone, and we are honored to do so during the premiere awards show for the Christian and Gospel genre," Huppe said. "While we are recognizing Pat's contributions at the Gospel Music Association's Dove Awards, he has played a key role as a champion for the fair and equal treatment of creators of music spanning all genres over the past six decades. We thank him for standing up for the rights of all creators."
The GMA Dove Awards celebrate the contributions of artists from every style of Christian/Gospel music. Top nominated artists include Zach Williams, Lauren Daigle, Chris Tomlin, Kirk Franklin and NEEDTOBREATHE. View the full list of nominees here. For more information, visit DoveAwards.com.
About PRAZOR:
Using state of the art technology and a radio team of seasoned Christian musicologists, PRAZOR offers more than 80 individually curated streaming music channels categorized into "neighborhoods" such as pop, rock, worship, inspirational, urban, and southern gospel. These neighborhoods contain specific genres such as classic alternative, generation Z, bluegrass, reggae, inspirational gospel and more. PRAZOR even offers an "exclusive" DOVE AWARDS channel in its "Premiere" neighborhood. PRAZOR is "God's Gift to God's People" and instead of a subscription or ad-based model, the platform is fueled by listener donations. Users may simply download the app and begin listening!
About SoundExchange:
To date, SoundExchange has paid out nearly $5 billion in royalties to recording artists and rights owners. SoundExchange develops business solutions to benefit the entire music industry. The organization collects and distributes digital performance royalties on behalf of more than 150,000 recording artists and rights owners and administers direct agreements on behalf of rights owners and licensees. Through SXWorks, a SoundExchange subsidiary that acquired the Canadian Musical Reproduction Rights Agency Ltd. (CMRRA), we broadened our mission by expanding into the collective management of music publishing rights. CMRRA administers the majority of songs recorded, sold and broadcast in Canada.
About GMA:
Founded in 1964, the Gospel Music Association serves as the face and voice for the Gospel/Christian music community and is dedicated to exposing, promoting and celebrating the Gospel through music of all styles including Pop, Rock, Praise & Worship, Urban Gospel, R&B, Hip Hop, Southern Gospel, Bluegrass, Country, Latin and more. The GMA community includes agents, artists, church leaders, managers, promoters, radio personnel, record company executives, retailers, songwriters and other industry visionaries. The GMA produces the GMA Dove Awards and IMMERSE. For more on supporting the GMA or becoming a member, please visit www.gospelmusic.org.
About the Trinity Broadcasting Network:
Trinity Broadcasting Network is the world's largest and most watched faith-and-family broadcaster, reaching over 175 nations across the earth with inspirational and entertaining programming 24 hours a day in 14 languages and on 30 global networks. As the world's most influential non-profit religious broadcaster, TBN has led the way in expanding the impact of faith-based television across the earth through the creation of innovative content designed to reach every viewer demographic with the life-changing message of hope and grace. To find out more about the Trinity Broadcasting Family of Networks, visit us at tbn.org.
Connect with the Dove Awards:
Twitter
Facebook
Instagram
YouTube
##