Matthew West Releases Special Version of Latest Chart-Topping Album "All In" with Five Brand-New Acoustic Tracks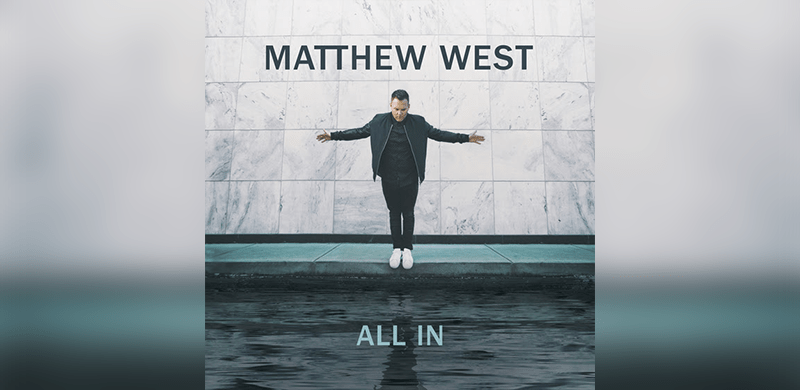 Nashville, Tenn. (Jun. 22, 2018) – 4X GRAMMY® nominee Matthew West released a special version of his chart-topping album All In today, featuring five brand-new acoustic tracks. West's most personal album to date, the critically lauded All In contains songs that heavily reflect the personal stories of West and his desire to go "all in" in every area of his life including faith, family and relationships. The new tracks included on the redelivered version include the title track "All In," "Jesus & You," "The Beautiful Things We Miss," "Mercy Is A Song" and the No. 1 hit song "Broken Things."
"The songwriting process for [All In], and every record I make, usually begins with my guitar and my journal. From there, these songs begin to take shape and I get to watch them grow up throughout my time in the studio until they're all ready to be sent out into the world," said West. "But there's something special to me about revisiting these songs and playing them the way they were first written – leaving some of the bells and whistles behind. That's why I wanted to re-release this record I'm so proud of, with new versions of some of the songs in a more stripped-down form."
The special release comes on the heels of the sixth annual K-LOVE Fan Awards, where West teamed up with longtime friend Mandisa to host his fourth K-LOVE Awards at Nashville's iconic Grand Ole Opry.
West recently released a music video for "Becoming Me" as a touching tribute to moms for Mother's Day. Written to honor his wife, Emily, along with his own mother, the video has over 2 million global views since its release. West's new video for
"The Beautiful Things We Miss" is also making a big impact with families, with an outpour of support from The National Fatherhood Initiative, Dad Tired and Loving It, Dad of Divas, Your Modern Family, That Dad Blog and more. Pressing pause on life's precious moments, the video is composed of a montage of personal photos of West and his wife Emily, along with their two daughters, Lulu and Delaney.
Listen to All In redelivered with five brand-new acoustic tracks here.
About Matthew West
Matthew West is a four-time GRAMMY® nominee, a multiple-ASCAP Christian Music Songwriter/Artist of the Year winner and Dove Award recipient, and was awarded an American Music Award (2013), a Billboard Music Award (Top Christian Artist, 2014), a K-LOVE Fan Award (2016), and named Billboard's Hot Christian Songwriter of the Year (2016). West also received a Primetime Emmy® Award nomination for Original Music & Lyrics for "The Heart of Christmas" from the film of the same name. In addition to his own recording career, he has co-hosted the K-LOVE Fan Awards three times and has more than 130 songwriting credits to his name, including cuts by Rascal Flatts, Scotty McCreery, Michael W. Smith, Amy Grant, and Mandisa, among others, and number one cuts by Casting Crowns and Danny Gokey. Selling more than 1.6 million albums to date (TEA), West's discography includes acclaimed releases: All In (2017), Live Forever (2015), GRAMMY® nominated Into The Light (2012), The Story of Your Life (2010), Something to Say (2008), History (2005) and Happy (2003).
Well known for communicating stories through song, West has received thousands of stories from around the world. His studio album, Live Forever (2015), continued that storytelling theme and debuted at No. 1 on the Billboard Christian Sales Chart. He has obtained numerous No. 1 singles, most recently with "Broken Things," while achieving a record-setting No. 1 for 17 straight weeks at radio with "Hello, My Name Is" and "The Motions" for 15 weeks.
Adding author to his list of accolades, West has written five books to date: Give This Christmas Away, The Story Of Your Life, Forgiveness, Today Is Day One and his newest release, Hello My Name Is. He is also passionate about providing hope and healing through the power of prayer and story, so along with his father Pastor Joe West he founded popwe, a non-profit ministry helping others to craft, share, and live a more meaningful life. Please visit popwe.org for more information.
##