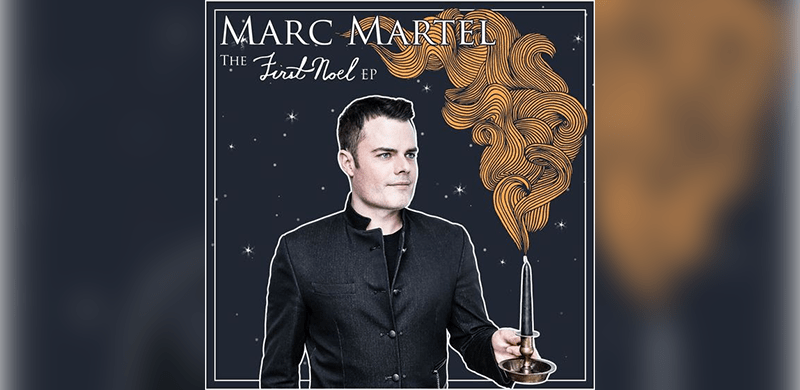 Six-Song EP Is His Second In Christmas Series; Will Appear on K-LOVE Christmas Tour, Kicking Off Nov. 25
9 November 2017 – Nashville, TN – Known for his astonishing Freddie Mercury-esque vocals, for fronting his previous band, Downhere, and now as a member of the official Queen tribute, The Queen Extravaganza, Marc Martel will release The First Noel EP (Marc Martel Music). The First Noel EP, the second in his special solo series of Christmas music, officially releases Nov. 24 and will be available at MarcMartelMusic.com, Amazon, iTunes, and at all of his shows during the holiday season.
The First Noel EP was co-produced by Ben Shive (Dave Barnes, Ellie Holcomb, Colony House, MercyMe) and features six classics such as "The Christmas Song," "Mary Did You Know" (feat. Buddy Greene), as well as the title song. Martel also offers stunning renditions of "Ave Maria" and "The Hallelujiah Chorus" from Handel's "Messiah."
"It's Beginning To Look A Lot Like Christmas" (feat. Plumb) is also featured on the EP. A music video will debut tomorrow on Sirius/XM's The Message Facebook page.
The First Noel EP is the follow-up to his debut of holiday music selections, 2016's The Silent Night EP, which was quickly touted as "an instant classic for the holidays." A fan of Martel also shared, "in the littered halls of Christmas music, Marc offers a 'simple' and intensely beautiful collection of classic Christmas spirit."
Marc Martel will be sharing many songs from both The First Noel EP and The Silent Night EP live when he joins the K-LOVE Christmas Tour this season. Now in its 6th year, the 19-city tour will kick off the weekend of Thanksgiving on Saturday, November 25 in Little Rock, AR and will wrap at New York City's historic Beacon Theatre Sunday, December 17. Martel will join fellow artists Steven Curtis Chapman, Plumb, and We Are Messengers on the tour, and tickets are on sale now. For the most updated tour schedule and to purchase tickets, please visit KLOVEChristmasTour.com.
About Marc Martel
Martel spent years recording and touring as co-lead vocalist and songwriter for Downhere, an award-winning Canadian rock band with a sound, style and fanbase all its own. In 2011, Martel was hand-selected by members of the legendary rock band Queen, Brian May and Roger Taylor, to front their official tribute The Queen Extravaganza, which he continues to front to this day.
Martel's videos have been viewed more than 33 million times on YouTube and Facebook, and he's performed on "The Ellen DeGeneres Show," "American Idol," PeopleNow for People Magazine online, with the Philharmonic Orchestra of Mexico City, at the Kentucky Derby, and for numerous pro sports teams. Just last year he performed for Céline Dion, by her request, on Radio-Canada TV's "En direct de I'Universe."
In September of 2014, Martel released his first full-length solo album, Impersonator, a fuller view of who he is as a man, a songwriter, and a musician. "The album's title is blatantly tongue-in-cheek because it encompasses more of who I am personally and musically than anything I've ever released, and that is a great feeling," Martel shares. "I always want to keep coming back to writing and performing my own music. Nothing else is quite as fulfilling." Earlier this year he recorded at London's legendary Abbey Road Studios for an upcoming project, slated to release in 2018.
##