"Long Way Gone" Awarded "Book of the Year" at 2017 Christy Awards Christian Fiction Gala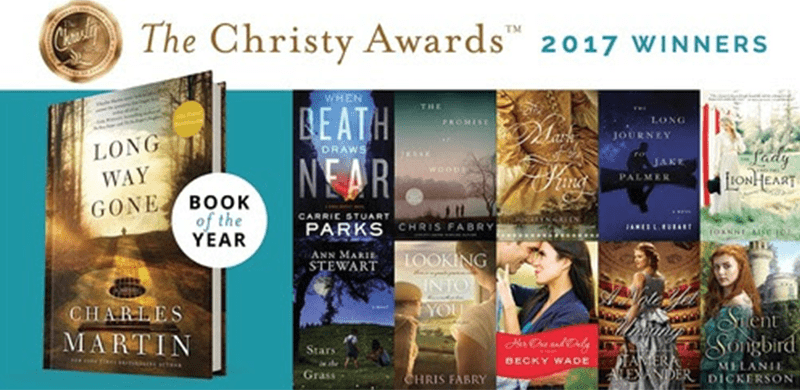 November 9, 2017
. Nashville, TN – Last night, LONG WAY GONE by Charles Martin was awarded top honors at the 2017 CHRISTY AWARDS™ Gala. Presented by The Evangelical Christian Publishers Association (ECPA), the 18
th
annual event was held at Lipscomb University and hosted by a trio of award-winning, bestselling authors in the genre: NEW YORK TIMES bestselling author Karen Kingsbury, musician and writer Andrew Peterson, and award-winning author and radio host Chris Fabry. Fabry also took home honors in two categories at the event.
The full list of winners in each category are:
Book of The Year: LONG WAY GONE by Charles Martin (Thomas Nelson)
Contemporary Romance: HER ONE AND ONLY by Becky Wade (Bethany House/ Baker Publishing Group)
First Novel: STARS IN THE GRASS by Ann Marie Stewart (Barbour Publishing)
General Fiction: THE PROMISE OF JESSE WOODS by Chris Fabry (Tyndale House Publishers)
Historical Fiction: THE MARK OF THE KING by Jocelyn Green (Bethany House/ Baker Publishing Group)
Historical Romance (TIE): A NOTE YET UNSUNG by Tamera Alexander (Bethany House/ Baker Publishing Group) and THE LADY AND THE LIONHEART by Joanne Bischof (Mason Jar Books)
Mystery/Suspense/Thriller: WHEN DEATH DRAWS NEAR by Carrie Stuart Parks (Thomas Nelson)
Short Form: LOOKING INTO YOU by Chris Fabry (Tyndale House Publishers)
Visionary: THE LONG JOURNEY TO JAKE PALMER by James Rubart (Thomas Nelson)
Young Adult: THE SILENT SONGBIRD by Melanie Dickerson (Thomas Nelson)
THE CHRISTY AWARDS™ Gala also celebrated the 50th anniversary of the novel "Christy," the award's namesake and now rereleased through Evergreen Farm, an imprint of Gilead Publishing. The evening capped off two days of events that helped inspire, train and encourage those established in the publishing industry as well as those aspiring to break into the market as writers or business leaders. PubU: The Art of Curation was held as a training and networking event for Christian publishing professionals. The Art of Writing Conference was created to build community and explore the leading questions and pressing issues facing creators and curators.
"We are thrilled with the tremendous response we received to these three writing and publishing events," said Stan Jantz, executive director of ECPA. "So many talented writers, along with members of the professional publishing community, have reinforced our belief that the art of storytelling is more important than ever. We congratulate this year's eleven CHRISTY AWARD winners and look forward to another year of incredible storytelling."
Sign up for award and event updates for the 2018 program at
www.ChristyAwards.com
, where complete information can be found.
The Evangelical Christian Publishers Association
(ECPA) is an international non-profit trade organization comprised of member companies that are involved in the publishing and distribution of Christian content worldwide. Since 1974, ECPA has strengthened Christian publishing by building networking, information, and advocacy opportunities within the industry and throughout multiple channels so that our members can more effectively produce and deliver transformational Christian content.
ECPA.org
The CHRISTY AWARD
™ is the foremost award honoring and promoting excellence in Christian fiction since 1999, and is named for Catherine Marshall's novel, "Christy," which has sold over 10 million copies since its publication in 1967. ECPA assumed ownership and administration of the award in 2017 to focus and grow the unique opportunity of fiction in Christian publishing.
ChristyAwards.com
##