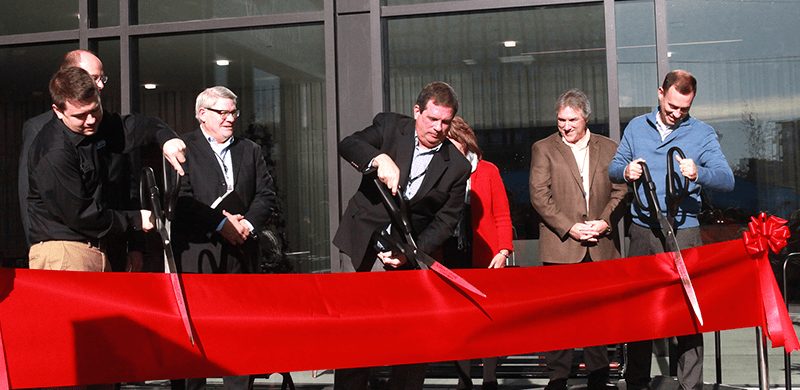 NASHVILLE — LifeWay Christian Resources dedicated its new corporate headquarters in the Capitol View development on Monday (Nov. 27) with a ribbon-cutting ceremony, a prayer of thanksgiving and a pledge to remain faithful to God's Word.
President and CEO Thom S. Rainer recounted the changes taking place at LifeWay, from new physical spaces to new digital technologies.
"You could say we have reinvented ourselves," Rainer told the crowd of employees and guests. "But we remain faithful to Him who has called us.
"We will continue to provide resources that will point people to God's Word and to Christ."
Joined by other LifeWay leaders, Rainer wielded giant scissors to cut an oversized red ribbon in front of the new 277,000-square-foot facility, which will house about 1,100 corporate employees as well as a retail store to serve downtown Nashville.
"We dedicate this building to God," Rainer said, "for His glory and for His gospel."
Moments earlier, LifeWay's executive leadership team spoke briefly to highlight LifeWay's five core values—trustworthy, collaborative, innovative, comprehensive and transformational.
In his closing prayer, Rainer thanked God for all He has done through LifeWay. "We are grateful for the transformation of LifeWay," Rainer said. "May everything that comes from this place be used in such a way that lives will be transformed, not only here on earth but into eternity."
Special guests at the ribbon-cutting ceremony included Hamilton Frost, of Hendersonville, Tenn., great-grandson of LifeWay's first president, James M. Frost; Jeff Haynes, managing partner at Boyle Nashville LLC and chief overseer of the overall Capitol View development project; Zach Skipper, Tennessee Department of Economic and Community Development; representatives from Gresham Smith and Partners, Skanska USA Building Inc., Alfred Williams & Company and Herman Miller; and several Southern Baptist Convention leaders including Frank Page, president and CEO of the Southern Baptist Executive Committee, and Randy Davis, president of the Tennessee Baptist Mission Board.
The event capped a month of activities celebrating LifeWay's move to Capitol View from its former location about a half-mile away. LifeWay sold the previous property to developers in late 2015 and broke ground on the new facility in April 2016.
On Nov. 1, during LifeWay's final chapel service at the former site, Rainer presented mementos to employees and credited God for blessings related to the move. "In the midst of the biggest downtown boom ever, we've seen obstacle after obstacle fall," he said.
A week later, on employees' final day in the previous building, LifeWay celebrated the move with lunch, games and music.
For most employees, Nov. 13 was the first day of work at the new campus. Activities during the first week included tours and prayer walks throughout the building and an inaugural chapel service in which Rainer chronicled LifeWay's history and looked toward the future.
"God has chosen since 1891 to make this a place where people around the world will be touched, moved, empowered, equipped and evangelized by our resources," Rainer told employees.
"We remember the miracles of God in the past, hold onto His promises in the present and enter the future with enthusiasm."
LifeWay Christian Resources is one of the world's largest providers of Christian resources, including Bibles, books, Bible studies, digital services, church music and supplies, as well as camps and events for all ages. The nonprofit company owns and operates more than 170 LifeWay Christian Stores across the nation, as well as Ridgecrest Conference Center in North Carolina.
##