"K-LOVE Christmas and Chris Tomlin Present Christmas Songs of Worship" Announced for December 12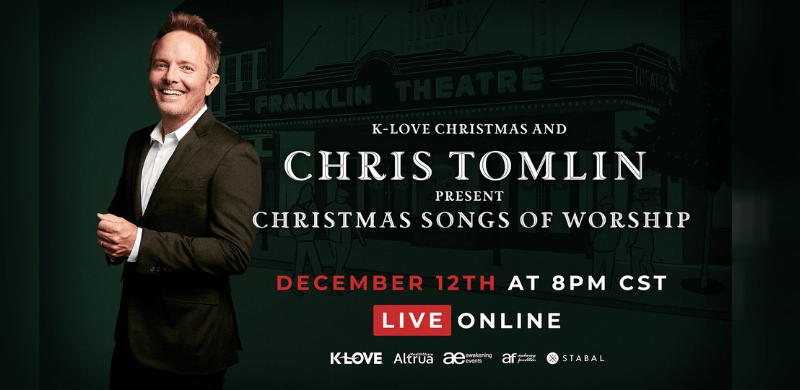 Live Online Christmas Event is the First in an Exclusive Ongoing Partnership between
Stabal.com and Awakening Events
Tickets to the Event Available Now on
ChrisTomlin.com, AwakeningEvents.com and Stabal.com
November 30, 2020 – Nashville, TN – Stabal.com and Awakening Events have announced "K-LOVE Christmas and Chris Tomlin Present Christmas Songs of Worship," a virtual Christmas concert event scheduled for December 12. The event with K-LOVE Christmas and GRAMMY Award-winning singer and songwriter Chris Tomlin featuring guests like We the Kingdom and Pat Barrett will be the first virtual concert as part of a new exclusive partnership between Stabal.com and Awakening Events and is presented in part by Altrua HealthShare. Tickets are on sale now on ChrisTomlin.com, Stabal.com and AwakeningEvents.com.
Consumers can purchase tickets to "K-LOVE Christmas and Chris Tomlin Present Christmas Songs of Worship"' for $14.99. A 30 Day Unlimited Access Pass will also be available for $24.99, allowing viewers to relive the joy of the event throughout the Christmas season and access special bonus content from K-LOVE and Chris Tomlin.
"K-LOVE and Chris Tomlin have separately been delivering tremendous Christmas concerts for fans in years gone by, and we're beyond thrilled to unite them in this global concert event that will virtually bring together viewers worldwide this Christmas season," said Steve Odart, Stabal CEO and founder. "It's an amazing first event to create in partnership with Awakening Events, who only deliver the best in everything they do, and we look forward to collaborating on more special virtual concerts in the future."
"Over the last few years we've been honored to produce Christmas tours for both Chris Tomlin and K-LOVE. When the opportunity to combine these two presented itself, we knew it was something that was needed, and we're very excited to share it with the world," said Dan Fife, President and founder of Awakening Events. "Our exclusive partnership with Stabal is essential to the success of this live online concert as they've mastered the technology that will ensure an enjoyable experience for the fan. The Stabal platform provides a perfect virtual complement to our live in person events as we look to 2021 and beyond."
"For the past decade I have spent the better part of the Christmas season on the road, traveling from city to city on a Christmas tour. This year I was sure that we wouldn't be able to make that happen in light of COVID-19, but God had a different plan," said Chris Tomlin. "Together with my friends at K-LOVE and Awakening Events, we found a way to take my annual "Christmas Songs of Worship" concert around the world. I am so grateful that while we can't physically be together our hearts can come together to worship the Savior of the world."
"We are humbled to have such a strong partnership this year for K-LOVE Christmas with Chris Tomlin as 2020 has impacted us all on so many different levels," said David Pierce, Chief Partnership Officer of K-LOVE. "Our partners have remained strong and have come together for an amazing night of music, inspiration, and celebration of the birth of Jesus."
More information on "K-LOVE Christmas and Chris Tomlin Present Christmas Songs of Worship" is available on ChrisTomlin.com, AwakeningEvents.com or Stabal.com.
##