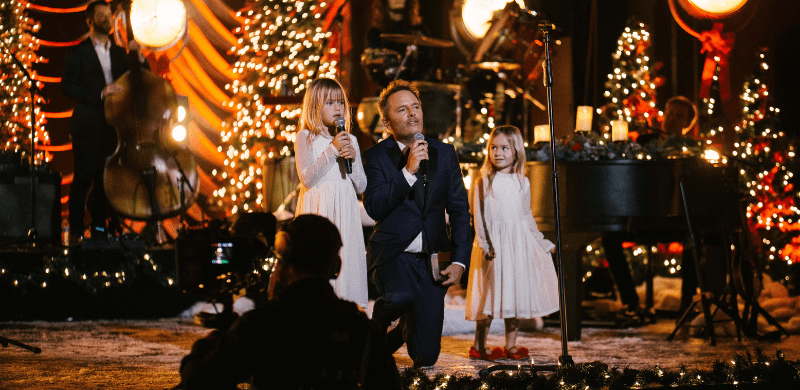 NASHVILLE, TN (December 17, 2020) – On Monday, December 14, GRAMMY ® winner Chris Tomlin, his wife Lauren and daughters Ashlyn and Madison, received their own special delivery of joy with the birth of a healthy baby girl, Elle Grace Tomlin.
Baby Elle was the inspiration for the title track of Chris' latest Christmas release, Miracle Of Love: Christmas Songs of Worship. Recently Chris premiered the song's music video exclusively on Facebook. As the only artist in the Christian genre, Chris joins the select group of other A-list artists including Bon Jovi, Katy Perry, Chris Stapleton, Carrie Underwood and others to partner with Facebook in an exclusive release. The song was a highlight in Tomlin's Christmas special, "K-LOVE Christmas & Chris Tomlin Present Christmas Songs Of Worship" which delivered Christmas joy into homes everywhere last weekend.
The 90-minute Christmas concert is available on Stabal's on-demand platform and includes guests We The Kingdom, Pat Barrett and more, with a special appearance by Ashlyn and Madison Tomlin who joined their father to perform "Silent Night." Tickets to watch the special are still available with the purchase of a 30-day pass at www.christomlin.com. This pass includes unique behind the scenes content, including a fireside chat, acoustic performance of "The First Noel," and a moving performance of "Tin Roof" by artist Blessing Offor (who appears on the Chris Tomlin & Friends album). The concert was made possible by K-LOVE, Awakening Events, Stabal and Altrua HealthShare.
The Christmas Special and baby Elle tied the bow on what has been a monumental and year of surprises for Chris, which began with the transition of his annual "Good Friday Nashville" concert into a global TV and radio event due to COVID-19. Soon after, Chris was asked to join Reba, Hillary Scott, and Keith Urban on Thomas Rhett's #1, "Be A Light," which resulted in Chris receiving his first-ever CMA award nomination and making his debut performance at the CMA award show. Continuing in a year of surprises, Chris released Chris Tomlin & Friends, in July, a 13-song project featuring him with some of today's biggest country music artists, debuting at #1 on Billboard. To launch the new music Chris performed "Thank You Lord" with Thomas Rhett and executive producers Florida Georgia Line on the Today Show and The Late Late Show with James Corden. The album contains his 17th #1 single, "Who You Are To Me" feat. Lady A, which reigned at the top of the charts for SIX consecutive weeks making it Chris' second longest running #1 after his 14-week success with "Whom Shall I Fear (God of Angel Armies)." In November Chris performed with Lady A and Russell Dickerson on the Grand Ole Opry.
"Over the years I have come to experience that songs are like arrows out of a bow. As an artist, we are the bow and we are shooting these songs out into the world and it is always amazing to watch how they go so much further than you could ever see and how they mean so many different things to some many different people," says Chris. "I am beyond words for how God has used new relationships, new music, and opened new doors to help people in 2020… and I am optimistic for what is in store for 2021."