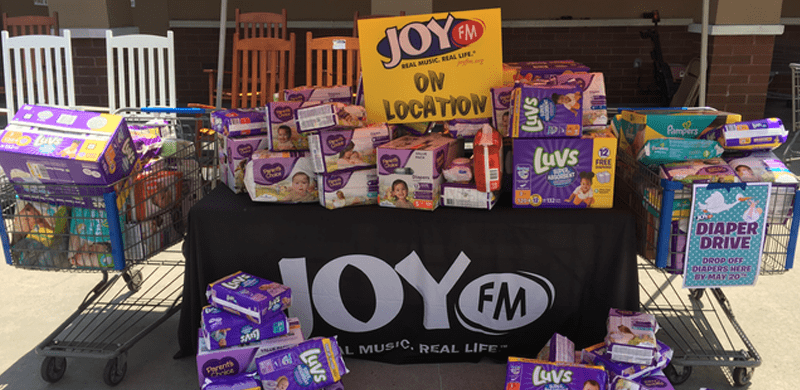 Winston-Salem, NC (June 19, 2017) ― More than 17,000 new diapers, along with baby wipes and other supplies were collected by Joy FM (WXRI) staff and volunteers during the station's diaper drive, held on May 20. The station set up donation sites at three North Carolina Wal-Mart stores, which included: Hickory, Mocksville, and Winston-Salem locations. Pinedale Christian Church of Winston-Salem also acted as a pre-event collection site.
Donations were divided among four organizations: Salem Pregnancy Care Center (4,200 diapers), Greensboro Pregnancy Care Center (3000 diapers), Davie Pregnancy Care Center (5018 diapers / 78 boxes of wipes), and Catawba County Department of Social Services (5061 diapers / 73 boxes of wipes / 22 cans of formula).
"If we didn't have partners like Pinedale and Joy FM that raise awareness out in the community though drives such as this one, we really wouldn't be able to make the impact that we do within the community," said Robin Aron, director of development and fundraising for Salem Pregnancy Care Center. Salem is a ministry for women who find themselves in an unplanned pregnancy. The center provides these women with practical needs. Additionally, they offer a mentoring program that helps their clients set individuals goals that in turn benefit both mom and baby with sustained support for up to two years.
Joy FM is committed to being a strong community partner, which is why it established its Neighborhoods and Nations® initiative last year. The Neighborhoods arm of the initiative encourages Joy FM staff to nominate non-profits and other organizations that exhibit exceptional missions within the Joy FM listening area. Nominees receive special on-air support at no cost as well as an opportunity to partner with Joy FM in "hands-on" ministry. It was from this effort that Joy FM's Diaper Drive was born.
Events such as Joy FM Diaper Drive produce more than donations. Heart-warming stories of those who have "been there" reinforce the need for community partners to work together for the greater good. Ashlie and Christopher, along with their son Matt, came to the drive to drop off diapers and to share their own experience with Salem.
Impassioned, Ashlie said, "We found Salem through our doctor's office. We went through every Bible study, every parenting class, and we collected the vouchers. If it hadn't been for Salem after Matt was born, there would have been times were we had no diapers, wipes, or clothes. Now that we are in a position to help someone else, we couldn't not give back."
"May 19 marked Joy FM's twentieth anniversary," said Daniel Britt, general manager and Morning JoyRide® host. "Being an active and involved ministry, we could think of no better way to celebrate than to offer gifts of service to these communities."
The success of the spring effort has Joy FM thinking even bigger for 2018. The station is one of five stations that operate under the Positive Alternative Radio (PAR) brand. According to Britt, Joy FM is looking to merge its diaper drive with those of other PAR stations next spring.
To learn more about Joy FM and its Neighborhoods and Nations® initiative, visit joyfm.org.
About Joy FM
Joy FM is a leading Christian radio ministry proudly serving communities in Maryland, North Carolina, South Carolina, Tennessee, Virginia, and West Virginia. Joy FM's music and ministry reaches the globe through its Joy FM app and is also one of five stations featured on PAR's Encouraging Radio™ app. Joy FM—now celebrating 20 years of music ministry—launched its vibrant, listener-supported ministry on May 19, 1997 and remains an active, positive, and collaborative community partner.
About Positive Alternative Radio
PAR is a non-profit ministry founded in 1985 by Edward Baker's father, the late Dr. Vernon H. Baker and his mother, Virginia. Today, PAR owns and operates stations and networks in key markets in Virginia, eastern Tennessee, West Virginia, Ohio, North Carolina and South Carolina. They include WCQR, broadcasting from Johnson City, Tenn.; Walk FM, Ashland, Ky.; Spirit FM, Lynchburg, Va.; Joy FM, Winston-Salem, N.C. and Your 'PER, Fredericksburg, Va. The stations provide adult contemporary and Gospel music, as well as Christian content available across a variety of digital platforms including the Encouraging Radio™ app. PAR is a certified 2017 Best Christian Workplaces recipient.
##