Jonathan McReynolds to Host "Worship Together: A Global Easter Celebration" to Air on Saturday, April 3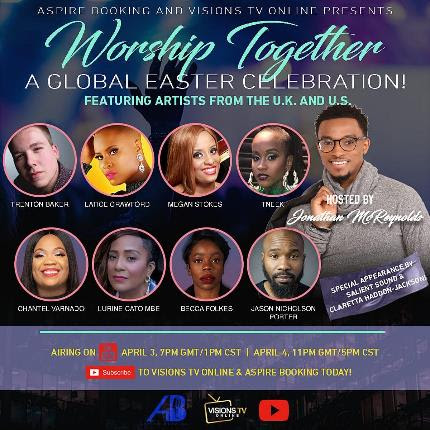 LONDON, UK & CHICAGO, IL – Gospel and inspirational music fans around the world are in for a treat this Spring as Visions TV Online and Aspire Booking will present in collaboration a new, exciting live-streamed Easter concert and worship experience "Worship Together: A Global Easter Celebration," hosted by renowned Christian artist Jonathan McReynolds. Gospel superstar McReynolds will be emceeing Great Britain–based platform Visions TV Online and Chicago-based Aspire Booking's online virtual concert.
The team at Visions TV are honored to be putting on such an event for the Christian community, and hope to serve an extraordinary evening of worship. "We are so looking forward to being able to host this event with our wonderful partners, Aspire Booking, and having Jonathan McReynolds' unique charisma guide us through the acts of the night. It's going to be a magnificent event!"
When asked about the upcoming event and Stellar Award–Winning and Grammy– Nominated McReynolds' participation as host, Aspire Booking commented "We're excited to have Jonathan McReynolds on board and joining us as we reach across the pond and collaborate with UK-based media outlet Visions TV Online to bring this virtual concert to our audiences this Resurrection Weekend."
Visions TV Online and Aspire Booking have created an outstanding program full of incredible international talent, such as EOne recording artist Latice Crawford, inspirational rapper Tneek, Trenton Baker (whose rendition of Eric Clapton's "If I Could Change The World" for the "Better Together" concert garnered him a performance slot with Grammy Award–Winner Jason Crabb), Member of the Most Excellent Order of the British Empire/MBE Lurine Cato, The Voice UK's Jason Nicholson Porter, anointed singer-songwriter Becca Folkes, worship leader Chantel Varnado and pianist Megan Stokes. The celebration of Christ's resurrection featuring these best and brightest of inspirational artistry and music will also include special performances by powerhouse singer Clareta Haddon-Jackson and worship team "Salient Sound."
McReynolds, regarding the Easter extravaganza, remarked "I'm happy to be partnering with and hosting for Aspire Booking again and particularly excited to be serving as Master of Ceremonies for Vision TV Online and Aspire Booking's "Worship Together" event and serving to help these two enterprising agencies promote these amazing Christ-centered performers as we unite in celebrating the ultimate event, the Savior's Resurrection.
"Worship Together: A Global Easter Celebration" will be live-streamed on Saturday April 3rd at 7 pm GMT (UK) / 2pm CST (US) and Resurrection Sunday April 4th 2021 at 10 pm GMT (UK) / 5 pm CST (US) on Visions TV Online's YouTube Channel. Complimentary tickets for the event are available on EventBrite.
Source: The Belle Report
##