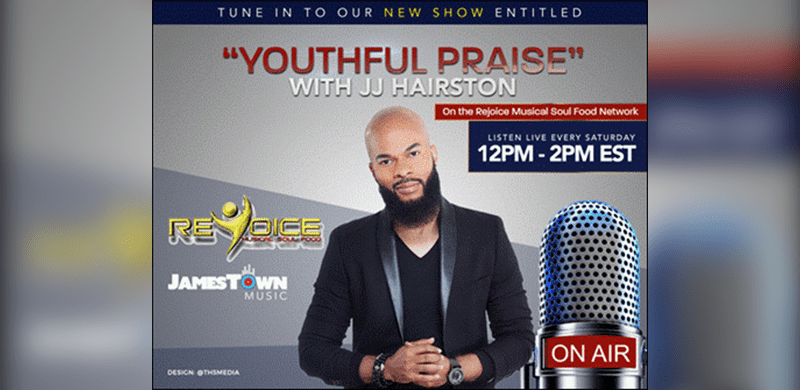 Washington, DC – Chart Topping, Stellar Award Winning J.J. Hairston, has been chosen to launch an all-new syndicated radio show. "Youthful Praise with J.J. Hairston." The show will air Saturdays (12p-2p EST) on Rejoice Musical Soul Food in over 50 markets and will be available for listeners worldwide at www.rejoicemusicalsoulfood.com beginning this Saturday.
"I'm so excited to bring something new to the air waves. I hope to impact hearts, encourage and uplift listeners, and make an impact that will change lives in such times like these. I'm honored to be chosen by Rejoice Musical Soul Food and hope that I do my small part in promoting Christ and his love," says Hairston.
The all-new "Youthful Praise with J.J. Hairston" will feature gospel music including new and upcoming artists, inspirational moments, Amazing Love (moments about relationships with J.J. and Trina Hairston), news, and fan favorites segments just to name a few.
Recently, J.J. Hairston also announced the signing of two new artists to his label JamesTown Music, Phil Thompson and Tim Reddick. He also was nominated for a Dove Award for Traditional Gospel Album of the Year for the chart-topping hit album, "You Deserve It." His new single, "No Reason to Fear," is currently in the Top 30 on the Billboard Gospel Airplay Chart and continues to rise.
Media Source:
##