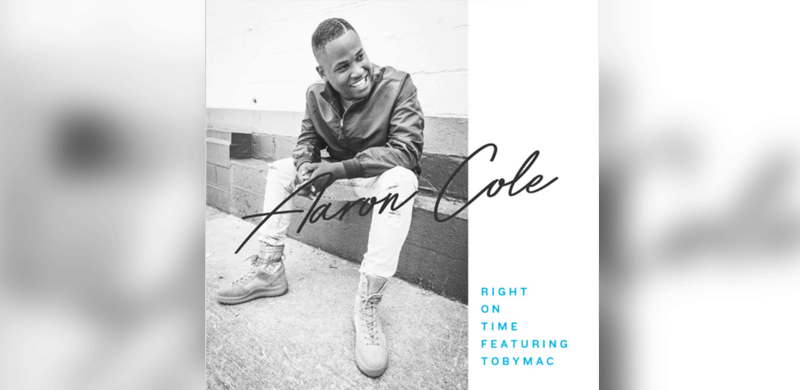 His Debut Music Video "Right On Time" feat. TobyMac Premieres Today; The Digital Single Will be Available Tomorrow
NASHVILLE, TENN. (SEPTEMBER 28, 2017) Gotee Records is proud to announce the newest addition to their roster with the signing of Aaron Cole and his debut single, "Right On Time," featuring Gotee founder and multi-GRAMMY® winning artist TobyMac. As a label that takes special interest in developing young artists into honing their craft, Gotee Records has been working with Cole over the past two years and is ready to share his music with the world.
The music video for his label debut is premiering today, and the digital single will be available tomorrow, September 29th, click here. "Right On Time" is also debuting at Christian Hot AC radio this week at No. 27 on the charts and as the No. 1 most added and the highest spin increase of the week.
"It's been a long time since Gotee has signed a hip-hop/R&B artist," shares TobyMac. "Honestly, I've just been waiting for the right person. And I'm really excited to say….we've finally found that artist in Aaron Cole. He is extremely gifted, dedicated to his craft and truly passionate about God. Aaron is READY, ready to use his gift of music to light it up in a way that only he can, and the timing is perfect."
Growing up in a musical family with his dad having a recording studio in their apartment, this 18-year-old has released a total of six independent projects since the young age of 4. When he reached junior high, Cole realized that music was his calling and what he wanted to pursue it wholeheartedly.
"I remember in junior high just enjoying being a regular kid, but I would get picked on because I wasn't smoking, drinking or getting in trouble," shares Cole. "One afternoon I came home and told my dad what was going on and why, and he shared that he thought I was called for a purpose and that this calling would cost me to not be like everyone else. It was that moment that I encountered God for the first time for myself, and I knew I was born to do this and began writing and putting my own songs together."
Describing his music as a hybrid between R&B, pop and hip-hop, Cole's music is a perfect blend of styles with a messages that range from pursuing your dreams, life issues to keeping God first. His vocal talents have been featured on songs by Hollyn, Canon, Deraj and DJ Maj. In 2016, Cole was inducted into Christian Hip Hop's top media outlet Rapzilla's Freshman Class and noted by Essence Magazine as one of 16 gospel artists to watch. His 2016 EP If I Can Be Honest debuted top 30 on the iTunes Rap/Hip Hop albums charts and was named the year's Best Free Project by Rapzilla.
Connect with Aaron Cole
www.iamaaroncole.com
Twitter
Facebook
Instagram
YouTube
##