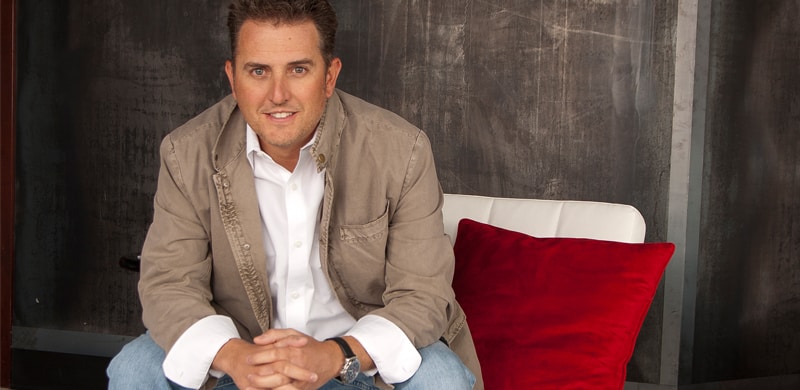 GET TO KNOW
Ryan Dunham

---
Best Leadership Advice You've Ever Been Given:
"Surround yourself with people who are smarter than you are."
Favorite Thing in Your Office:
My John Wayne lamp ("I've had this lamp since I was in college, and this lamp is probably 40 years old… He was with me in my fraternity house, and he's traveled everywhere. My wife won't let it in the house, so that's why it's at the office.")
Book You'd Recommend to Other Leaders:
Focus by Al Ries and Good to Great by Jim Collins
Last Song You Listened To:
"Now And At The Hour" by The Brilliance
Most-Used App:
American Airlines App
Hobbies Outside the Office:
"I'm an avid motorcycle rider. Love to golf, although I stink at it; love to hunt; love to go skiing and hang out with my two boys."
GMA Industry Executive Interview: Ryan Dunham, President, Integrity Music
By Lindsay Williams
After 14 years at Zondervan, Ryan Dunham joined David C. Cook in 2006 as Vice President of Sales and Marketing, where he oversaw the organization's rebranding efforts. Today, in his current role as President of Integrity Music, Dunham presides over the company's music divisions in Colorado Springs, Colo., and the U.K. Home to some of the most prolific artists and songwriters in the industry, including All Sons & Daughters, Paul Baloche, Planetshakers, Lincoln Brewster, Desperation Band, Israel Houghton and Jennie Lee Riddle, among others, Integrity currently controls more than 7,000 songs, such as Newsboys' "We Believe," "Revelation Song," "Your Great Name" and more. In addition, parent company David C. Cook holds non-profit status with a goal to provide discipleship resources for churches around the globe. In the past 12 months alone, the organization has reached 15 million children in 142 countries through their curriculum, tailored to address specific needs in each area of the world. Moreover, 35 million resource materials have been distributed, culminating in 94 million lives touched.
From his home in Colorado Springs, Dunham recently took the time to discuss his years in book publishing, how David C. Cook is able to reach millions around the world maintaining a non-profit status and what he sees as the future of Christian music.
How did your experience in book publishing prepare you for your current role in the music space?
I think one of the main commonalities between the two is that they're both heavily relational, and we both rely on content creators. On the book side, you work with authors in crafting a marketing plan and putting a book together and helping to shape and format that book into the best message and content that can be published, but you do that through the relationship with the author. And on the music side, it's not really any different. You're involved relationally with the artists and the songwriters… It is all built around the relationships and trust that you have to help get [their] message out… The thing that was different is that the book publishing business models are far simpler. [With] the music industry going through significant changes from CDs to downloads and now downloads to streaming, and with copyrights and song publishing, it's a much more complex business model than book publishing has ever been.
Given that you grew up in a musical family, did you ever aspire to work in music?
I did. My family made several different albums over the years. My dad sang in gospel quartets—southern gospel. They would travel around the midwest and sing in churches. When I got involved in the Christian industry and started at Zondervan, within a few years, I had the opportunity to go work for one of the larger record companies in Christian music, and that was very appealing to me because I grew up listening to Christian music. So I had that opportunity, and it just didn't work out at the time. Of course, God's timing's everything. And then, this Integrity opportunity came around, so I ended up working in the music industry about 15 years later than I originally thought.
Part of what makes Integrity unique is that it's a non-profit. What does that model look like?
What we do is we produce discipleship resources—whether it be Sunday school curriculum or books [or] music—and we make them available to church leaders all over the world. And where we can sell those resources in excess of cost and make some money, we then turn around and utilize that money that we've generated from selling those discipleship resources to have them translated, culturalized and made available to church leaders around the world who don't have the resources to buy them. So you could say that the western culture where we have money—the North American Church or the Church in Europe or Australia or wherever—those are the people who are funding the ministry to churches all over the world by buying David C. Cook resources, which obviously includes Integrity Music resources.
We're working with writers in other countries around the world and helping them get songs that they're writing out of their own local worship experience published and distributed; and equipping church leaders with songs written out of other nations. That stems from our belief that people sing their own songs the loudest. A church in Kenya, for example, they're going to sing a song that was written there with much more heart and understanding and knowledge, and hence louder, than [how] they would perhaps sing a song from the United States. So our goal is to help these songs get out there so that they can be ministry tools for churches all over the world.
How is it different marketing to consumers overseas versus marketing to U.S. consumers?
Most of us here in the United States rely on the traditional channels for marketing for music, whether it be through distributors in other countries or publishers when it comes to songs, but when you're working in countries where they don't necessarily have that infrastructure, and yet there is a great need to sing songs of substance, what we're working with are local churches directly—both in terms of publishing songs, making the local churches aware [and distribution]. And so it comes through strategic partnerships of like-minded people in those countries, but primarily utilizing the local church as a way to do that.
Since Integrity Music is owned by a book publisher, how does that affect your dynamic? Is there good synergy between the book division and the music division?
Yeah, we've worked with Paul Baloche in publishing a book, and we've done that with a few of our [other] artists and authors. The other thing that we've done is when we are working with a particular author, for example, who may be a teaching pastor at a church, is find the synergy between him and what is happening in [the church's] worship ministry area and the songs that are coming out of there… So it gives us some flexibility to try different things through our book group, as well as our music group.
With all of the recent changes in how we create, consume and distribute music, what do you feel is the biggest challenge facing the music industry—particularly the Christian music industry—right now?
Boy, there's a lot of challenges. To narrow it down to one or the biggest is a bit of an issue in and of itself, but one of the observations that I made coming into this is the complexity of licensing. If you want to use a song for a performance versus a recording of a song; if you want to use it for film as opposed to a website… There are so many aspects to the licensing process that the general public doesn't understand, and I think the complexity gets in the way of helping it grow and making it more and more available.
Since we're now a single/playlist-driven society, do you think it's beneficial to worship leaders, in particular?
I think it helps a lot of content creators get their songs and their recordings published much more easily than it has been in the past. The physical distribution model was about getting them into retail outlets—that's how people found them. Today, that hurdle no longer exits. Anybody who can write a song and record it in their bedroom can take that and make it available and put it up so that people can find it. But that also then presents the biggest problem, and that is discoverability. I don't believe there's ever been a time when more songs and more recordings are being made available. So now it becomes much harder to find great quality songs that can sustain the test of time.
Are there any other significant trends that you're seeing?
I think we're going to continue to see more and more content creators wanting to do things on their own. Artists may not necessarily want to be signed to a publisher and/or a record company, per se, as they believe they can do it all themselves… but they also don't want to build the infrastructure necessary to get their songs and their recordings out there. I think there's going to be more of a trend of people wanting to do things themselves while also recognizing that they have underestimated the essential components of what a record/publishing company does. And so, looking for specific services that can help them do that—whether it's processing royalties, helping in digital aggregation and distribution, marketing or radio promotion—I think that trend will continue.
Where do see the future of music heading?
I'm still pretty bullish on the future of streaming. As a consumer of music, I love the delivery mechanism of being able to pay a reasonable fee on a monthly basis and being able to have access to any type of music that I want, whenever I want and wherever I want. I think [the industry] just hasn't been able to see the benefit of that yet, but I'm optimistic that is going to happen. Outside of North America and in parts of Europe, music has been pretty much available for free or for a very nominal price for quite a while. Those who are making it work utilize the recordings as a marketing vehicle for fans to engage in concerts or events. So the business model in China, for example, isn't built around the sale of music; although new opportunities in streaming may change that. It has been a primary driver for them to promote and market their events and concerts, and so I think that's still going to be a key point for worship leaders who want to get out and tour and lead people in worship.
For more info, visit www.integritymusic.com.
##