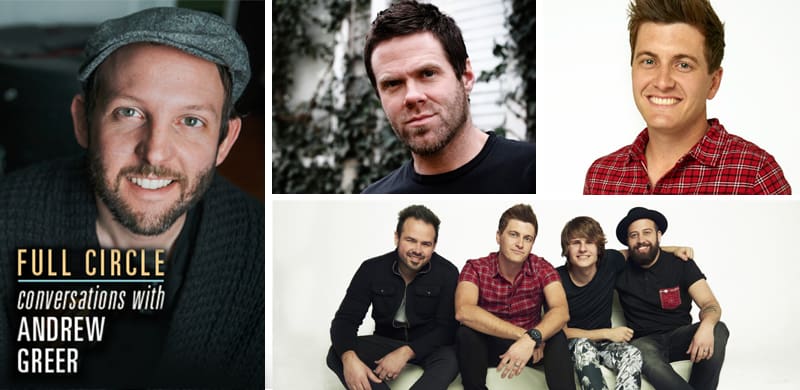 Full Circle: Conversations with Andrew Greer
Join singer-songwriter Andrew Greer as he chats with Christian music history makers past and present.
THIS MONTH: AUDIO ADRENALINE'S MARK STUART + ADAM AGEE
Nearly three decades deep in an illustrious Christian music career, Audio Adrenaline continues to pace faith-based rock/pop with a fresh lineup and chart-topping tunes – the band's latest recording, Sound of Saints (Fair Trade Services), hit number one on Billboard's Christian Albums charts after its release earlier this month and the record's single, "Move," was hand-selected as the opening theme for the MLB Network's daily "MLB Now" programming.
Mentored by Audio Adrenaline founding father, Mark Stuart, the multiple Grammy-winning outfit is harnessing renewed momentum with Stellar Kart originator and former lead singer, Adam Agee's relevant and expert resume. And in a unique conversation pairing the two founding frontmen, Mark and Adam sit down to give their individual takes on the band's successful past, vision for the future and continuing legacy of service to orphans worldwide.
Andrew: Audio Adrenaline continues to be one of Christian music's most influential and iconic groups. In your opinions, what's been a key secret of the band's sustained success for nearly three decades?
Mark Stuart: Wow. Three decades sounds unbelievable. For me, the key to longevity for Audio Adrenaline has been a classic approach to the music and a gutsy, vulnerable approach to the message. People always connect to honest storytelling accompanied by a great guitar riff and some tambourine. And … don't forget the cowbell.
Andrew: Adam, from your perspective as fan of the band you are now fronting, what is the key to Audio A's longevity?
Adam Agee: Audio A has written great songs that encourage and inspire, but more specifically they have championed the underdog. Honest lyrics and fun tunes plus a heart for ministry have proven a successful formula.
Honest lyrics and fun tunes plus a heart for ministry have proven a successful formula. -Adam Agee
Andrew: You are both founding members of successful bands. What is a frontman's greatest responsibility to both his bandmates and his audience?
Mark: As a frontman, there are a lot of responsibilities. Perhaps the most important role is setting an example for your bandmates. Don't be afraid to lead. Set the standard for your band's work ethic, performance and musical effort, and spiritual stewardship.
In terms of the audience, the frontman's job is to make a connection. You have to invite the audience into the story. Nothing is more inviting than true emotion. When you perform, sing and feel the lyric as though it was the first time you've ever heard the song.
Adam: I agree. I feel like I need to be a leader to my bandmates, and hopefully the glue that keeps the band strong. Like Mark said, with the audience, it's my job to engage them, to take them from point A to point B and get them to feel what the song and performance are trying to say. I want to entertain and inspire while I'm onstage.
Andrew: Audio A has been a leader in missions-minded music over the years. How has the band's Hands & Feet Project shaped the kind of music you have made?
Mark: For me, music and mission have always been inseparable. We tend to sing and write about our passions. Haiti and the Hands and Feet Project are two things I will always love deeply. Our career song, "Big House," was written based on a Haitian children's song, and the Hands and Feet Project was launched after fan reaction to the single. [On the last record], "Kings & Queens" was written to encourage people to care for vulnerable children around the world. Simply put, Audio Adrenaline wouldn't have existed without a missional focus.
Audio Adrenaline wouldn't have existed without a missional focus. -Mark Stuart
Andrew: Adam, how does the band's "missional" focus impact the music you guys continue to make?
Adam: The Hands and Feet Project was a huge part of my decision to join the band. I believe it is a real life way for people to act out their faith, and an example of how the lyrics of Audio A are more than just words in a song.
Andrew: Mark, you and Will have been mentors to the current group. Why is that role important to you? Adam, how has this impacted and benefitted you as well?
Mark: It's important to me for these guys to succeed. I'm not talking about selling records or selling out shows. I'm talking about loving God and loving each other well. We've had plenty of success throughout the years, but the most important victories are in the little things along the way.
Adam: I am so thankful for the opportunity to work with Mark and Will. These guys are pioneers in Christian music and a huge reason why I'm playing music. To be able to learn from and work with guys I emulated as a young musician is truly an honor.
##
About Audio Adrenaline: Since their debut in 1986, Audio Adrenaline has been one of Christian music's best-loved bands. They have garnered two GRAMMY® Awards for Best Rock Gospel Album (Worldwide, Until My Heart Caves In); five GMA Dove Awards; a Gold®-certified recording (Bloom); and 14 #1 Christian radio singles, including signature songs "Big House," "Get Down" and "Hands And Feet." In 2004 the band created the Hands & Feet Project, an organization which continues to impact orphans and children throughout Haiti. For more information, visit audioa.com.
About Andrew: Andrew Greer is a Dove Award-nominated singer-songwriter, author and co-creator of the innovative Hymns for Hunger Tour with Dove Award-winning singer-songwriter Cindy Morgan. His 2013 record, All Things Bright & Beautiful (Lucid Artist), held the #1 spot on Nielsen Christian SoundScan's Instrumental chart for 25 consecutive weeks. Later the same year, Angel Band: The Christmas Sessions reached the Top 10 on iTunes' mainstream Singer-Songwriter chart featuring collaborations with music legends Phil Madeira, The McCrary Sisters, Cindy Morgan and GRAMMY®-winning legend Sandi Patty. As a songwriter, Andrew's songs have been recorded by artists like Jaci Velasquez, Nic Gonzales (of Salvador) and Seth & Nirva. As an author, his first book – Transcending Mysteries: Who is God, and What Does He Want from Us? (Thomas Nelson) – co-authored with fellow singer-songwriter Ginny Owens, released last month. For more information visit: andrew-greer.com or hymnsforhunger.com.