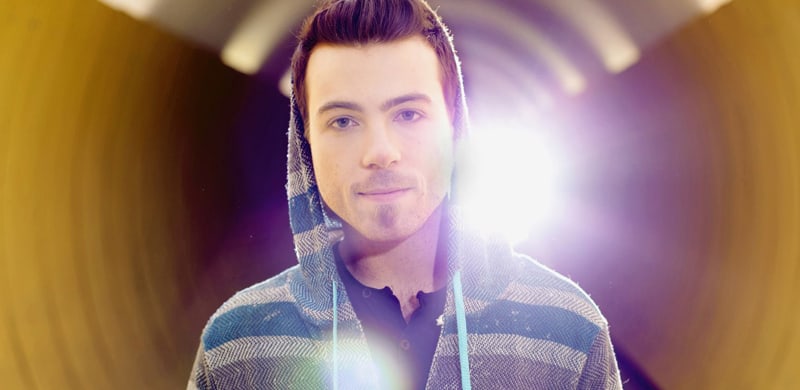 GET TO KNOW
SETH MOSLEY
---
First Album You Ever Owned:
Take Me To Your Leader, Newsboys
First Album You Ever Produced:
Born Again, Newsboys
Producer(s) You Admire Most:
Ryan Tedder, Brown Bannister
Most Treasured Possession in Your Office/Studio:
"There's a saying that we use around the studio a lot: 'Dare to suck.' And that's basically saying, 'Don't be afraid. Throw your stupidest idea out there.' So a couple of the guys that work at Full Circle made me a sign that says, 'Dare to suck' that sits in our studio, and I would probably say that's the favorite item in the room."

Last Concert You Attended:
Winter Jam in Phoenix ("I was out actually writing with Skillet for their new record.")
By Lindsay Williams
Seth Mosley stands as the mastermind behind some of 2015's biggest hits, helming No. 1 singles from for KING & COUNTRY ("Fix My Eyes"), Francesca Battistelli ("He Knows My Name"), Jeremy Camp ("He Knows"), and more. In October, he walked away from the Doves as the evening's biggest honoree, winning four of the five categories for which he was nominated, including the prestigious awards for Songwriter of the Year (Non-Artist) and Producer of the Year.
Altogether, Mosley's full-service production company, Full Circle Music, has contributed to 20 No. 1 chart-topping songs. Full Circle Music—which, along with Mosley, also includes Michael O'Connor, Jerricho Scroggins and Brad Rempel—writes and produces an average of 150 songs each year. Although he's always written and produced on the side, Mosley began his career as the frontman for pop/rock act Me In Motion. Sensing that full-time studio work was his clearer calling, Mosley stepped down from touring four years ago after being asked to produce an album for Newsboys—one of his childhood heroes. Ever since, he's been on the fast track to becoming one of Christian music's leading songwriters and producers. Ironically, Mosley admits he has no formal music education and doesn't even know how to read music. "We go back to the saying all the time that God doesn't call the qualified, He qualifies the called; and that's just very much our story," Mosley shares. The multi-Dove Award winner recently took the time to discuss Full Circle's unique approach to creating art, current trends and how his company is intentional about shaping future industry leaders.
You had a phenomenal run at the Doves this year. What was it like to walk away the night's biggest winner?
Seth Mosley: It was definitely unexpected, but we were definitely thankful for it. Ten years ago if you would've told us we would've even had a ticket in the nosebleed seats for the Dove Awards, I would've just been thrilled; but to actually win anything, it's kind of mind-blowing… We've tried really hard to surround ourselves with the right people in this industry, and I think when you do that and align yourselves with people who share the same vision and the same ministry, good things can happen. So it was definitely validation for that, and it was a good reminder that the songs are leaving the four walls of the studio and making a big impact in the world.
What sets Full Circle Music's approach to collaboration apart?
Mosley: We come into every room with a servant mindset. We're not here to get any agenda across; we're not here to get our brand out there or our name out there. I think that happens over time anyway if you do really good work, but we're here really as the servant piece of the puzzle… It's really [the artist's] thing at the end of the day. They're going to be the ones getting on stage every night and telling the stories behind the songs and pouring their hearts out, so we really just have to get out of the way and facilitate whatever's going on in their heart the best way we can. We have a pretty sensitive radar. I feel like we're always trying to do things a little bit differently—even if it's just down to buying a new piece of gear or something that might inspire a new sound for the next artist we're working [with], just so we're not using the same things on every record.
You were a touring artist for a while. What made you decide to step behind the scenes full-time and pursue production and songwriting?
Mosley: It was honestly a pretty easy decision. We felt like God had been lining all the pieces up to fit together for us to do what we're doing now. I feel like my time on the road touring as an artist was a great education and apprenticeship to get into the mind of what it is like to be an artist, and I think that's given us a unique perspective… Honestly, it just feels like my skill set is a lot better [suited] to do what we're doing now, as opposed to being on a stage and interacting with fans and radio people every night. We definitely see ourselves as key players in the creative process and not so much the other 97 percent of what it takes to be an artist.
Do you feel like you've found your sweet spot now?
Mosley: You can definitely tell when you're pushing water uphill and when you're working at what you're supposed to be doing. That's definitely what it feels like now. I mean, it's hard work, but I always go back to the analogy that a bad day at our work is like the best day ever [as opposed to] doing something we wouldn't want to do. We just are thrilled to get to do this every day.
You've been a part of a lot of huge projects and songs this year. Was there a record or a song, in particular, that you knew was going to be really special while you were creating it?
Mosley: Looking back, one of the first songs I did with for KING & COUNTRY was the song "Fix My Eyes," and I think there was a pretty unanimous response from the first version of that one, which was a rough work tape that we sent out to the label. It was one of those versions that's so rough, I'm like, 'Do I even want to send this?' because…we hadn't spent a lot of time on it. But honestly, even the response from the first time we sent that out was just like, 'Yes, this one definitely has something to it.' … It's even recently crossed over into the mainstream market, so to see it grow legs outside of the Christian music world is pretty amazing as well.
With the way people are consuming music right now, the lines between genres continue to blur. Do you see the sonic influences of other genres creeping into Christian music?
Mosley: Absolutely. I think we are moving closer and closer to a genre-less music industry, and I think that's actually a good thing, because I feel like you can easily get boxed into, 'This is how a certain thing should be; there's this set of rules; this is the way it should sound; this is the packaging that it should be in.' And I honestly feel encouraged that it is becoming the way it is, because it enables you to take more risks. I think people are honestly craving that in the Christian music space. We always live by the philosophy that it's all music; the question is, is it good or is it bad?
We come from a very song-focused standpoint, so for us, if it's a really good song, it will connect regardless of the genre. Being in Christian music specifically, it's very message-centric, so I think we spend a lot of our focus just making sure the messages are crystal clear. You can do anything you want genre-wise and sound-wise if the message is clear and if you're saying something about God in a new way that inspires somebody to think about it in a way they've never thought about it before.
Christian music has often been criticized as being 3-5 years behind mainstream. 1) Do you agree with this assessment, and 2) How do you make sure, as a producer/songwriter, that Christian music stays fresh, relevant and even competitive?
Mosley: We want to be competitive with everything that's on Top 40. As Full Circle Music, we aren't OK with that stereotype of being three to five years behind mainstream. We definitely place a high priority on making sure we don't fall into that category, and I think it honestly just comes down to how you're doing things. We're not, as a company, sitting and listening to mainstream songs and then saying, 'Let's make something that sounds like this [with a] Christian lyric.' … I think, again, you go back to the message. If we're able to go in and say something in a way that people have never heard it before, that's where we're winning.
Is there one key piece of advice that you give to all the artists you work with?
Mosley: When you boil it down, the artists we work with are very different from each other stylistically, personality-wise, message-wise and live show-wise, but at the end of the day, it's interesting how we end up having a lot of the same conversations because really everybody's trying to do the same thing—in Christian music, especially. The struggle is to find a new way to say it so it lands on people's ears in a new way. So, I think we wind up having the same conversations with artist after artist, of, 'OK, how do we push the genre? How do we push the boundaries? How do we say something new?'
Full Circle Music puts a big emphasis on mentoring. How are you investing in students and others interested in production and songwriting?
Mosley: We have an intern program. We've put a lot of energy into that because we're big proponents of helping bring up the next generation of producers and songwriters. Hopefully we can help serve in that way and bring people along for the ride. We always take submissions. If there are people who are wanting to get into this sort of thing, we're always an open book to answer questions and potentially even give people direct opportunities. We're always open to finding and working with people who are awesome and love the same things that we love. [For those interested in internship/mentorship opportunities, email intern@fullcirclemusic.org.]
Who's someone you'd like to work with that you haven't collaborated with yet?
Mosley: I love what Bethel's doing. I love Hillsong. Jesus Culture—I'm a big fan of what they're doing. Casting Crowns—they're a band that we haven't connected with, and I think they're doing some pretty profound things in our industry, so we obviously would be thrilled for the opportunity of working with them.
What are some things that you're working on right now that we should be on the lookout for?
Mosley: We always have a lot of plates spinning, but we're really pumped about the new Skillet record. We've been writing a lot with John and Korey [Cooper] for that, so we're really pumped on some of those songs. We're finishing up some tracks for the new Newsboys record, which will coincide with the movie release of God's Not Dead 2… We're working on a new record with [Love & The Outcome] that we think is going to be really, really good. And always the for KING & COUNTRY stuff. They're very high on our list of people that we're excited to be working with. They're always working on new music, and we've done a couple new things with them in the past few months, so we're excited to see those come out as well.
Look for Full Circle Music to launch a monthly podcast soon with upcoming exclusive interviews from Brown Bannister, Tom Douglas and others. For more info, visit www.fullcirclemusic.org.
##