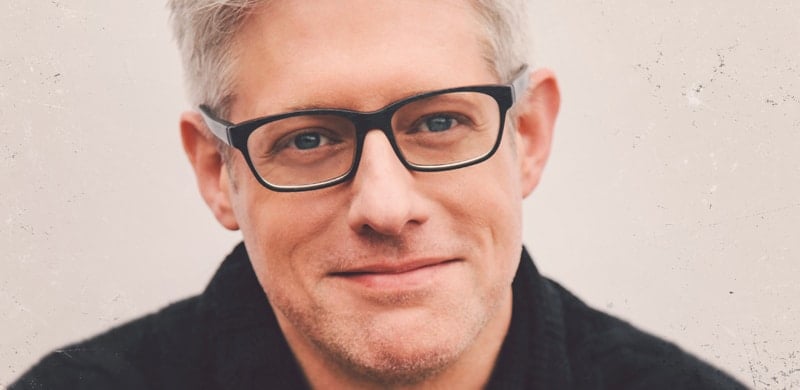 BETTER TOGETHER

---
For Saints and Sinners, Maher collaborated with a host of incredible songwriters, including Switchfoot's Jon Foreman ("Instrument"), NEEDTOBREATHE ("Deliverer") and Thad Cockrell ("Rest"). We asked him to tell us his favorite cuts recorded by his co-writers:
Favorite Jon Foreman Song:
"Your Love is Strong" is to me, because it was sung at my wedding, so it's part of my story at this point.
Favorite NEEDTOBREATHE Song:
Tough to whittle down… I would say off their new album [Rivers in the Wasteland], "Difference Maker" …a lot of people don't get the irony in the lyric… go check it out. Of course "Oh Carolina" is ridiculous.
Favorite Thad Cockrell Song:
"Oh To Be Loved" – it feels like Patsy Cline walked into an old tent revival and started serenading Jesus.
By Lindsay Williams
You likely know Matt Maher as the voice behind radio hits like "Lord, I Need You," "Your Grace Is Enough," "Hold Us Together," "Because He Lives (Amen)" and his current single "Deliverer," among others. But did you know that Maher is actually responsible for some of the biggest songs recorded by other top artists in Christian music today? Often writing with the likes of everyone from Chris Tomlin and David Crowder to Matt Redman and Jason Ingram, Maher's pen has touched far more worship anthems than the average fan may realize. Most recently, he co-wrote "Come As You Are," recorded by Crowder and "Soul On Fire," recorded by Third Day. The illustrious singer, songwriter and father of two recently sat down with us to talk about the collaborations behind songs on his latest collection, Saints and Sinners (Essential Records), his "dream team" for a co-write and the songs he wish he had written.
What is your favorite quote that inspired a new song on Saints and Sinners?
Almost every song on Saints and Sinners was inspired by a quote, prayer or hymn. One song called "Sons and Daughters" was inspired by the "We Shall Overcome" speech written by Dr. Martin Luther King, Jr.
What's the one song you wish you'd written?
"Hey Jude" by The Beatles. Such a great song! In terms of Church songs, I think "10,000 Reasons" by Matt Redman and Jonas Myrin is such an amazing worship song. They crafted something that will truly stand outside the test of time.
What artist would you most like to collaborate with?
Dave Grohl [Foo Fighters]. I think he'd be such a great guy to hang out with and create [with], plus I think he seems like the kind of person who would push for something believable, which I think is one of (if not the most) important aspects of music. Do I actually believe the artist believes in what they're singing?
What three artists would comprise your "dream team" of fellow songwriters for a co-write?
Well, I do get to write with Chris Tomlin, Matt Redman and Jason Ingram, among others. They're amazing writers, but if I had to say outside my sphere of friends, there's a massive list of people. From Ryan Tedder to Pharrell Williams to Paul McCartney to Tom Petty to Billy Joel to Keith Urban…
What's your favorite song that you've written for another artist?
Right now "Come As You Are" that I wrote with David Crowder is up there, but "White Flag" that was written by a group of us for the Passion conference in 2012 was a special moment. Being at the conference and seeing that song impacting so many lives—it's a great reminder of the gift of writing songs for the Church.
How do you decide what songs you want to record yourself versus what songs you want to "give away" to other artists?
It's definitely a lot of leaning on the Spirit and knowing what your "voice" is as an artist. You have to ask yourself if this is something you can sing every night and mean it.
Why do you feel like collaboration in songwriting is important?
Because I think collaboration is important to God; it's important to creation itself. God doesn't need our involvement, but He invites it. We were made to experience creativity in a community.
Is there a particular place where you feel most inspired to create?
Right now, the writing space at my house. There's room to think there.
What's one thing that might surprise fans about you?
I'm a massive video game nerd. I play when I'm on the road. It's nerdy.
What do you hope your kids remember most about you?
That I had all the time in the world for them.
Catch Matt on the "Saints and Sinners Tour" this fall with special guests Jon Guerra, I Am They and Hannah Kerr. For dates, cities and more info, visit www.mattmahermusic.com.
##