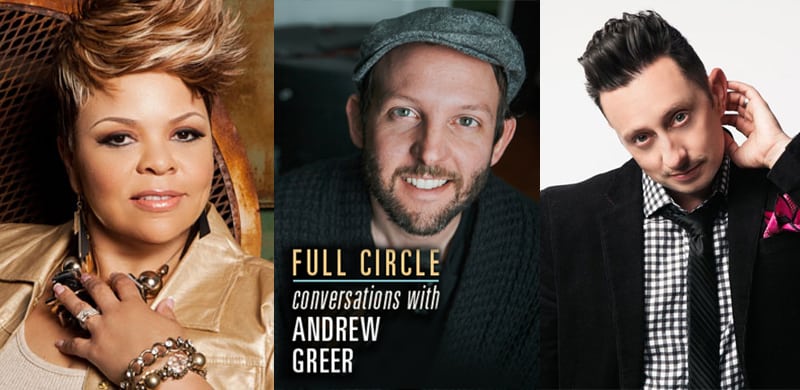 Full Circle: Conversations with Andrew Greer
Join singer-songwriter Andrew Greer as he chats with Christian music historymakers past and present.
This Month: Tamela Mann + Bryan Popin
Having just celebrated her first Grammy nomination, ten Stellar nominations and multiple Dove Award wins for her watershed record, Best Days (TillyMann Music), while prepping her upcoming television venture with husband and comedian, David Mann – a cooking show called Hanging with the Manns, Tamela Mann juggles her professional roles of singer, songwriter, speaker and actress with seeming ease. Bryan Popin wears his own share of hats, having written songs for celebrity acts like 'NSYNC, collaborated with a diverse roster of artists like Chaka Kahn and Martha Munizzi, and now releasing his debut artist-driven urban-worship project, You Can Make It (eOne Worship) – featuring vocal guesting by none other than Mrs. Mann. The multi-faceted urban artists join us this month to talk worship music, their musical influences and working together.
Andrew: Tamela, how do you most simply define worship music?
Tamela: Worship music is music that puts you directly in the presence of God.
Andrew: Bryan, how does your new record – You Can Make It – reflect worship?
Bryan Popin: Over the last several years, I almost went bankrupt. I almost lost my marriage. I had to make a choice to press in closer to God than ever before. That is when I realized I wasn't giving God my true worship; I was just singing songs. Through that season, God gave me the songs on You Can Make It. Songs that encouraged meand gave me hope. My heart's desire is that God would do the same for others that He did for me through the music He gave me. I want this record to be a rope of hope, aword of encouragement and for some, spark a passion for Him.
Andrew: Tamela, as an artist, speaker and actress with mainstream and gospelaccessibility, do you include "worship" throughout all your performances?
Tamela: Yes. Incorporating worship into all my platforms is my way of showing my love and appreciation to God for all of the many blessings and everything he has done.
Andrew: You performed in various groups and tours before your solo career tookoff. What artists most influenced your musical career?
Tamela: I was greatly inspired by Andrae Crouch. Then one of my girlfriends and I started getting into the music of The Clark Sisters. I loved the sound of Vanessa Bell and James Moore's voices. Their sound helped me find myself vocally.
Andrew: How about your influences, Bryan?
Bryan Popin: I first started out as a classical pianist. My mom was a choir director and I was raised in church. Soulful music seems to just be in me. I've always been moved by music that is felt. For me, soulful music is heart music. From Stevie Wonder to Luther Vandross to Earth Wind & Fire to old school gospel choirs like James Cleveland, Rev. Clay Evans or Phil Tarver, there is a diverse mix of music in me. I like that. The church is a diverse group of people too!
Andrew: When were you first introduced to Tamela Mann's musicianship? Andhow did you guys end up connecting to collaborate on You Can Make It?
Bryan Popin: Mutual friends, David and Jessie Hurst, Kirk Franklin's former managers,s came out to my house in Nashville. We felt more like family than business. After playing them the song "Alright," David and Jesse looked at each other, nodded their heads and just smiled real big. I was hoping they were feeling what I was feeling. Then David shouted out, "You've gotta' have Tam on this song!" I shouted, "Hallelujah!" The next thing I know I was flying out to Dallas to record the song with Tamela and producer Myron Butler. She is beautiful, professional and has a big heart! She recorded the first pass of the song and humbly said, "Well, Mr. Bryan, whatcha think?" I had goosebumps! I said, "Unless anyone overrules, I'm good!" Tamela and David have been big supporters of me and You Can Make It, and they will be family for life!
Andrew: Tamela, how were you first introduced to Bryan's music?
Tamela: My husband David introduced me to Bryan. It was cool working with him on "Alright." I wish him success with You Can Make It and his music ministry.
##
About Tamela Mann: Tamela Mann is an accomplished NAACP Image Awardnominated actress, GRAMMY® Award-nominated singer, songwriter, producer, andbusinesswoman. Starring as "Cora Simmons" on the hit TBS comedy Tyler Perry's Meet The Browns, Tamela makes millions laugh every week. Tamela's highly successful,Dove Award-winning CD The Master Plan remained at the top of the Gospel sales chart for almost a year. Tamela's two-time GMA Dove Award-winning CD Best Days debuted at #1 on several music sales charts and includes the #1 single "Take Me To The King," which earned Tamela her first GRAMMY ® Award nomination for Best Gospel/Contemporary Christian Music Performance. Tamela and David's new cooking and lifestyle show, Hanging With The Manns, will be released soon. For more information visit: www.tillymannmusic.com.
About Bryan Popin: A native of Middletown, NJ, Popin began paying piano by ear when he was 11 years old. Popin studied with such noted teachers as Julliard's Dr. Sammuel Mammel and Rutgers University's Dr. Joseph Accurso. Early in his career, the legendary Stevie Wonder nicknamed him "Little Boy Wonder" and he's continued to impress with his songwriting and musician skills and vocal prowess. He's collaborated with R&B legend Chaka Khan and highly respected worship leader Martha Munizzi. He's opened for Israel Houghton, Deitrick Haddon, Donnie McClurkin, Marvin Sapp and American Idol alum Danny Gokey. At the height of their popularity, 'NSYNC recorded one of his tunes on their multi-platinum album Celebrity. You Can Make It is Popin's first national release in partnership with eOne Worship. For more information visit: www.bryanpopin.com.
About Andrew: Andrew Greer is an acclaimed singer-songwriter, respected music journalist, and co-creator of the innovative Hymns for Hunger Tour with fellow singer-songwriter Cindy Morgan. All Things Bright & Beautiful: Hymns for the Seasons (Lucid Artist), an instrumental collection produced, arranged, and performed by Greer, held the #1 spot on Nielsen Christian SoundScan's Instrumental chart for 23 consecutive weeks. A 2013 Dove Award nominee, Andrew's first Christmas record, Angel Band: The Christmas Sessions, releases this fall and features collaborations with music legends Phil Madeira, The McCrary Sisters, Cindy Morgan, and Sandi Patty. For more information, visit: www.andrew-greer.com or www.hymnsforhunger.com