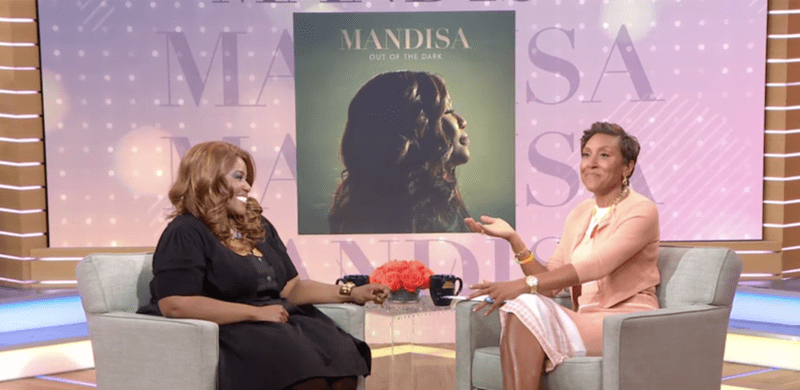 GRAMMY® Winner Mandisa Opens Up About Struggle With Depression On ABC's Good Morning America
Out Of The Dark available May 19; Preorder available at iTunes, alongside exclusive presale bundles.
About Mandisa
With more than 1 million records sold, GRAMMY® winner and American Idol Season 5 finalist Mandisa is a voice of encouragement and truth to people facing life's challenges all around the world. In less than a year, Mandisa performed her three hit singles "Overcomer," "Good Morning," and "Stronger" on the highest rated morning show, ABC's Good Morning America (GMA.) Her performance of "Stronger" welcomed the emotional return of beloved morning host Robin Roberts. The NFL also welcomed Mandisa to perform the national anthem during a Sunday night NFL Network game to kick off Breast Cancer Awareness month where she was joined by members of the 49ers family who are survivors. Her album, Overcomer, released August 27, 2013 and debuted at No. 1 on the Billboard Christian Albums Chart, with the album's title track proving to be a smash at radio Mandisa was awarded a GRAMMY® for Best Contemporary Christian Music Album for her best-selling and critically acclaimed project Overcomer. Additionally, "Overcomer's" songwriters (David Garcia, Ben Glover & Christopher Stevens) won the GRAMMY® for Best Contemporary Christian Music Song. Mandisa will unveil her fifth album Out Of The Dark on May 19, 2017.
Get Connected with Mandisa:
Website // www.mandisaofficial.com
Twitter // www.twitter.com/mandisaofficial
Instagram // www.instagram.com/mandisaofficial
Facebook // www.facebook.com/mandisaofficial
##