Grammy Winner Chris Tomlin Joins Governor Bill Haslam and First Lady Crissy Haslam To Share the Successes of Tennessee Kids Belong and the TNFosters Initiative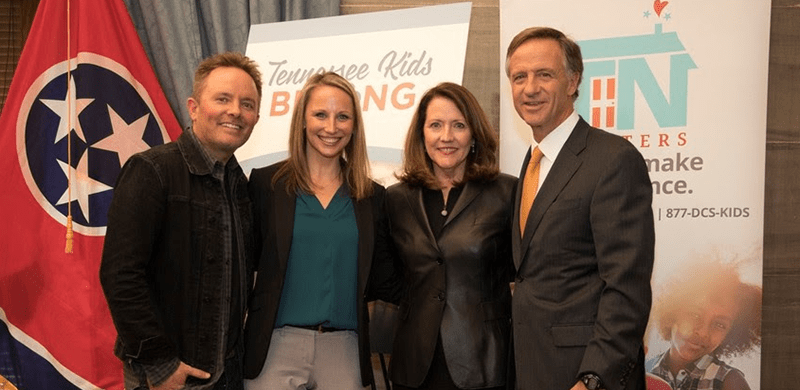 Nashville, Tenn. (March 1, 2018) – GRAMMY award winner Chris Tomlin joined Governor Bill Haslam, First Lady Crissy Haslam and Kristin Allender, Executive Director of Tennessee Kids Belong (TKB), today to talk about Tomlin's 2
nd
annual 'Good
Friday
Nashville' concert set for
March 30
at Bridgestone Arena, which will again benefit Tennessee Kids Belong, as well as highlight the needs of Tennessee children in foster care and their families and bring awareness to the TNFosters Initiative – a joint partnership between Governor Haslam, First Lady Haslam, The Tennessee Department of Children's Services (DCS), and Tennessee Kids Belong.
Due to the overwhelming response and impact in the community, Nashville resident Tomlin has committed to performing the yearly concert event indefinitely and is currently holding the venue through 2024. Tickets are on sale now.
"We are so unbelievably overwhelmed by the response of Nashville to the second 'Good
Friday
Nashville' concert," shared Tomlin. "And because of that reaction this community has come together so we can offer the concert proceeds to Tennessee Kids Belong to help children and their families. To hear about the success of Tennessee Kids Belong as well as the impact they are having locally and in the state of Tennessee, and to know that 'Good
Friday
Nashville' has even played a small role in those successes is humbling."
Currently there are roughly 7,500 children in Tennessee's foster care system. Of those 7,500 children, roughly 325 are available for adoption and are waiting for their forever family. The remaining children have the goal of reunification with their biological families and just need a loving foster family while they wait. The TNFosters Initiative with spearheading partner, Tennessee Kids Belong, set goals to increase the number of certified foster families in Tennessee and to place 100 children in adoptive families. By the end of the first year of the TNFosters Initiative 1,309 new foster families were certified, yielding a 40.8% increase over 2016. Additionally, 116 children were placed in forever families, far exceeding the original goal of 100 children in families.
"Every child deserves a loving family and I am grateful to the Tennessee Department of Children's Services for its increased focus on recruiting new foster and adoptive families, and to Tennessee Kids Belong for supporting these efforts," said Governor Bill Haslam. "I am inspired by the work DCS does every day providing service to the children of Tennessee in a way that models what it should look like for the rest of the country."
"Improving child welfare by wrapping around these children and families takes an incredible amount of work, strategy and commitment on the part of the entire Department of Children's Services staff and our partners," stated First Lady Crissy Haslam. "I am so proud to be a part of a state that prioritizes taking care of its children."
"We are so pleased with the progress that DCS has made last year on the foster and adoptive family recruitment," DCS Commissioner Bonnie Hommrich said. "And we greatly look forward to the results our team and the whole TNFosters Initiative can yield in 2018 as we continue to engage, recruit and support more foster and adoptive families."
"Tennessee Kids Belong is grateful to be working with Governor Haslam and First Lady Haslam through the TNFosters campaign," shared Kristin Allender, Executive Director of TKB. "It's critical to have all spheres working together to make a big, sustainable impact. That's what we're seeing here in Tennessee. We also want to offer a huge thank you to Chris and his entire team for their hearts for children in care. One of the hardest things about foster care is that it's largely an invisible issue. We say all the time that we want to "give a voice" to children in foster care. It's people like Chris who are taking that literally and serving as tremendous advocates in this space."
Good

Friday

Nashville' 2018 special guests include Kim Walker Smith of Jesus Culture, Matt Maher, Christine D'Clario, Tauren Wells and Pat Barrett who will all perform on stage with Tomlin throughout the night. Best-selling author and Pastor Levi Lusko will speak. For additional information visit
www.goodfridaynashville.com
. '
Good

Friday

Nashville' is produced by Awakening Events, presented by K-LOVE, Air1, The Fish and WAY-FM.
##