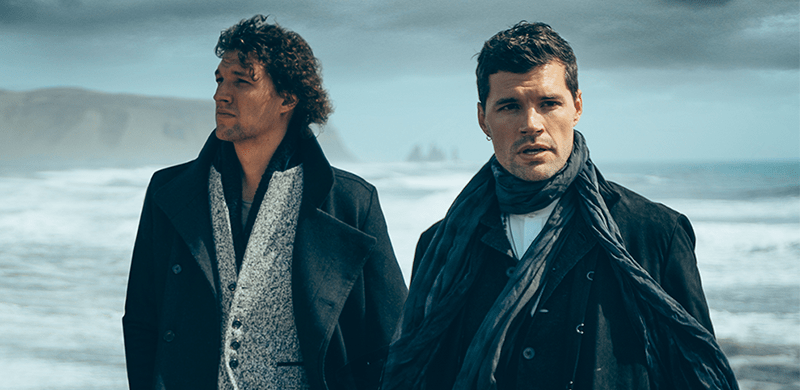 Two-Time GRAMMY® Award-Winning Duo for KING & COUNTRY's Single "joy."
is Featured on All Genre "Best Songs of the Year" (So Far) List &
Hits the Top 5 on Billboard's Hot Christian Songs Chart
"FOX & Friends" Live Performance on August 3
Nashville, Tenn. (July 16, 2018) The already glimmering star continues to shine for two-time Grammy® award-winning duo for KING & COUNTRY and their new single, "joy." The song was included on USA Today/The Tennessean's "Best Songs of the Year" (so far) all-genre list, proclaiming "'joy.' is an infectious, upbeat anthem about choosing to be joyful in the face of hardship. The video, co-starring Candace Cameron Bure, is also noteworthy – a 1960's mini-movie that showcases the GRAMMY-winning Smallbone brothers at their creative best." View music video HERE.
Today, the duo announced their appearance on the nationally syndicated morning talk show FOX & Friends on Friday, August 3. This LIVE performance announcement comes fresh off the heels of their debut single, "joy.", reaching the Top 5 on Billboard's Hot Christian Songs chart, as well as hitting the Top 10 on Billboard and Mediabase National Christian Audience charts.
In addition, the band recently announced their highly anticipated full-length album, Burn the Ships, to be released October 5th. To pre-order Burn the Ships, CLICK HERE.
If the band's recent debut performance in Hawaii – performing for 4,000 strong – is any indication of the future, then for KING & COUNTRY are well on their way to reaching incredible new heights. Christian radio network K-LOVE/Air1 has been spinning "joy." in heavy rotation, and the track was included, along with "Pioneers," on Spotify's New Music Friday Playlist.
Furthermore, "Pioneers" has been made into a vertical video available on Spotify. This beautiful visual takes you even farther into the staggering Icelandic countryside, giving the viewers yet another perspective into the inspired minds of Joel and Luke Smallbone. You can watch the videoHERE, as well as a vertical video for "joy." HERE.
About for KING & COUNTRY
Two-time GRAMMY® award-winning Australian duo, for KING & COUNTRY, comprised of brothers Joel & Luke Smallbone, garnered unanimous critical praise with their latest album – RUN WILD. LIVE FREE. LOVE STRONG. Celebrated a RIAA certified gold record, No. 1 debut on iTunes, a headlining tour with 28 sold-out shows and a 60-date arena tour. They've sold nearly 900,000 equivalent albums, amassed 284M on-demand streams, and 93M YouTube views. The duo has performed on shows like Jimmy Kimmel Live! The Today Show, The Tonight Show, and have had songs featured on the Emmys, Super Bowl, Sunday Night Football, and more. In October 2016, the Smallbone brothers released the indie film, Priceless, about human trafficking.
##