GMA Welcomes Radio Programmers From Across The Country For Dove Week 2022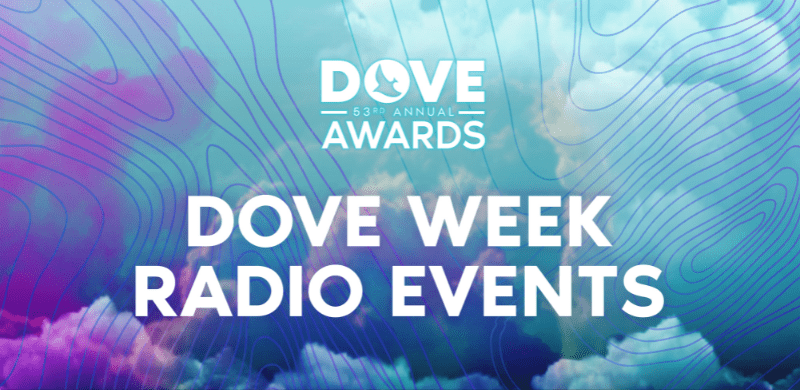 GMA WELCOMES RADIO PROGRAMMERS FROM ACROSS THE COUNTRY FOR
DOVE WEEK 2022
Gospel and Christian AC Radio Program Directors Gather to Experience New Music, Networking And Fun
The GMA had the privilege of hosting both Christian AC and Gospel radio representatives during Dove Awards Week 2022 for a special time of music and relationship building. Nearly 50 stations from across the country enjoyed exclusive performances and artist experiences, including the 53rd Annual GMA Dove Awards and the Doves After Party hosted by BMI.
The Christian AC format saw twenty-eight Program/Music Directors travel to Nashville from all over the country to experience the second annual GMA Dove Awards Radio Tour, hosted by industry veteran Chris Hauser. Radio folks attended stellar artist showcases from thirteen different record labels featuring artists like Phil Wickham, Jason Crabb, Evan Craft, Andrew Ripp, Jenn Johnson and Josh Baldwin. The week was sponsored by Compassion International and PAR (Positive Alternative Radio) as the group was treated to great food and entertainment including pinball, bowling, cornhole, CCM Trivia, a hilarious game of Family Feud, and visiting the house in Franklin, Tennessee where dcTalk recorded "Jesus Freak."
Similarly, over twenty Gospel format radio professionals joined in the festivities and celebrated the impact of Gospel radio throughout the year at an exclusive luncheon. The program included artist performances from 2x Grammy-Award and five-time Dove Award winning artist Smokie Norful, award-winning Maurette Brown Clark and new artist Jabari Johnson as well as special appearances from labels, media influencers and GMA board members. The afternoon included a backstage tour of the Dove Awards as well as tickets to the show.
"After 35 years of working CCM songs to radio, the GMA Radio Tour has quickly become one of the most meaningful and satisfying events I do all year long. The labels go all out to serve and love on our radio friends with fun and meaningful events – and the Program/Music Directors who attend (we nearly doubled last year's attendees) love being with one another, spending time with so many artists and label reps from all over our industry. It's a privilege to work closely with GMA and the labels to deliver this unique experience."
-Chris Hauser / Hauser Promotions and GMA Board Member
"Gospel radio is a vital part of the music industry and one platform that has been centric over the years to our faith experience as a community of believers. It was important that this year our invited guests experience first hand how much GMA and the larger Christian community appreciates and respects Gospel's contributions to our industry. I was honored to host these gatekeepers on such an amazing Dove day, and look forward to an even larger Gospel Radio presence next year."
– Eboni Funderburk / EFG Promotions and GMA Board Member
"The GMA is incredibly grateful to our radio community for the work they do to expose Christian & Gospel music to the world, all year long. Our hope is that this experience inspires and reminds each attendee that their work is vital to the reach and growth of the genre."
-Justin Fratt / Executive Vice President, GMA
Station Attendees Included:

Air-1
Family Life/Tucson
The Fish
KAXL/Bakersfield
KBNJ/Corpus Christi
KDUV/Visalia
KKFS/Sacramento
K-LOVE
KLTY/Dallas
KSBJ/Houston
KTIS/Minneapolis
KTSY/Boise
Moody Radio
SiriusXM The Message
Way-FM
WBGL/Champaign
WBFJ/Winston-Salem
WBDX/Chattanooga
WBVM/Tampa
WCQR/Johnson City
WCVK/Bowling Green
WCVO/Columbus
WDJC/Birmingham
WHPZ/South Bend
WJIE/Louisville
WJQK/Grand Rapids
WNWC/Madison
WONU/Chicago
WPAR/Roanoke
WNWC/Madison
WONU/Chicago
WPAR/Roanoke
A Taste Of Tradition Radio Show
American Urban Radio Networks / Bobby Jones Gospel Countdown
DAF Radio
Eternity Media Group
Gospel Industry Network
iHeartMedia Hallelujah
Inspirations with Carmina
National Gospel Announcer Guild
Pastor Lenny's Praise Party
Rejoice Musical Soulfood
Urban One Atlanta
Urban One Charlotte
Urban One DC
WAJA FM 102.4
WENO 760 AM
WEUP AM
WFSK 88.1 FM Radio
WHUR FM
WLLV FM
WQQK 92Q Cumulus
Yes Lord Radio
About Gospel Music Association & Foundation:
Since 1964, the Gospel Music Association's mission has been to expose, promote and celebrate the Gospel through music. As a trade organization, the GMA serves creatives and professionals within the Christian and Gospel music industry. It supports ​​this richly diverse community by providing for basic needs through the GMA Foundation, preserving the legacies of the genre's trailblazers through the GMA Gospel Music Hall of Fame, and celebrating the work of today's artists through events like the GMA Dove Awards – which reaches millions of people around the world annually.
For more information about the Gospel Music Association, visit www.gospelmusic.org. Join the GMA social communities on Facebook, Instagram, TikTok, Twitter, YouTube and LinkedIn.
##