GMA Rounds Out Talent Lineup for the 49th Annual GMA Dove Awards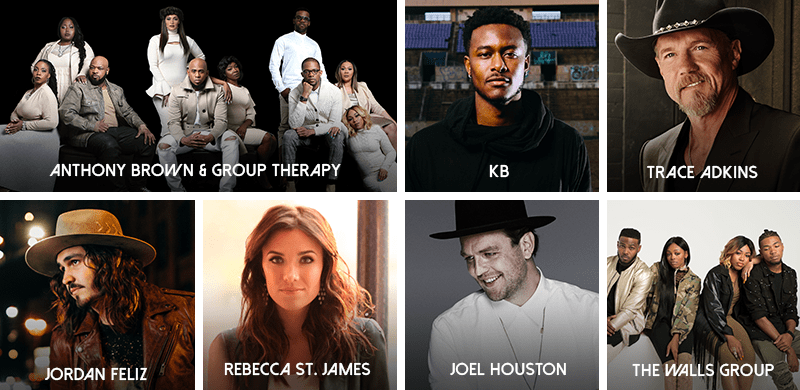 LifeWay and CCLI added as presenting sponsors
Awards to be held live Tuesday, October 16,
in Nashville, Tennessee and will air exclusively on TBN
on Sunday, October 21 at 9 p.m. ET/8 p.m. CT
NASHVILLE, Tenn. (October 11, 2018) – The Gospel Music Association (GMA) announced the final round of performers and presenters for the 49th Annual GMA Dove Awards. KB is set to perform as well as Anthony Brown & Group TherAPy with 1K Phew. Brian Courtney Wilson, Brian and Jenn Johnson, Chonda Pierce, Erwin Brothers, Israel Houghton, Joel Houston, Jonathan McReynolds, Jordan Feliz, Joseph Habedank, Rebecca St. James, Trace Adkins and The Walls Group will join the show as presenters. The GMA is also pleased to announce the addition of LifeWay and CCLI as presenting sponsors.
The awards show will be held live on October 16 in Nashville, Tennessee and will air exclusively on TBN October 21 at 8 p.m. CT. Previously announced performers include Big Daddy Weave, Cory Asbury, Jekalyn Carr, for KING & COUNTRY, Kirk Franklin, Koryn Hawthorne, Lauren Daigle, Natalie Grant, Newsboys, Social Club Misfits, Tauren Wells, Tori Kelly, Zach Williams and Jason Crabb with Rascal Flatts.
The GMA Dove Awards celebrate the contributions of artists from every style of Christian/Gospel music. Nominees are determined by GMA's professional members, and winners will be voted on by the entire GMA membership. Tauren Wells leads artist nominations with eight, followed by Zach Williams with six and Cory Asbury, Tasha Cobbs Leonard and TobyMac with five nods each. Top nominated writer/producer Colby Wedgeworth scored eight nominations. View the full list of nominees HERE.
Viewers can locate this year's Dove Awards broadcast on TBN by locating it on the network's channel finder. Watch TBN on their livestream HERE, or download the all-new app to view TBN on your Apple or Android devices.
About LifeWay:
LifeWay Christian Resources is one of the world's largest providers of Christian resources, including Bibles, books, Bible studies, digital services, church music and supplies, as well as camps and events for all ages. The company owns and operates more than 170 LifeWay Christian Stores across the nation, as well as Ridgecrest Conference Center in North Carolina.
About CCLI:
CCLI is honored to partner with the GMA to present the "Worship Song of the Year" award. CCLI empowers worship by providing affordable and legal content, resources and media, enabling songwriters and churches to create powerful moments of worship.
About GMA:
Founded in 1964, the Gospel Music Association serves as the face and voice for the Gospel/Christian music community and is dedicated to exposing, promoting and celebrating the Gospel through music of all styles including Pop, Rock, Praise & Worship, Urban Gospel, R&B, Hip Hop, Southern Gospel, Bluegrass, Country, Latin and more. The GMA community includes agents, artists, church leaders, managers, promoters, radio personnel, record company executives, retailers, songwriters and other industry visionaries. The GMA produces the GMA Dove Awards and IMMERSE. For more on supporting the GMA or becoming a member, please visit www.gospelmusic.org.
About Trinity Broadcasting Network:
Trinity Broadcasting Network is the world's largest and most watched faith-and-family broadcaster, reaching over 175 nations across the earth with inspirational and entertaining programming 24 hours a day in 14 languages and on 32 global networks. As the world's most influential non-profit religious broadcaster, TBN has led the way in expanding the impact of faith-based television across the earth through the creation of innovative content designed to reach every viewer demographic with the life-changing message of hope and grace. To find out more about the TBN Networks, visit us at tbn.org.
##