Francesca Battistelli Performs With Andrea Bocelli For Worldwide TV Christmas Special Airing Dec. 20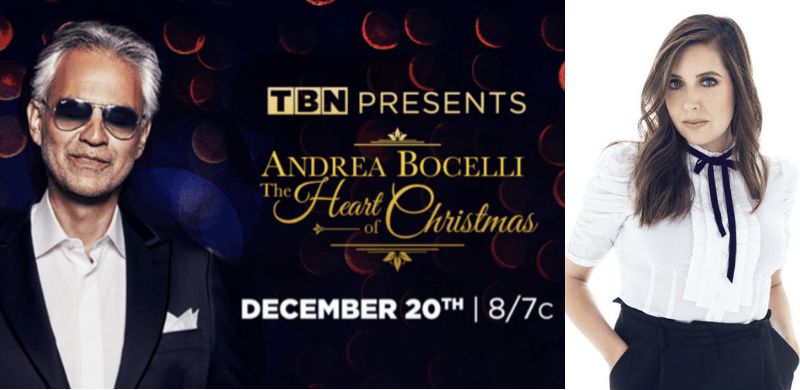 "Andrea Bocelli: The Heart Of Christmas," Will Air On TBN Wednesday, Dec. 20
12 December 2018 – Nashville, TN – GRAMMY® Award winning artist Francesca Battistelli will appear on the holiday special, "Andrea Bocelli: The Heart of Christmas," which is set to air on TBN December 20 at 8/7pm CT. The holiday program will feature Battistelli singing a duet with the world-renowned classical music icon, along with a duet between Bocelli and his son, Matteo, select Christmas songs and more. "Andrea Bocelli: The Heart of Christmas" was filmed in Bocelli's hometown, Lajatico, in the Italian region Tuscany.
"It was the deepest honor to be given the opportunity to sing alongside such an iconic artist," exclaims Battistelli. "It was truly a dream come true to perform with Andrea Bocelli and in his home country. This was an experience I will certainly never, ever forget!"
TBN's foreign partners in Italy, UK, Canada, Germany, Central America, South America and other regions around the world will air the special on the 20th as well. "Andrea Bocelli: The Heart of Christmas," will also re-air on December 24.
"It's been an absolute joy to welcome TBN viewers into the little church in my beloved birthplace, Lajatico—the exact spot where I discovered, as a child, the power of music as an instrument of prayer," said Bocelli.
##