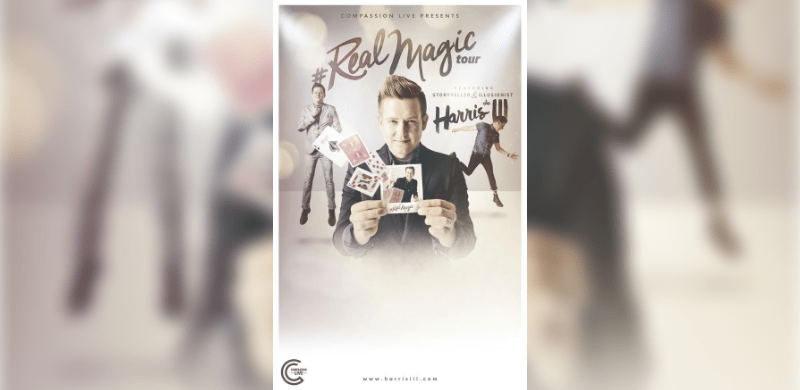 Nashville, Tenn. (Dec. 12, 2018) – With over 20 years of experience through thousands of performances as a storyteller and illusionist, Harris III will unite with Compassion LIVE for the "Real Magic Tour." The trek will run through March and April including stops in Marietta, Fort Smith, Indianapolis and more. Harris III is known for pushing the audience past the barriers that are holding so many back from child-like faith – a life where anything is possible. He has promised a mix of both brand new illusions alongside his notable classics.
"A show you can bring your entire family to that engages every single age group equally is hard to come by these days, because honestly, it's hard to create. But I feel like we've accomplished that, and I can't wait to share this show with the world and remind them of what real magic is," shares Harris. "This show is filled with brand-new illusions that I've never performed before, alongside some classics and crowd favorites, and will be a blast for the entire family. It certainly isn't what I perform on stage, but the right illusions combined with a timeless story about the life Jesus offers us in himself can serve as a transformational reminder of the real magic all around us. We just have to open our eyes to see it."
In a way that is uniquely his own, Harris III helps audiences of all ages move past their fears and cynicism, and step into a life filled with faith, hope and love, wide awake in wonder. His empowering and bold magic have been experienced by Catalyst, Chick-Fil-A, LifeWay Christian Stores, North American Mission Board, Saddleback Church and more.
Tickets for the "Real Magic Tour" go on sale at 10 a.m. local time on Dec. 14. For more information, go to www.compassionlive.com.
"Real Magic Tour"
* all dates subject to change.
3/28/19 Fisherville VA Church on the Hill-Fisherville TICKETS
3/29/19 Cherryville PA Bethany Wesleyan Church TICKETS
3/31/19 Marietta GA Noonday Baptist Church TICKETS
4/4/19 Fort Smith AR Evangel Temple Assembly of God TICKETS
4/5/19 Moberly MO Family Life Fellowship TICKETS
4/6/19 Fairfield OH Grace Station Church TICKETS
4/7/19 Indianapolis IN Westside Church of the Nazarene TICKETS
##