First Company Management Adds Mike McCloskey to Industry-Leading Team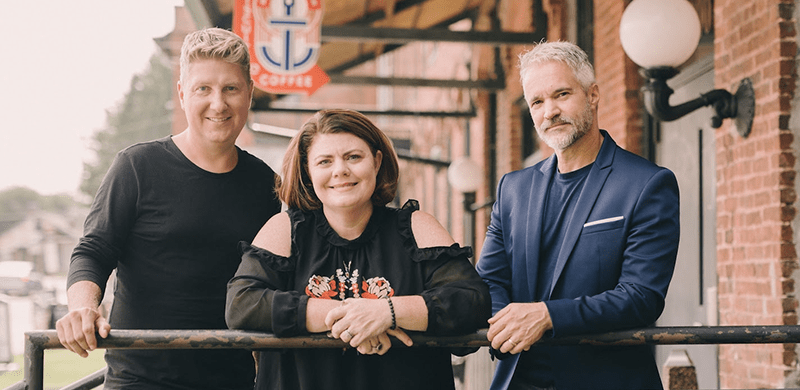 BRENTWOOD, Tenn.—Veteran Christian music executive Mike McCloskey has joined the First Company Management team as general manager, it was recently announced. McCloskey succeeds First Company's longtime general manager Dave Wagner, whose scope of responsibility has increased within the firm.
With 20 years of experience in artist management, label operations and concert promotions, McCloskey will oversee the artist roster, managers and team strategy for First Company, one of Christian music's top multi-faceted entertainment firms. He will also handle day-to-day management duties for GRAMMY®-nominated, Dove Award-winning singer/songwriter Ryan Stevenson, among other artists.
"We're thrilled to welcome Mike to the First Company family," said Wes Campbell, president and founder, First Company Management. "Mike's vast experience and knowledge of the music business is an invaluable asset for our team and growing roster."
First Company has also expanded the role of artist manager Brandi Wagner, as well as general counsel Kevin Kookogey. Wagner's duties now include strategic and brand management for new clients and liaising with label and live show partners. Kookogey will continue to provide legal counsel for First Company's executive team, while also offering a diverse range of support to the firm's artists and managers.
Along with Mike McCloskey and Brandi Wagner, the First Company artist management division includes industry veterans Derek Bruner, manager of chart-toppers 7eventh Time Down; as well as Jason Davis, manager of breakthrough singer/songwriter Austin French.
"First Company has seen amazing growth over the last five years, and I'm excited about this new season," adds Campbell. "Brandi and Kevin have both made immeasurable contributions to this organization over the years, and along with Derek and Jason, our entire team is able to serve artists more comprehensively than ever before."
About Mike McCloskey
Mike McCloskey is the former executive vice president of artist management and label operations at sixstepsrecords and Management. Throughout his two-decade career, McCloskey has worked with such leading artists as Chris Tomlin, David Crowder, TobyMac, Casting Crowns, Matt Redman and Passion, among others, and has contributed to artist sales in excess of 13 million albums and 12 million digital tracks. McCloskey is a graduate of Belmont University's Curb College of Entertainment and Music Business.
About Brandi Wagner
In her 23-year history at First Company Management, Brandi Wagner has held a variety of key roles, most recently serving as marketing management and day-to-day logistical support for Newsboys. She attended Belmont University's music business program and is a graduate of Liberty University. Beginning her career in booking and concert promotions before joining Wes Campbell to help manage Newsboys, Wagner has been involved in virtually every facet of the music industry. Additionally, she previously owned a successful upscale party planning business and currently owns and manages an e-commerce retail store, which benefits nonprofit organizations around the world.
About Kevin Kookogey
Kevin Kookogey has represented numerous artists, songwriters, producers, music publishers, record labels, managers, media companies, authors, book publishers and nonprofits in Nashville for more than 25 years. In addition to legal services, he has owned and/or operated management, business management and music business consulting firms. Kookogey has been a member of the Tennessee and Nashville Bar Associations since 1993. He is also a former certified NFLPA Contract Advisor and is a teacher and mentor in the homeschool movement.
About First Company Management
First Company Management was established in 1995 by Christian music visionary Wes Campbell. Under the guidance of Campbell and Dave Wagner, the firm's roster includes GRAMMY®-nominated, Platinum-selling Newsboys; GRAMMY®-nominated Ryan Stevenson; Dove Award-nominated 7eventh Time Down; pop/rock hitmakers Ashes Remain; former Stellar Kart and Audio Adrenaline frontman Adam Agee; and breakout new artist Austin French. In addition, First Company played a significant role in the development of "God's Not Dead," one of the most successful faith-based film franchises of all time.
For further information visit fcmgt.com or turningpointpr.com.
##