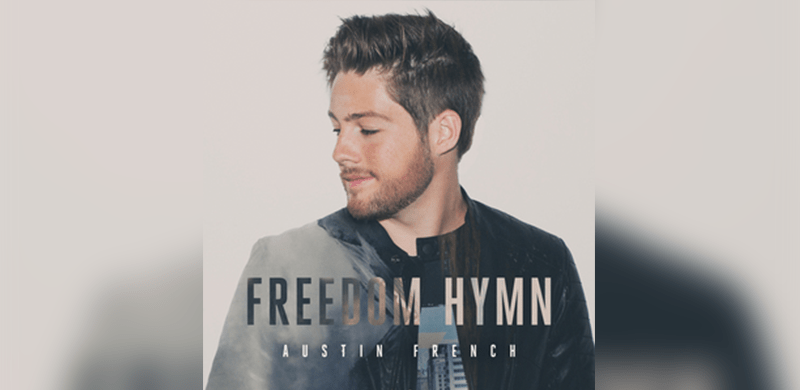 Debut Single, "Freedom Hymn," Available Everywhere Today
NASHVILLE, TENN (DECEMBER 8, 2017) – Fair Trade Services is thrilled to announce their newest signing, contemporary pop artist Austin French. Originally from Georgia, French was surrounded by a musical family and began touring in churches, which led him to leading worship at the age of eighteen. In 2014, he won the hearts of millions of viewers, finishing as the runner-up on the ABC TV show Rising Star and shared the stage with multi-platinum recording artist, Josh Groban. After his success on Rising Star, French served as a worship pastor in the drug recovery capital of the world, Delray Beach, FL.
Based from John 8:36, French's debut single, "Freedom Hymn" is intended to be not just for the recovery community of Delray Beach, but the recovery community worldwide, which is the church. "I wanted to write a song for the church and people all around the world to be able to say, 'I am free, I am free indeed, this is my freedom hymn,'" shares French. The song is already receiving early adds at radio including the Air1 Network after wrapping up an extensive radio promo tour visiting over 50+ stations. French recently showcased a performance of "Freedom Hymn" before radio and industry influencers at the Christian Music Broadcasters event held in Washington DC at the Museum Of The Bible. The single is available everywhere today for download and streaming. Click the links below to start listening now or watch the official music video below.
French has been featured on the "Songs And Stories Tour" with Peter Furler and Ryan Stevenson this past fall. He is also wrapping up ' "The Christmas Every Day Tour" with Ryan Stevenson this weekend. For more information and tour dates, please visit AustinFrenchMusic.com.
iTunes: http://smarturl.it/FreedomHymniTunes
Amazon: http://smarturl.it/FreedomHymnAmazon
Spotify: http://smarturl.it/FreedomHymnSpotify
Apple Music: http://smarturl.it/FreedomHymnApple
Amazon Unlimited: http://smarturl.it/MiraclesAmazonUnlim
##