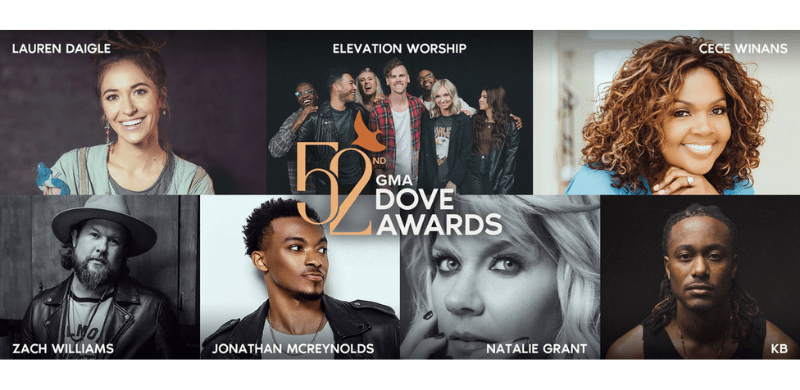 NATALIE GRANT AND JONATHAN MCREYNOLDS SET TO CO-HOST 52ND GMA DOVE AWARDS FEATURING PERFORMANCES BY LAUREN DAIGLE, ELEVATION WORSHIP, CECE WINANS AND MORE
In-person Nashville event will be held October 19th and will air exclusively on TBN, Friday, October 22nd, 2021 at
8:00 p.m. ET and 10:00 p.m. ET
Nashville, TN (September 15, 2021) – The Gospel Music Association (GMA) has announced Dove Award-winning Artists Natalie Grant and Jonathan McReynolds will co-host this year's GMA Dove Awards. Also revealed today were the first slate of nominated performers including: Lauren Daigle, Elevation Worship, KB, CeCe Winans and Zach Williams. The 52nd GMA Dove Awards are set to air exclusively on TBN, Friday, October 22nd, 2021 at 8:00 p.m. ET and again at 10:00 p.m. ET. The event will take place live and in person in Nashville, TN, October 19th, 2021. A limited number of tickets and Fan Experiences are still available on doveawards.com.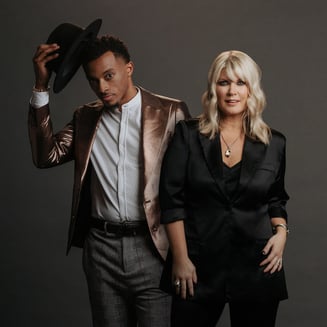 This will be Jonathan McReynolds's first time hosting as he joins Natalie Grant, who first hosted in 2010. Both artists are current nominees and will be performing live on the show. The theme of this year's show is "Stronger Together" – highlighting the strength in unity and resilience among the Christian/Gospel music community over the past year.
For the complete list of nominees, visit doveawards.com. For official social media assets, click here. Images and bios of this year's performers and co-hosts can be found here. Logos for the 52nd Annual GMA Dove Awards are located here.

About Gospel Music Association & Foundation:
Founded in 1964, the Gospel Music Association serves as the face and voice for the Gospel/Christian music community and is dedicated to exposing, promoting, and celebrating the Gospel through music of all styles. The GMA produces the GMA Dove Awards, The GMA Hall of Fame Induction and Honors Ceremony, and the IMMERSE Conference. For more information on the GMA, visit
www.gospelmusic.org
and follow @gmadoveawards on Facebook, Twitter, and @gospelmusicassoc on Instagram.

About TBN:
TBN is the world's most watched faith-and-family broadcasting network, reaching over 175 nations with inspirational programming in 14 languages and on 32 global networks. TBN, the original pioneer of faith-based television, is expanding into other marketplaces such as publishing and innovative digital content in various formats, all designed to reach every viewer demographic with the life-changing message of hope and grace. To find out more about the TBN Networks, visit us at
tbn.org
.
##