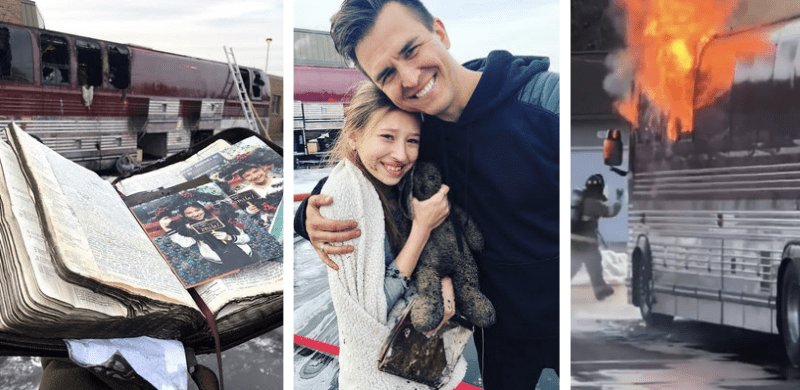 A fire ignited on Citizen Way's Generosity Rocks tour bus during a recent tour stop in Michigan. Thankfully, no one was seriously injured in the fire but the bus is a complete loss. Firefighters were able to recover the bible of Citizen Way's Ben Calhoun that his father used in seminary, charred black and opened to Ephesians 2 – "We are saved by grace through our faith in Jesus." Calhoun's daughter Ava was traveling with him at the time. Her stuffed animal from childhood, Buttons, was also recovered from the ashes. Few other items survived the blaze.
A fundraising page established by the non-profit Generosity Rocks has been set up to raise money to keep this ministry traveling on the road. Calhoun shares, "Despite this loss, we know God uses all things for good. We also know He has plans for the work of Citizen Way, Generosity Rocks, and YOU! I founded the non-profit Generosity Rocks and am humbled to serve alongside a board that equips bands like us to minister across the country and pour into local communities. We do that not only with the Gospel but by donating 10% of our merchandise sales every night to a local charity, outreach or ministry."
"This mission IS going forward! We need to replace this transportation as part of that mission," adds Calhoun. "Reliable buses can cost up to one million dollars or more. We don't need anything near that, but it will cost about $250,000 for something sturdy enough to take what constant touring requires. Would you support this outreach by making a tax-deductible donation to Generosity Rocks? We want to continue bringing this message of hope found in Jesus and generosity to your community soon. Thank you for making it happen with your donation today!"
To donate and to find out more information, please visit their donation page or at Citizen-Way.com.