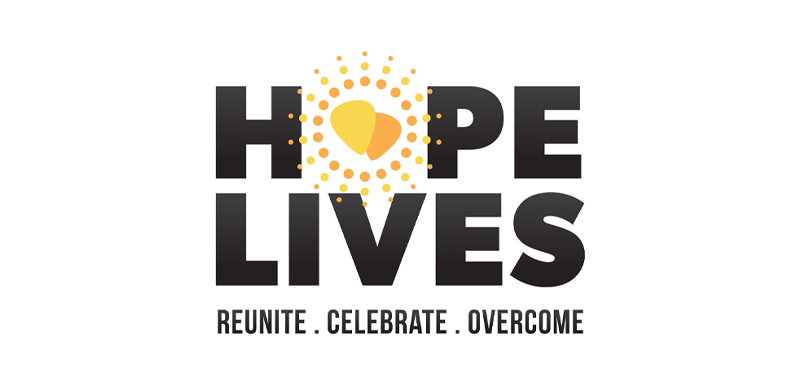 Nashville, TN – Today the Christian Festival Association (CFA), the leading association of Christian Festivals in North America, announced the launch of their "Hope Lives" initiative. As a part of the initiative, all of the festivals represented by the association have together adopted the theme "Hope Lives" for their ministries in 2020 and committed afresh to sharing messages of hope and encouragement to their communities throughout this challenging time.
"The CFA stands together as a beacon of hope and a place for families and friends to gather throughout the summer season," said CFA Executive Director Julie Klinger. "During this time in our country we desire to unify together more now than ever before under this theme that 'Hope Lives'."
John 1:5 says, "The light shines in the darkness, and the darkness has not overcome it." This verse is the inspiration for the message of Hope Lives. As we all continue through these uncertain times, the CFA wants to remind everyone that no matter how difficult these days are, Jesus remains our living hope. When this virus is behind us we look forward to reuniting and celebrating together, knowing that no matter what challenges we face, we overcome through Christ.
"Hope Lives!" said Rob Roozeboom, founder and director of RiseFest, one of the CFA Festivals participating in the campaign. "RiseFest loves these two words put together, why, because Hope has a name. Peace has a name. Healing has a name. Restoring has a name. Overcoming has a name. And that name is Jesus! We've challenged our community to write Hope Lives with chalk on their sidewalks and driveways, and to put signs of Hope Lives in their windows. We want to plaster our community with Hope Lives! Because eventually we will reunite, celebrate and have overcome!"
Over the coming weeks, fans are encouraged to connect with their local CFA Festival to find a variety of hope inspiring resources, including uplifting messages, special music from artists, and inspiration from across their local communities. A full list of CFA Festivals can be found at ChristianFestivalAssociation.com.
As a part of the Hope Lives initiative, the CFA has also called upon the broader Christian Music industry to join with this message and to work together to share hope with those across our nation.
"We serve a big God and we know people are searching for this hope," said Klinger. "We also know the importance of community with others. Our hope and prayer is for people to see unity among believers during this time and desire to find this hope because of what Jesus did on the cross for us all. Our festivals bring that hope, and we also align with the entire Christian Music Industry in unity for all events, tours, concerts, and conferences as we all continue to strive to deliver the hope-filled message of Jesus to others."
About The Christian Festival Association:
Comprised of over 30 of North American's leading Christian music festivals, the Christian Festival Association was founded in 2006 to promote positive communication and synergies between the nation's top Christian festivals. Member festivals meet regularly via conference calls and at an annual meeting in Nashville to discuss matters such as talent development, spiritual content, event production and marketing, national sponsorship acquisition, and much more. Find out more at ChristianFestivalAssociation.com.
##